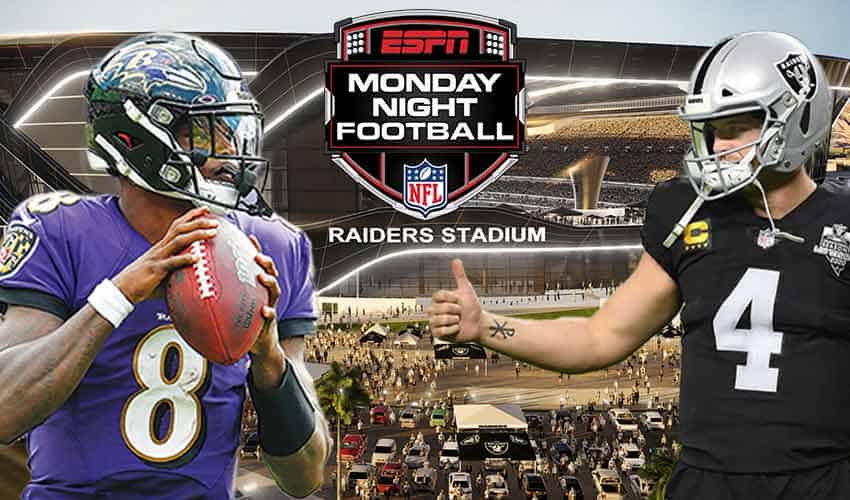 Ravens Favored To Beat Raiders By 4 Across The Board For Week 1 MNF Opener
Best NFL Moneylines Are At BetOnline For Both Teams
Monday Night Football Begins Tonight At 8:15 PM On ESPN
Week 1 of the 2021-22 NFL season is almost in the books, with tonight's Monday Night Football matchup between the Baltimore Ravens and the Las Vegas Raiders wrapping up the proceedings in Allegiant Stadium.
We usually recommend shopping the odds at legal NFL betting sites across the web to gain the best advantage for your dollar, but the lines have been incredibly consistent for tonight's game regardless of where you look.
As is illustrated in the table below, our three main books all feature the exact same NFL point spreads and over/under total. There is only a slight variation to be had in the moneyline odds when venturing to BetOnline to lay some action on tonight's Monday Night Football season opener.
Baltimore Ravens @ Las Vegas Raiders – Monday Night Football Odds

Bovada
BetOnline
MyBookie
Point Spread
BAL -4.0, LA +4.0
BAL -4.0, LA +4.0
BAL -4.0, LA +4.0
Moneyline
BAL -200, LA +170
BAL -197, LA +172
BAL -200, LA +170
Over/Under
50.5
51.0
50.5
No matter which team bettors intend to lay their action on, NFL moneyline bets should be placed at BetOnline as they're offering 2-to-3 more pennies on the dollar depending on which team is being wagered upon.
The combining of the above totals and spreads projects the following results:
Projected MNF Final Score
Baltimore Ravens – 28
Las Vegas Raiders – 24
This suggested outcome seems a little timid on behalf of the NFL oddsmakers, and we can't blame them considering the unexpectedly close matchups that Week 1 has produced.
The Raiders are playing at home, but the Ravens are expected to contend for a spot in Super Bowl 56, whereas Vegas is expected to finish at the bottom of the AFC West Division.
Of course, home-field advantage plays a large role in setting the odds, but there are other factors in play that have the margins so narrow. one major factor is the current state of the Ravens' offensive backfield.
Veteran running backs Latavius Murray and La'Veon Bell were signed off the street within the last few days, with the latter still relegated to the practice squad and not yet promoted to the active roster.
It appears that second-year RB Ty'Son Williams will share the load with Murray and perhaps others, and with the rushing attack being the heart of the Ravens offense, they could struggle to find ways to move the ball.
Several NFL prop bets have been produced for tonight's Monday Night Football game, and the following line on Ty'Son Williams rushing yardage total forecasts potential struggles for the Ravens ground game.
Baltimore Ravens vs. Las Vegas Raiders – Ty'Son Williams Total Rushing Yards
Over 61.5 Rushing Yards -120
Under 61.5 Rushing Yards -120
We've not been overly impressed with Williams and feel that he's merely a stop-gap while other veteran RBs become more accustomed to Baltimore's system. Expect a runningback-by-committee approach from the Ravens tonight and take the under on Ty'Son Williams if you intend to lay action on the above NFL odds.
Sources: Bovada, MyBookie, BetOnline, Sports Illustrated