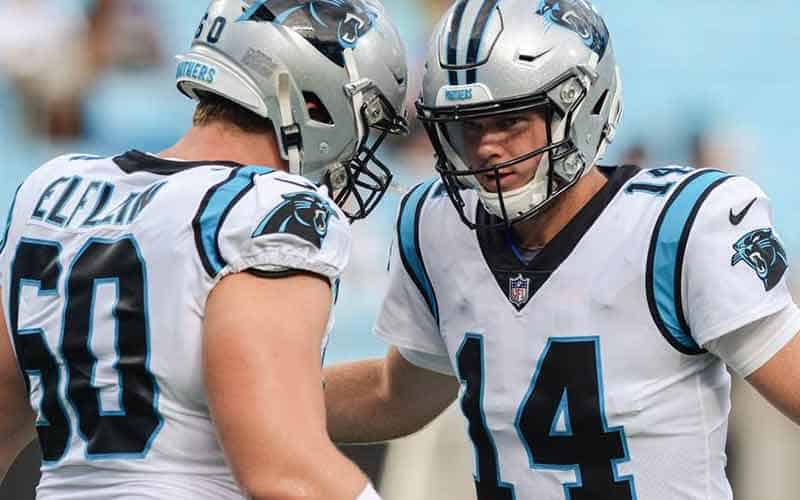 Many scoffed when the Carolina Panthers made an offseason trade with the New York Jets to acquire the services of third-year quarterback Sam Darnold.
He did little to impress during his tenure with the Jets, so critique was warranted upon learning that the team had traded for Darnold, effectively throwing in the towel on the Teddy Bridgewater experiment after one season.
Three weeks into the 2021-22 NFL Season and it is Carolina who is laughing now, as legal online NFL betting sites have produced odds that suggest the Panthers will win big on the road against the Texans tonight and climb to 3-0.
Thursday Night Football Odds: Carolina Panthers @ Houston Texans

Bovada
MyBookie
BetOnline
Point Spread
CAR -8.0
CAR -8.0
CAR -7.5
Moneyline
CAR -400, HOU +290
CAR -410, HOU +315
CAR -410, HOU +330
Over/Under
43.0
43.0
43.0
Final Thursday Night Football Score Prediction: Panthers 25, Texans 17
We do believe that the above NFL point spreads are accurate so long as rookie Davis Mills starts at quarterback tonight, and with Tyrod Taylor on the IR, and Deshaun Watson in no-mans-land, bet on the Panthers to cover.
BetOnline is currently offering the lowest margin of 7.5 which grants bettors an extra half point and only requires that the Panthers win by 8 instead of 9 or more.
The NFL moneyline odds presented above reflect a collective opinion among all online sportsbooks that the Texans will definitely fall to the Carolina Panthers in tonight's edition of Thursday Night Football on NBC, but the best option for betting on the Panthers is currently offered at Bovada (-400).
For adventurous pro football bettors that like to gamble on heavy underdogs, BetOnline and their +330 is the moneyline that'll profit the most on a Houston Texans victory, paying out at an increase of $0.15 and $0.40 for each dollar gambled at MyBookie and Bovada, respectively.
So what do we know about Davis Mills? Not a lot, but the Panthers will not have much game film to use for studying up on him for tonight. One QB that will not be suiting up is Deshaun Watson who is still in hot water due to mounting sexual allegations that have yet to result in a suspension from the NFL.
Despite the issues that Watson is facing, it appears that the Texans are still trying to shop him to other teams even though he is not on Houston's active roster.
Although there has been no confirmation from either side, rumors continue to circulate about a potential trade of Watson to the Miami Dolphins, but with the announcement that Tua Tagovailoa's rib injury is less severe than first thought, whispers will likely be squashed for now.
All of the hopes of the 2021-22 Houston Texans are presently riding on the throwing arm of Davis Mills. But what happens if he performs poorly or succumbs to injury? NFL audiences could find out the answer to that question as soon as tonight.
Source – Sports Illustrated, NFL.com