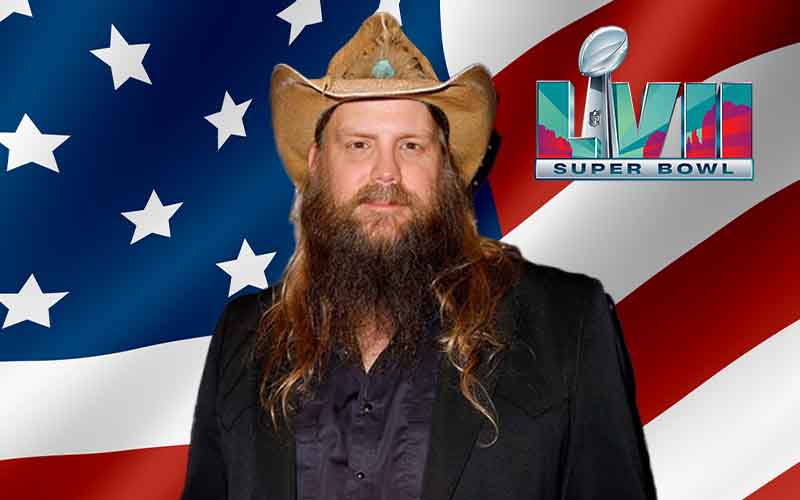 Chris Stapleton has been announced as the singer of the Star-Spangled Banner for Super Bowl LVII, and Babyface will also sing American the Beautiful prior to the National Anthem.
With the AFC and NFC Champions now being decided and SB game lines posted, online NFL sportsbooks can focus on more obscure odds like Super Bowl National Anthem prop bets.
Both Bovada and BetOnline have delivered this year with creative props that cover new angles for wagering on National Anthem odds. First up is the National Anthem over/under, which both books created a line for.
How Long Will It Take Chris Stapleton To Sing The US National Anthem? (Bovada)
Over 2 Minutes And 05 Seconds -115
Under 2 Minutes And 05 Seconds -115
Length of US National Anthem by Chris Stapleton (BetOnline)
Over 125 Seconds -130
Under 125 Seconds -110
Both legal Super Bowl betting sites have posted the exact same Star-Spangled Banner over/under time of 125 seconds, but BetOnline is favoring the over more heavily. Anyone betting the over for the National Anthem at the 2023 Super Bowl should do so at Bovada.LV because earning a dollar there requires $0.15 less risk.
Each book has included props for flubbing the lyrics to the National Anthem with moneyline odds that vary significantly.
Will Any Word Be Forgotten Or Omitted From The National Anthem? (Bovada)
US National Anthem Any Word Omitted (BetOnline)
If you think Stapleton will goof up, place your bets at BetOnline and his +900 moneyline. Bets placed on a perfect rendition should be done at Bovada and their -775 odds.
BetOnline has a Super Bowl prop bet posted on the length of Babyface's rendition of America the Beautiful, accepting action on an over/under of 1:49.
America the Beautiful Length by Babyface
Over 109 Seconds -135
Under 109 Seconds -105
Props for the Halftime Show performance normally command a line on wardrobe color, and we usually see one for female National Anthem performers as well. When it comes to Chris Stapleton's clothes, he sticks to traditional western fare, and that's reflected in the following prop bet for his cowboy hat color.
Chris Stapleton Primary Color of Hat
Any Other Color -600
Black +350
During Super Bowl 53, Gladys Knight sang the word "brave" multiple times at the end of the National Anthem, causing difficulty for sportsbooks in determining the cutoff time.
The consensus in the sports betting world is that the song is over when the word "brave" is completed for the first time, with any follow-ups not being included in the official duration.
This prop from BetOnline is taking bets on how long it will take Stapleton to sing "brave," and the over/under is set at 5 seconds.
US National Anthem Length of Word Brave
Over 5 seconds -120
Under 5 seconds -120
Below are a series of Anthem props that are posted at Bovada, asking which players are coaches will be shown first on the televised broadcast of the Super Bowl while the Star-Spangled Banner is being performed.
We see these types of SB props every year, but Bovada has mixed it up a little by asking who will be shown last, presumably during the closing moments of the first utterance of "brave."
Who Will be Shown first during Super Bowl National Anthem
Travis Kelce -180
A.J. Brown +135
Who Will be Shown first during Super Bowl National Anthem
Kansas City Chiefs Player Or Staff -165
Philadelphia Eagles Player Or Staff +125
Who Will be Shown first during Super Bowl National Anthem
Andy Reid -145
Nick Sirianni +110
Who Will be Shown first during Super Bowl National Anthem
Patrick Mahomes -135
Jalen Hurts +105
Who Will be Shown Last During Super Bowl National Anthem?
Kansas City Chiefs Player Or Staff -115
Philadelphia Eagles Player Or Staff -115
National Anthem Prop Bets For Super Bowl 57 Provided By Bovada And BetOnline
Sources – NFL.com, Rolling Stone