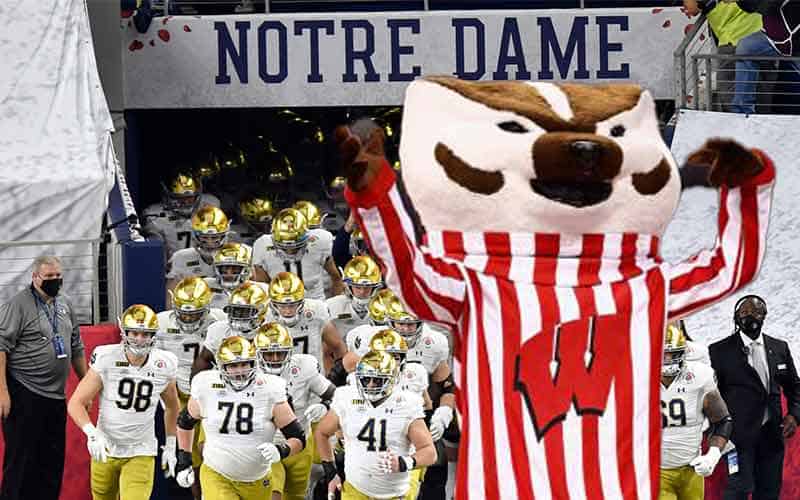 The Fighting Irish of Notre Dame remain undefeated with a 3-0 record as they head into Camp Randall Stadium to face the 18th ranked Wisconsin Badgers at noon this Saturday.
The game is one of two marquee NCAAF matchups occurring this weekend, and the odds for Notre Dame at College Football betting sites are implying that they will not escape from Madison, Wisconsin without suffering their first defeat of the 2021-22 season.
Notre Dame #12 @ Wisconsin #18
Point Spread – ND +5.5, WIS -5.5
Moneyline – ND +180, WIS -220
Over/Under – 47.0
Final Score Prediction – Wisconsin 26, Notre Dame 21
It was first assumed that the Fighting Irish were following up on last year's come-up by holding off the Florida State Seminoles in Tallahassee in an overtime thriller during their season opener.
Flash forward three weeks and FSU is now 0-3 with a loss to Jacksonville State, and Notre Dame has struggled to hang with the likes of Toledo and Perdue.
Saturday appears to be Notre Dame's first legitimate test as the Wisconsin Badgers are favored to win by at least 5 points at their house.
Despite this losing prediction for Notre Dame, CFP betting sites are offering futures odds that are in direct contrast to the above NCAAF game line.
2021-2022 NCAA Football National Championship Odds To Win
Alabama +175
Georgia +260
Oklahoma +750
Clemson +1000
Ohio State +1200
Oregon +1400
Penn State +3000
Texas A&M +3300
Florida +6000
Notre Dame +6000
Iowa +6600
Michigan +6600
Mississippi +6600
Cincinnati +8000
LSU +8000
UCLA +8000
Auburn +10000
Iowa State +10000
Texas +10000
USC +10000
Wisconsin +12500
The luck of the Irish prevails in the above NCAAF National Championship betting odds as Notre Dame is coming in as the 1oth most likely College Football program to win the title, whereas Wisconsin is placed 21st overall.
We're laying off this game entirely and just enjoying the competition, as the Notre Dame Fighting Irish are too uneven to bet on at this juncture.
The aforementioned second top-tier NCAAF matchup of the week goes down this Saturday at 3:30 PM between the 7th ranked Texas A&M Aggies who will be led by head coach Jimbo Fisher into Arkansas to play the 16th ranked Razorbacks.
Texas A&M #7 @ Arkansas #16
Point Spread: TEX -5.0, ARK +5.0
Moneyline: TEX -210, ARK +175
Over/Under: 48.0
Final Score Prediction: Texas A&M 27, Arkansas 21
Arkansas and the Aggies are both undefeated and looking to improve upon their CFP resume, and the winner of this game will be poised to climb the USA Today Coaches Top 25 Poll when it is released early next week.
While a loss would not negate either team's chances at winning the SEC or competing for a National Title, they are not currently among the most elite programs in the conference and do not receive the same benefit of the doubt granted by pollsters and NCAAF oddsmakers.
Those honors are given to the Alabama Crimson Tide, Georgia Bulldogs, Florida Gators, and sometimes the LSU Tigers and Auburn War Eagles. This is evidenced in the College Football futures odds posted above, and for online sports gamblers that are looking to place secure bets, it is tough to go wrong with the top-end programs of the SEC.
If not for the presence of the Georgia Bulldogs, the Crimson Tide of Alabama would likely be listed with a negative moneyline, and those teams will not face each other unless both of them qualify for the SEC Championship Game. For now, bettors with a strong hunch would be wise to take advantage of these NCAAF moneylines while they're still in the positive.
Sources – Bovada, College Football News