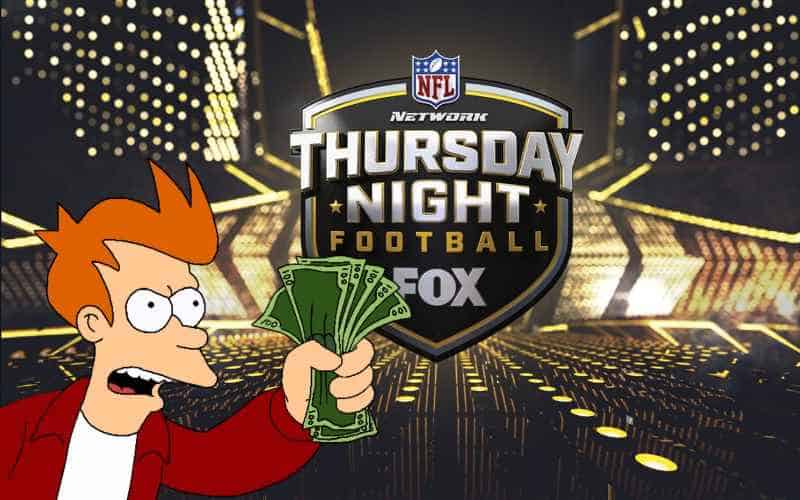 Well, it's Thursday again.
Which, of course, means that it's time for Thursday Night Football.
Almost, anyway.
You've just got to make it through the workday first.
Sorry about that.
At any rate, here's how the game is shaping up on the odds boards at all the best NFL sportsbooks online:
Carolina Panthers at Houston Texans
Straight: Panthers -420, Texans +315
Spread: Panthers -8.0 (-115), Texans +8.0 (-105)
Total: 43.0 (-110)
Straight: Panthers -410, Texans +330
Spread: Panthers -7.5 (-123), Texans +7.5 (+103)
Total: 43.0 (-110)
Via MyBookie Sportsbook
Straight: Panthers -420, Texans +320
Spread: Panthers -9.0 (+100), Texans +9.0 (-120)
Total: 43.0 (-110)
Via BetUS Sportsbook
Straight: Panthers -400, Texans +320
Spread: Panthers -8.0 (-110), Texans +8.0 (-110)
Total: 43.0 (-110)
Via Xbet Sportsbook
Straight: Panthers -420, Texans +320
Spread: Panthers -9.0 (+100), Texans +9.0 (-120)
Total: 43.0 (-110)
Via SportsBetting AG Sportsbook
Straight: Panthers -410, Texans +330
Spread: Panthers -7.5 (-123), Texans +7.5 (+103)
Total: 43.0 (-110)
Now, we're not going to tell you how to bet, because this is actually a really tough call.
The Panthers beat the Jets (big deal) 19-14 in Week 1, and then they beat the Saints (actual big deal?) 26-7 in Week 2.
The Saints, remember, trounced Green Bay in their opener 38-3, delivering Aaron Rodgers the worst loss of his career and taking every sportsbook for a ride deep into the redzone.
But New Orleans QB Jameis Winston returned to his magnificent interception-throwing form for Week 2, so giving Carolina too much credit here might be a mistake.
Meanwhile, the Texans – opting to start rookie Davis Mills under center instead of Tyrod Taylor instead of Deshaun Watson – are now an unknown commodity.
With Taylor, they beat the Jaguars 37-21 in Week 1 and then lost to Cleveland 31-21 in Week 2.
None of these teams seems to be very good, which is why we're not telling you how to bet.
(You should obviously take the Panthers straight up. – Ed.)
But there's a bigger question looming that we do want to talk about, and that's figuring out where to wager.
Now, if you're already an online sports bettor and have a few favorite sites, just shop the lines and pick the one that gives you the most bang for your buck.
On the other hand, if you've never bet sports online before but find yourself pushed over the fence by tonight's Panthers vs. Texans matchup for some reason, welcome to the fold!
The only question, then, is which book you should choose for your first career start.
Normally, we advise joining multiple sportsbooks to get the best values on any given contest, but the game's tonight, so a single book is fine for now.
That said, it's probably not a great idea to base your choice of sportsbook on the site that has the most favorable odds for your picks this evening.
Remember, these books consistently have different odds for the same events, and there's no telling which operator will have the best lines week in and week out.
Instead, you'll want to base your choice on the operator that offers its members the most features.
For more insight along those lines, you can check out our legal online sportsbook reviews.
The short version is this: If you live anywhere but DE, MD, NJ, NV, or NY and have never bet sports online before, pick Bovada. If you happen to live in one of those Bovada restricted states, BetOnline should be your starter.
But now, there's an even bigger question looming:
How do you get your betting account funded in a hurry?
Remember, tonight's game is slated to start at 8:20 PM (FOX, NFL Netwoke).
Normally, we always recommend betting with cryptocurrencies like Bitcoin, Bitcoin Cash, Ethereum, Litecoin, and so on. We especially like Litecoin.
But that's only going to work if you already hold some crypto.
Otherwise, buying crypto for the first time at any of the major online exchanges can take 5-10 days, and you have scarcely 5-10 hours to get your bets in.
Another option is to use Cash App to buy BTC with which to deposit.
That's a fast enough method to get your account topped off by kickoff, but it only works if you've already got a verified Cash App account.
If you don't, Cash App's KYC process probably won't let you buy or trade Bitcoin until tomorrow or Saturday at the earliest.
So, in a rare shift, we actually recommend – for tonight and tonight alone – that first-timers deposit using credit or debit.
There's a 5-10% chance that your card-based deposit will be declined automatically due to the pesky UIGEA nonsense, but if that happens, don't worry.
Just wait 15 minutes or so and try again.
And if that doesn't work, you can use a different card.
If you don't have a different card, simply pop over to any convenience store or big box retailer on your lunch break and buy a prepaid Visa gift card rated for international purchases.
That one should go through without a hitch.
Once your account is loaded up, you'll be ready to bet on the Game of the Century™. (Hey, it is a game, and it is taking place this century, so…)
Just be sure that when it's time to collect your payout, you collect it in Bitcoin or another supported cryptocurrency.
Then, you'll have your crypto without needing to use the big exchanges, and you can cash it out or trade it for other crypto coins at your convenience.
We recommend the latter, because the current crypto market downturn means you can get more coin for your…whatever rhymes with coin.
Happy betting!