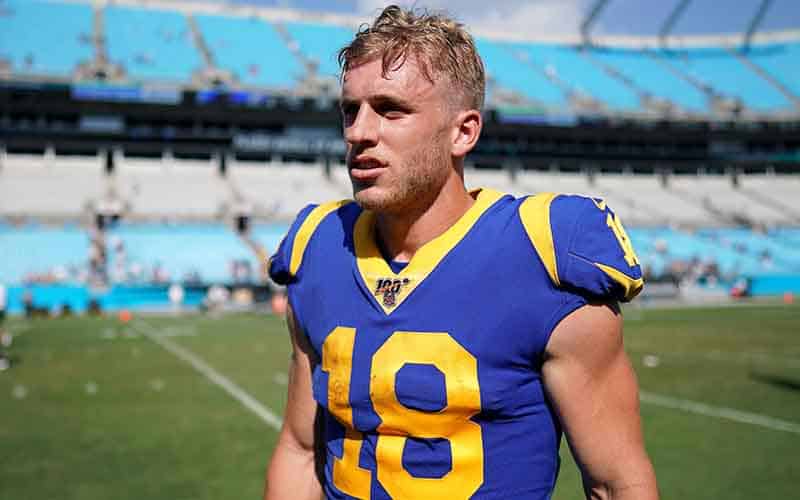 Los Angeles Rams wide receiver Cooper Kupp is on a historic tear and is poised to break single-season marks in more than one statistical category.
His inclusion at the top of the Offensive Player of the Year odds posted for online NFL betting is no surprise. With Matthew Stafford now throwing Cooper the ball, oddsmakers are firm in their belief that he'll continue on his current pace and capture the NFL's Offensive POY honors.
His current separation in the NFL moneyline odds from his nearest competition is a gap of 1600 points, but what is more out of line is some of the players featured toward the bottom of the list that should be ranked much higher.
NFL Offensive Player of the Year Odds
Cooper Kupp EVEN
Kyler Murray +1600
Davante Adams +1800
Jonathan Taylor +2000
Josh Allen +2000
Tom Brady +2200
Lamar Jackson +2500
Matthew Stafford +3000
Dak Prescott +3300
Ezekiel Elliot +3300
Tyreek Hill +3300
Aaron Rodgers +3500
DeAndre Hopkins +3500
Aaron Jones +4000
Alvin Kamara +4000
Nick Chubb +4000
Stefon Diggs +4000
Travis Kelce +4000
Justin Herbert +5000
Kirk Cousins +5000
Patrick Mahomes +5000
Dalvin Cook +6600
Justin Jefferson +6600
Derek Carr +8000
Joe Mixon +8000
Taysom Hill +8000
Antonio Gibson +10000
Austin Ekeler +10000
Calvin Ridley +10000
Chris Carson +10000
Christian McCaffrey +10000
George Kittle +10000
Najee Harris +10000
Russell Wilson +10000
Saquon Barkley +10000
Deebo Samuel +13000
We couldn't help but notice that Deebo Samuel, wide receiver for the San Francisco 49ers is bringing up the rear with +13000 odds to win, even though his production levels are MVP-like.
Let's compare Cooper Kupp and Deebo Samuel's statistical performance through 10 weeks.
Cooper Kupp Stats
85 receptions, 1,141 yards, 13.4 yards-per-catch, 10 touchdowns
Deebo Samuel Stats
54 receptions, 979 yards, 18.1 yards-per-catch, 5 touchdowns (plus 58 yards rushing with 2 TDs)
If something were to cause Cooper Kupp to miss a game or two, Samuel could find himself at the top of the heap, but in order to take advantage of the high payouts offered by this NFL prop bet, wagers need to be placed now.
A reasonably small bet of $10 will payout  at $1,300 if Deebo becomes the 2021-22 NFL Offensive Player of the Year, and much of his potential to do so leans on the success of the team that he plays for.
The San Francisco 49ers just laid the wood to the LA Rams by a score of 31-10, largely due to the efforts of Mr. Samuel as the Los Angeles secondary should be referring to him. Check out this stat line from Monday Night Football earlier this week.
Deebo Samuel's Stats On Monday Night Football – Week 10
5 receptions, 97 yards, 1 touchdown, 5 rushes, 36 yards, 1 touchdown
Samuel's carries weren't all reverses, either. Deebo was literally taking handoffs in the 49ers backfield and making defenders pay with his toughness and elusiveness.
San Francisco is now 4-5 and just outside of the top 7 playoff seeds in the NFC. Sunday's game against the Jacksonville Jaguars in Duval County is just what the 49ers need to pull even, but a slip-up would be incredibly costly to their playoff hopes as well as the POY odds for Deebo Samuel.
Green Bay Packers quarterback Aaron Rodgers is currently featured at +3500 and could win if he falls short in the MVP odds. The reality is, if anyone other than Kupp wins, the cash paydays will be massive for those brave enough to lay some action.