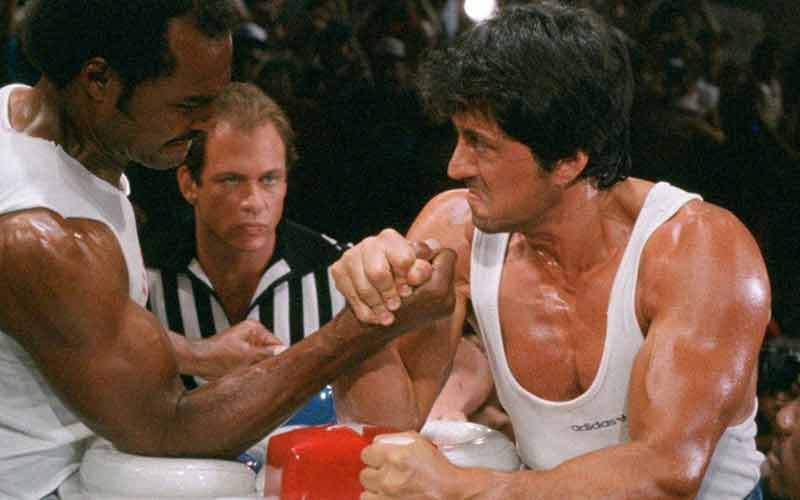 Over The Top is the story of a trucker by the name of Lincoln Hawk (Sylvester Stallone) who is taking his young son, Michael, on a road trip from his military school in Colorado to see his ex-wife in California who is suffering from a rare heart disease.
Lincoln and Michael have an estranged relationship following the divorce because his former father-in-law has deliberately cut him out of the family.
Along the way, a series of events causes Lincoln Hawk to hit rock bottom. He decides to travel to Las Vegas and make the ultimate bet on himself.
Sports Betting In Over The Top
During the course of his travels, Hawk has become a solid competitor on the amateur arm wrestling circuit, taking on challengers in regional truckstops and pinning the backs of their hands to the table.
Every once and again, Hawk will need to dip into his reserves for that little extra kick of juice, and to jettison that flow of adrenaline, he will change his grip mid-match. It is his signature move, and usually spells doom for his opponent.
Hawk, in desperation, has decided to enter the World Armwrestling Championship which features a grand prize of $100,000 and a massive $250,000 semi.
The tournament is in Las Vegas, and because sports betting in Nevada is legal, Hawk is able to sell his semi for $7,000 and let it all ride on his odds to win.
Lincoln Hawk's Odds To Win: The Stakes
Hawk's Odds To Win Entire Tournament: 20-1
Hawk's Moneyline Odds: +2000 (5% chance of winning)
Wager Amount: $7,000
Amount Hawk Will Win If Successful: $140,000 ($390,000 including tournament grand prizes)
Total Net Worth If Hawk Loses: $0
As you can see by the above statistics, Hawk has bet everything on himself to win, and the odds, while not completely improbable, should be lower at Las Vegas sportsbooks considering the juggernauts he will face along the way that are north of 300 pounds.
What makes the bet even riskier is his refusal of an offer from his former father-in-law, Michael's grandfather, following his ex-wife's death. Hawk turns down $500,000 and a new truck because it would mean that he would have to remain outside of Michael's life, and he'd rather risk it all for a chance to provide a future with him rather than to take the easy money and never see him again.
While this entire scenario may sound preposterous, viewers will find themselves deeply engrossed as Hawk mows through competitors twice his size while Kenny Loggins and Sammy Hagar belt out fist-pumping anthems that'll warm the hearts of even the savviest arm-wrestling aficionados.
Make sure you have a tough armrest cover on your couch or recliner when you watch Over The Top because the last 30 minutes will cause spectators to clinch the edge of their seats with a white-knuckle grip.
When the high drama of two grown men howling in agony as they try to best the other in a game of high-stakes, bicep-bulging, sweat-inducing, tank-top-wearing action comes to a conclusion, we think you'll agree that Over The Top belongs in the discussion of the best sports betting movies of all time.
Over The Top can be seen for free with limited commercial interruption using the online streaming service Tubi.