Netflix's "Tiger King: Murder, Mayhem and Madness" sits comfortably at the top of the streaming food chain, but the odds on what happens next indicate the best is yet to come.
So far, betting odds on Tiger King have managed to somehow be "danker" than the slew of viral memes that have emerged following the now 8-part docuseries' No.1 ranking during the ongoing coronavirus pandemic.
Spoiler warning: Big Cat Rescue's Carole Baskin accomplished her mission by locking tiger and animal zoo archrival Joe Exotic in a cage for the foreseeable future.
But according to social media, the jury, judge, and executioner are still out on which of the two was a bad kitty. Both definitely did terrible things, but only one tried to make someone "sleep with the fishes."
However, while Joe Exotic may have attempted murder via hiring a hitman, Carole Baskin's claws are not clean in the eyes of many Tiger King fans.
BetOnline Sportsbook currently has its troughs overflowing with entertainment prop bets for the Tiger King. Still, two propositions specifically focus on whether Carole Baskin murdered Jack Lewis—her second husband, who's been missing since August 18, 1997.
Tiger King Carole Baskin Prop Odds
Entertainment Specials at BetOnline Sportsbook
Will Carole Baskin be found guilty of murdering Jack Lewis?
Will Jack Lewis' body be found before January 1, 2021
Did Carole Baskin kill Jack Lewis?
Before determining whether Carole Baskin will be found guilty or if Jack Lewis' body will be found, we need to call an expert before placing a winning bet.
OJ Simpson has arguably the most experience when it comes to murder and trial involving married couples (for obvious reasons), and the now free man was one of the many celebrities who believe Baskin murdered her husband and fed his body to the tigers.
"One thing I will say… there's not a shred of doubt in my mind that that lady's husband is, uh, tiger sashimi right now. I'm just saying," Simpson concluded.
Tiger Sashimi #TigerKing pic.twitter.com/VuQzT3OAvM

— O.J. Simpson (@TheRealOJ32) April 1, 2020
However, BetOnline Sportsbook strongly disagrees with Juice's hot take analysis. The oddsmakers' prop for Baskin being found guilty of murdering Lewis by 2021 lists "No" at -2500 ($25 wins $1) and "Yes" at +800 ($1 wins $8).
Based on the line, there is only a 6.8% implied probability that Baskin will be found guilty by 2021. The odds of finding Lewis's body, No -2000 ($20 wins $1) and Yes +700 ($1 wins $7) are a pretty significant longshot as well with a 7.99% chance given by BetOnline.
A guilty verdict would need to be rushed to meet the 2021 deadline for the prop bet, and currently, the lack of tangible evidence means hearsay would be the only thing that could be used against Baskin.
While OJ is likely wrong about Baskin, the odds of authorities finding Lewis' body after 23 years is "slim to none"—regardless of whether he's "tiger sashimi" or not.
If you believe Baskin will be found guilty or Lewis' body will be found, then just know that you're backing the "undercats" and will face longshot odds of winning your wager. Needless to say: Taking the favorites is strongly recommended with both props.
But as spicy as the Baskin and Lewis props are, there are dozens more Tiger King odds for all you cool cats and kittens out there.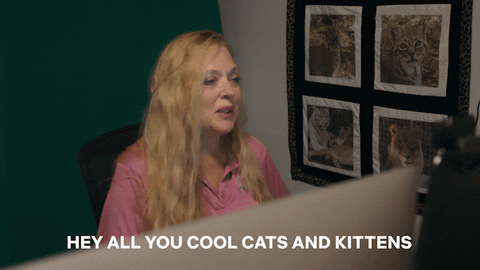 More Tiger King props to chew on
Odds of President Trump pardoning the Tiger King are still unfavorable even after more big-name celebrities have been vocal about the need to free Joe Exotic from his 22-year prison sentence.
The roaring success following the release of the initial seven episodes and last week's "The Tiger King and I," means it's time to talk about the big picture, meaning there are now additional Tiger King movie betting odds for all the potential cast members. Hopefully, Joe Exotic gets the American superhero origin film both he and we deserve.
Below you can find all of BetOnline's featured entertainment prop specials for the Tiger King Netflix series that are currently available to bet on legally.
Bet on the Tiger King
Entertainment Specials at BetOnline Sportsbook
Will President Trump pardon the Tiger King?
Tiger King Movie: Who will be cast as Joe Exotic?
Kevin Bacon +100
Edward Norton +200
David Spade +300
Billy Bob Thornton +400
Ben Stiller +600
Tiger King Movie: Who will be cast as Carole Baskin?
Wendi McLendon-Covey +150
Allison Janney +200
Kristen Wiig +300
Laura Dern +300
Jennifer Coolidge +700
Tiger King Movie: Who will be cast as Doc Antle?
Tim Robbins +150
Will Ferrell +200
Jim Gaffigan +300
Matt Damon +300
Louis CK +600
Tiger King Movie: Who will be cast as Travis Maldonado?
Rami Malek +150
James Franco +200
Michael Cera +250
Jesse Eisenberg +500
Pete Davidson +700
Tiger King Movie: Who will be cast as John Finlay?
Shia LaBeouf +100
Leonardo DiCaprio +200
Tom Hardy +300
Channing Tatum +350
Anthony Cavalero +500
Tiger King Movie: Who will be cast as John Reinke?
Matthew McConaughey +100
Bryan Cranston +150
Jeff Bridges +250
Nick Offerman +500
Tiger King Movie: Who will be cast as Joshua Dial?
Josh Gad +250
Seth Rogen +250
Jonah Hill +350
Clark Duke +400
Paul Walter Hauser +450
Tiger King Movie: Who will be cast as Erik Cowie?
Chris Elliott -150
Tim Blake Nelson +100
Woody Harrelson +150
Vince Neil +1000
Tiger King Movie: Who will be cast as Kelci Saffery?
Kelly Marie Tran +180
Michelle Rodriguez +250
Roberta Colindrez +300
Vicci Martinez +350
Tiger King Movie: Who will be cast as Lauren Lowe?
Amy Adams +200
Isla Fisher +250
Alyson Hannigan +300
Emma Stone +350
Uma Thurman +450
Tiger King Movie: Who will be cast as Rick Kirkham?
Gary Oldman +100
Ben Mendelsohn +200
J. K. Simmons +300
Ed Harris +400
Billy Bob Thornton +500
Will the Clinton Johnson Band sign a record deal?
Will Rick Kirkham be found guilty of sexual harassment?
How many Instagram followers will Masha Diduk have by May 1?
Over 275,000 -180
Under 275,000 +140