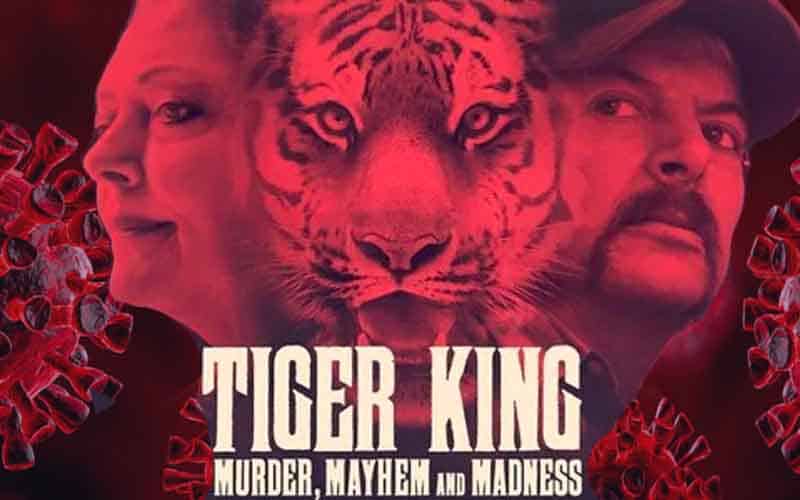 Now that Netflix's "Tiger King: Murder, Mayhem and Madness" is out of the bag and (Spoilers!) Joe Exotic is locked in a cage; it's time to make a movie!
Or so we hope. Nothing has been confirmed, but there have been numerous reports from anonymous kitties purring and stirring about. Plus, you can always bet the big cat's stomach will begin rumbling when cash cows are on the executive menu.
With little to no sports to wet bettors' whistling wagers on during the coronavirus pandemic, the latest Tiger King betting odds are potentially the best way to quench the mouths of real-money makers.
The updated entertainment wagering specials at BetOnline Sportsbook indicate some likey casting choices if a Tiger King movie script gets the green light from Netflix in the near or distant future.
For the main characters, here the actors and actresses who the oddsmakers predict will be cast for a potential Tiger King movie.
Tiger King movie cast favorites
Entertainment Specials at BetOnline Sportsbook
Joe Exotic: Kevin Bacon +150
Carole Baskin: Wendi McLendon-Covey +100
Doc Antle: Will Ferrell +150
Travis Maldonado: Rami Malek +150
John Finlay: Leonardo DiCaprio +200
The Eye of the Tiger King movie odds
The always entertaining oddsmakers at BetOnline favor Netflix going "all in" if the Tiger King movie is officially announced to be "coming soon" to any of the following screens: television, smartphone, tablet, desktop, smart home, phablet, folding phone, flip phone, folding flip phone, and probably an app for a minifridge toilet recliner combo if we're smart as a species.
And you can bet if Kevin Bacon, Wendi McLendon-Covey, Will Ferrell, Rami Malek, and Leonardo DiCaprio all commit to the dark forest, concrete jungle follow-up facade (a.k.a. The Tiger King movie) then this star-studded acting lineup is destined for a clean sweep at the Academy Awards betting odds in a couple of years.
But for now, below you can find the complete futures board for the Tiger King movie cast, which is the latest addition to our growing US coronavirus betting guide. If you need extra rare TK odds, then there's more to chew on immediately following the full list.
Tiger King Movie Cast Betting Odds
Entertainment Specials at BetOnline Sportsbook
Joe Exotic Casting Odds
Kevin Bacon +150
Edward Norton +250
Billy Bob Thornton +300
David Spade +400
Ben Stiller +500
Carole Baskin Casting Odds
Wendi McLendon-Covey +100
Allison Janney +300
Kristen Wiig +300
Jennifer Coolidge +500
Laura Dern +600
Doc Antle Casting Odds
Will Ferrell +150
Jim Gaffigan +300
Matt Damon +300
Shia LaBeouf +300
Louis CK +500
Travis Maldonado Casting Odds
Rami Malek +150
Jim Gaffigan +300
Michael Cera +250
Jesse Eisenberg +500
Pete Davidson +700
John Finlay Casting Odds
Leonardo DiCaprio +200
Shia LaBeouf +250
Tom Hardy +300
Anthony Cavalero +350
Channing Tatum +350
More Tiger King betting odds
The seven-part docuseries is the number one show on Netflix and probably in the universe for that matter, as far as the memes are concerned.
Going viral during the coronavirus pandemic is quite an accomplishment, and Joseph A. Maldonado-Passage's unique backwoods Oklahoma story is the talk of everyone on social media.
Joe Exotic has even pleaded for a presidential pardon, and an unsurprising number of celebrities have hopped on board with the idea of letting the convicted murder-for-hire $3,000 buyer out of his "cage."
In what will be delightful news to Big Cat Rescue's Carole Baskin (the archrival of the Tiger King), the odds of Donald Trump pardoning the Tiger King are not in Passage's favor—according to sportsbooks accepting wagers on a full pardon granted for the current one of his nine lives.
Trump pardoning the Tiger King might need its own movie, but fans and bettors chomping at the bit for more expired Walmart meat can quit frothing at the mouth soon.
A new episode, part eight, will be released on Netflix "next week," according to a tweet from none other than new zoo owner Jeff Lowe.
So our friend @christie_dish listened to the podcast, @HoldingKourt and after last weeks episode decided to send us this!!!

🚨BREAKING NEWS FOLKS🚨

There will be 1 more episode of #TigerKing on@Netflix pic.twitter.com/YeRSIlDKTJ

— Justin Turner (@redturn2) April 4, 2020
That's all the Tiger King betting lines, odds, and prop bets for now during quarantine time, but at Legal Sports Betting, you can bet we'll continue to stay on the prowl for the latest big cat wager updates from the best US sportsbooks.