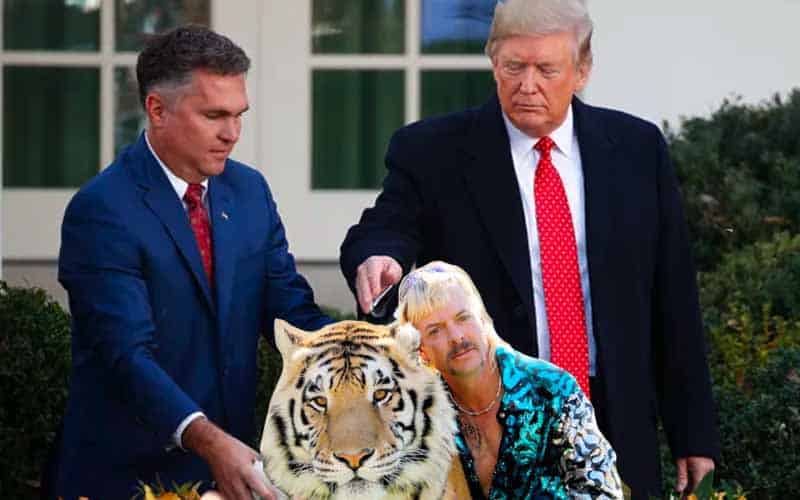 President Donald J. Trump is unquestionably the king of the United States jungle, which is filled to the brim with myriad pride of lions and cheetah coalitions as of 2020.
A "swamp" works too, but odds still favor the political cat pun covering the intention for the new "Tiger King" odds from an entertaining prop bet.
With unique legal sports betting odds during the coronavirus pandemic becoming an everyday feature at online sportsbooks, oddsmakers frequently look at what's going viral on the Internet and accept bets on a related unknown outcome.
Tens of millions of Americans are currently practicing social distancing and staying inside to #QuarantineAndChill, so naturally bingeing on Netflix's latest documentary "Tiger King: Murder, Mayhem and Madness" was bound to happen.
As a result, Bovada oddsmakers are now accepting bets on a new "exotic" Trump-themed political proposition.
Unfortunately, the odds don't favor Joe Exotic—none other than the "Tiger King" himself—convincing President Trump to pardon his 22-year prison sentence for his murder-for-hire conviction, among additional charges.
Will Joe "Tiger King" Exotic Receive A Presidential Pardon By January 20, 2021?
Political Specials at Bovada
Will Trump Pardon The Tiger King?
Considering both the coronavirus pandemic and Trump's reelection odds for 2020 are on the line, oddsmakers don't favor the President pardoning the Tiger King—at least during his first term.
"No" is listed at -1100 odds, meaning an $1100 bet, for example, would win $100 if the Tiger King is freed from his cage. The odds of "no Trump pardon" have an 88.71% implied probability.
But if you predict Trump will release Joe Exotic on a full pardon, then "Yes" is posted at +575. A $100 wager wins $575 but only has an 11.29% chance to happen, according to the oddsmakers.
Tiger King Spoiler-Free Details
To avoid spoilers, we won't dive into any details of the murder-for-hire plot of the Netflix series in case you want to watch it after getting off work from home or as a first responder during the national emergency.
Joseph A. Maldonado-Passage, a.k.a. Joe Exotic, a.k.a. The Tiger King recently filed a $94 million lawsuit against several people, including some working within the United States government.
After announcing the suit, the Tiger King made a Facebook post from his personal account on March 19 to ask Donald Trump for a presidential pardon.
"This lawsuit has been filed in the name of Justice, The Trump Administration must be made aware of the Overreach, perjury, abuse of power and the failure to uphold the Oath of their position which is truth and Justice for all. The Agencies and its counter parts have abused the system for a private agenda. The Director Dan Ashe used his Government position to creat an illegal monopoly with the AZA and shut down hard working American businesses for self gain. I have been illegally charged with these crimes and the Trump Administration, the United States Department of Interior along witht the Federal Wildlife service must be held accountable for what they have done to me, my parents and my family, along with my animals. Thank you and please share."
Following Netflix's initial 7-episode release of the documentary on March 20, celebrities like Kim Kardashian, Cardi B, and Wiz Khalifa have expressed their public support for the Tiger King, which has since become a viral meme sensation.
But after catching the Tiger King by the tail and putting him in prison for 22 years, is President Trump will to risk it given the current status of the country?
With how 2020 has played out so far, it's probably accurate to say there are no safe bets whenever Trump or the Tiger King are involved.
Just be sure to catch this pardon prop, and not COVID-19, before Trump or the next POTUS is sworn in.