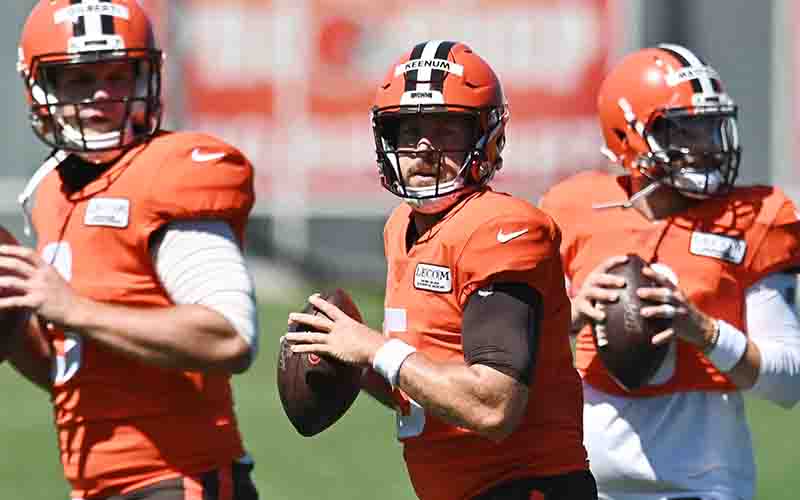 The Cleveland Browns are now +3.5 underdogs to the Las Vegas Raiders now that the reemergence of COVID-19 has caused them to dip into their reserves and call up their third-string quarterback for starting duty.
Starter Baker Mayfield has been vocal in his criticism of the NFL's COVID-19 protocols,
"Tell me if this makes sense. No tests this morning, then let our team gather for practice, then show up after practice to test them. Something seems off here."

Baker Mayfield – Cleveland Browns Quarterback
When a starting quarterback is out, lines for NFL betting are going to be impacted each and every time. In this case, even though the Raiders are favored by just over a field goal, it speaks to how lousy Las Vegas is playing at the moment.
Las Vegas Raiders @ Cleveland Browns
Raiders Point Spread: -3.5
Raiders Moneyline: -180
Browns Raiders: +3.5
Browns Moneyline: +160
Over/Under: 38.0
Projected Final Score: Raiders 21, Browns 18
Journeyman QB Nick Mullens will get the start for the Browns as long as he can avoid contracting coronavirus between now and kickoff. Mullens has 16 starts under his belt for the San Francisco 49ers over the past three seasons, and was added to the Browns roster yesterday.
Cleveland Browns Quarterback Depth Chart
Baker Mayfield – Out due to a positive COVID-19 test
Case Keenum – Out due to positive COVID-19 test
Nick Mullens – Will start against the Raiders… for now.
???
Opening NFL point spreads were set in the neighborhood of 5 points in favor of Cleveland when lines were originally set, but that was with Baker Mayfield entrenched as the starter.
An 8 point swing has occurred since announcing Mullens as the starting quarterback against the Raiders, but consider this – Nick is a complete wild card inside of the Cleveland system and Las Vegas doesn't have any game film on him with which to prepare.
The Raiders' offensive performance has been up and down this season. Vegas seems to play to their competition, scoring in bunches alongside them in a shootout, or participating in a defensive struggle where points are tough to come by.
Cleveland has also performed inconsistently this year. In their last two games, they've beaten and lost to the Baltimore Ravens.
Super Bowl betting sites offer year-round odds that can be used to project each NFL franchise's chances for the postseason. The following NFL prop bets don't provide much hope for either Cleveland or Las Vegas.
Las Vegas Raiders Odds To Make The Playoffs
Odds to Win AFC Championship 2021/2022
Kansas City Chiefs +220
New England Patriots +270
Buffalo Bills +675
Tennessee Titans +850
Indianapolis Colts +1400
Los Angeles Chargers +1400
Baltimore Ravens +1600
Cleveland Browns +1600
The above prop bet and NFL futures for the AFC Conference Champion both suggest that the Raiders and Browns will miss the playoffs this year.
The beauty of this weekend's matchup is that one of them has to win, which will place the victor back on the path for the postseason while also likely ruining the playoff hopes of the loser.
We're not sure who we have less confidence in – a Nick Mullens-led Cleveland Browns team or the Las Vegas Raiders as-is. Good luck on Sunday.