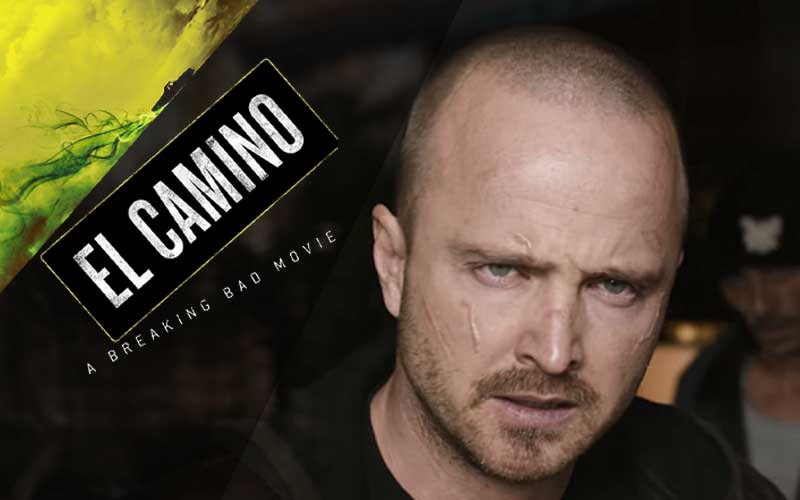 Another batch of odds just finished cooking for El Camino: A Breaking Bad Movie, and we're ready to sling all the prop bets your way.
With just two days until the highly-anticipated sequel to the critically-acclaimed Breaking Bad TV series, even more odds are now available on the Netflix movie starring Aaron Paul and directed by show creator Vince Gilligan—both of whom won numerous Emmys and awards during the original five-season run.
BetOnline initially released only a small taste of proposition bets a couple of weeks ago. The updated Breaking Bad movie odds for those props and the new ones that were just released can be found below.
Now, with its Friday, October 11 release on Netflix right around the corner, the El Camino bets are really revving up. BetOnline is again accepting action on entertainment prop bets for the film, this time focusing heavily on the fates of the show's main cast.
Breaking Bad Movie Odds
@BetOnline – Odds from October 9
WARNING: Major Breaking Bad spoilers below
One of El Camino's most important prop bets revolves around the fate of Jesse. Oddsmakers favor Jesse living the entire film at -175 odds but give other death options chances, too. Simple deaths, like a gunshot (+300) and stabbing (+700) are mentioned, but electrocution (+3300) and buried alive (+3300) are also options.
How will Jesse die?
Does not die -175
Gunshot +300
Knife/axe +700
Blunt force +800
Poison +900
Strangulation +1000
Car accident +1000
Drug Overdose +1000
Pushed off building or bridge +1200
Suicide +1200
Drowning +3300
Buried alive +3300
Burnt alive +3300
Crossbow +3300
Electrocution +3300
Jesse's fate is TBA for the film. However, for the show's other protagonist, Walter White, his fate was sealed in Breaking Bad's finale. Despite dying at the end of the show, Walt still has odds to appear in El Camino, albeit through flashbacks or memories.
With Walt's appearance expected, a mention of his alter ego is also favored. Oddsmakers predict that "Heisenberg" will be said at -200 odds.
Will Walter White appear?
Will Heisenberg be said?
There's also pick'em odds for the chance that Jesse finds Walt's money hidden in the desert. If he were to find it, other prop bets available could be effected. Finding the money and not finding it share -120 odds.
Will Jesse find Walter's hidden money?
The show's famous blue meth is also favored to appear at -150 odds. As Jesse is expected to live and Walt is favored to reappear in some capacity, it makes sense that their product will also be shown. The blue meth could also appear in a flashback.
Will blue meth be shown?
Speaking of the dead and flashbacks, Gus Fring and his Los Pollos Hermanos are also favored to appear in El Camino, even though Gus was killed and his restaurant shutdown.
Gus and Pollos both have -500 odds to show up in the movie.
Will Gus Fring appear?
Will Los Pollo Hermanos be seen?
One of the most pivotal moments in Breaking Bad was the murder of Jesse's former girlfriend, Andrea Cantillo, in the fifth season. As punishment for trying to escape from Jack Welker and his gang, Todd Alquist shoots Andrea in front of Jesse.
This leaves Andrea's son, Brock, orphaned at the end of the series. Although his fate is unknown, it can be assumed Brock's grandmother took him in after her daughter's death.
As Jesse grew close to Brock between seasons three and five, even turning on Walt when it was revealed that he tried to kill Brock, it makes sense that he will try to contact him in El Camino. Oddsmakers give a Brock-Jesse reunion -200 chances in the film.
Will Jesse and Brock see each other in the present day?
Along with Andrea's death, Jesse also had to deal with the pain of losing another girlfriend due to his involvement with the meth industry. In season two, Jesse's girlfriend, Jane Margolis, dies from an overdose following her relapse.
Jesse's bad luck with women, coupled with his focus on survival and eluding the police, oddsmakers favor him being single at the end of El Camino with -850 odds.
Will Jesse have a girlfriend at the end of the movie?
Despite Jesse's parents not appearing after the third season, BetOnline predicts Jesse will reunite with them in El Camino at -150 odds.
Will Jesse see his parents?
Jesse's parents have little to do with him throughout the series thanks to his involvement in drugs. Throughout the series, Jesse uses, sells, and manufactures a variety of drugs.
BetOnline predicts that Jesse will use drugs again in El Camino, but when it comes to selling drugs, both "Yes" and "No" have -120 odds of happening.
Will Jesse do drugs?
Will Jesse sell drugs?
Towards the end of Breaking Bad, after their marriage's complete fallout, Walt provides his wife, Skyler, an alibi hoping to exonerate her through a tapped payphone conversation. Skyler is still interrogated by the DEA but does not reveal any details about Walt.
After meeting one last time, Walt gives Skyler the coordinates to his hidden money in hopes that she can work a deal with the DEA for her freedom. The phone call and coordinators are probably the reasons why BetOnline does not predict Skyler being in jail (-500) in El Camino.
Will Skyler be in prison?
Just prior to her final meeting with Walt, Skyler receives a phone call from her sister, Marie. It appears that after severing contact, Marie wants to rekindle their relationship amidst Walt's return to Albuquerque.
Oddsmakers must take the phone call for just that since Skyler and Marie have -300 odds of seeing each other in the present day in the movie.
Will Skyler and Marie see each other in the present day?
There are also a few more bets surrounding other characters from Breaking Bad, including the Head of Logistics at Madrigal Electromotive Lydia Rodarte-Quayle, Saul Goodman's personal bodyguard Huell Babineaux, and Jane's dad, Donald Margolis.
Oddsmakers believe that Lydia will be alive in the present day (-200) despite the implication that Walt killed her with ricin in the final episode.
Lydia also has a chance to confess to her crimes before dying in El Camino, with "Yes" and "No" both given -120 odds.
Will Lydia be alive in the present day?
Will Lydia give a confession before dying?
In what may be the most obscure bet of the bunch is the possible appearance of Jane's dad. After his daughter's death, Donald becomes distracted in his job as an air traffic controller and causes two planes to crash into one another.
Donald attempts suicide in season three, but his fate is unknown. His odds of appearing are low at +200.
Will Jane's dad appear?
Last but not definitely not least, there's a prop bet on everyone's favorite character.
A running joke since the end of Breaking Bad is that Huell is still waiting at the DEA safe house where he was last seen in the thirteenth episode of season five. Assuming everything went well for him after the end of the show, Huell is likely still alive.
His odds of living in the present day are -200.
Will Huell be alive in the present day?
And that wraps up the odds for all the Breaking Bad movie prop bets! We wish you the best of luck on all your bets and hope you'll rest easy on a pile of cash like my boy Huell.