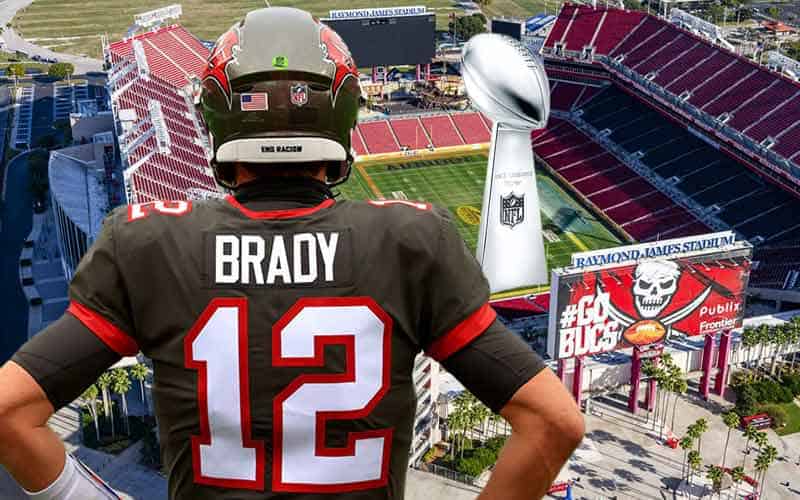 Super Bowl 55 will mark the 10th time that Tampa Bay quarterback Tom Brady has made it to the big game.
Brady has made it to the Super Bowl more times than 31 out of 32 NFL teams. Only the New England Patriots have competed for the Lombardi Trophy more times than Tom, with 11 appearances, but of course, Brady was a part of 9 of those AFC Championship teams.
Most All-Time Super Bowl Appearances
Team/Player
Appearances
Record
New England Patriots
11
6-5
Tom Brady
10
6-3 (*playing in SB LV)
Pittsburgh Steelers
8
6-2
Dallas Cowboys
8
5-3
San Francisco 49ers
7
5-2
Brady has lost the Super Bowl more times (3) than 15 NFL franchises have appeared.
Now that the final matchup of the season has been set, betting on the Super Bowl is heating up and will be the key focus of sportsbooks for the next two weeks solid.
Early lines for SB 55 are granting the AFC Champion Kansas City Chiefs an edge of three points, which is a substantial margin considering that the big game on February 7 will be played in Raymond James Stadium, the home field of the Tampa Bay Buccaneers.
It will be the first time that a team has participated in a Super Bowl that is hosted at their home stadium – yet another major milestone for Tom Brady's career and one more piece of ammunition for critics that are coming to battle to argue that he is the greatest football player of all time.
When Brady signed with Tampa Bay in early 2020, optimism for the Buccaneers went through the roof, and NFL Playoff odds were produced that suggested they'd make a deep run into the postseason.
However, with a fleet of juggernaut teams to greet Tom upon arrival in Tampa, they were not predicted to win it all so soon. The New Orleans Saints, Green Bay Packers, San Francisco 49ers, and Seattle Seahawks were all assumed to be more Super Bowl-ready than the Buccaneers, even with Brady on board.
Assuming has once again made an ass out of "u and me" because Tom "Terrific" is going for his seventh Super Bowl title, not only with a completely new team, but in his first season playing for them after a 17-year career with the Patriots.
The kicker is, Tom is 43 years old. He has just led his brand-new team to three road wins in a row in the NFL Playoffs, with the last two games featuring him and Tampa Bay as underdogs.
If all of these accomplishments by Brady seem incredible, it's because they are. Sure, he's had a few lucky breaks along the way, but he deserves the respect for putting his team in a position to win.
The NFC Championship Game ended with a questionable defensive pass interference call that awarded Tampa the game, however, the Packers blew several opportunities to get back into the contest, and also allowed a last-second passing touchdown as time expired in the first half that equaled more than the final score separation.
Brady also tossed three interceptions against Green Bay yesterday but still managed to win and take the Bucs to their second Super Bowl in franchise history.
The following Super Bowl prop bet suggests that Brady also has a solid chance of winning the Most Valuable Player award, ranked just behind Patrick Mahomes and surrounded by Kansas City's big three.
Super Bowl LV MVP Winner
Patrick Mahomes EVEN
Tom Brady +225
Travis Kelce +1000
Tyreek Hill +1200
Leonard Fournette +2500
If Brady becomes the MVP of Super Bowl 55, it'll be his 5th, which will place him 2 ahead of the next highest award winner, Joe Montana.
Win or lose, what Tom Brady has accomplished, and is currently realizing, is not likely to be matched or repeated. With that in mind, love him or hate him, do not miss Super Bowl LV and Tom's quest to separate himself from the game's greatest players and position himself at the absolute top.
Betting Odds: Bovada
Source: Sporting News