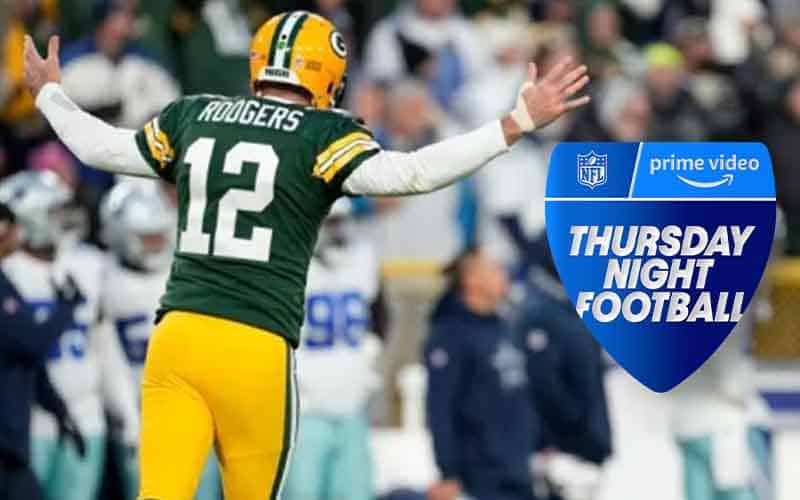 Thursday Night Football betting lines favor the Green Bay Packers to beat the Tennessee Titans by a field goal despite their struggles thus far in 2022-23.
The Green Bay Packers have been a top contender in the NFC for the past three seasons under head coach Matt LaFleur.
Matt LaFleur's Record With The Packers
2019: 13- 3 – NFC North Division Champions – Lost the NFC Championship Game to the San Francisco 49ers
2020: 13-3 – NFC North Division Champions – Lost the NFC Championship Game to the Tampa Bay Buccaneers
2021: 13-4 – NFC North Division Champions – Lost in the Division Round to the San Francisco 49ers
This year, the Packers have compiled a record of 4-6, placing them a distant second overall in the NFC North behind the Minnesota Vikings.
NFC North Standings
Minnesota Vikings 8-1
Green Bay Packers 4-6
Detroit Lions 3-6
Chicago Bears 3-7
Green Bay was able to overcome a late 14-point deficit against the Dallas Cowboys last weekend, a victory that may have rescued their playoff hopes for this season.
Online NFL sportsbooks have posted TNF lines for tonight's game for betting on the Packers, favoring them by 3 points at home against the Titans.
Tennessee Titans @ Green Bay Packers
Titans Point Spread: +3.0
Titans Moneyline: +155
Packers Point Spread: -3.0
Packers Moneyline: -175
Over/Under: 41.0
Should NFL betting sites be so confident in their projections for a Packers win? The Titans are leading the AFC South Division and are poised for a top-four seed in the NFL Playoffs.
AFC South Standings
Tennessee Titans 6-3
Indianapolis Colts 4-5-1
Jacksonville Jaguars 3-7
Houston Texans 1-7-1
One reason for the Titans' poor projections could be due to several starters showing up on the injury reports, as Bud Dupree (linebacker), Ben Jones (center), and Amani Hooker (safety) will miss tonight's game.
However, quarterback Ryan Tannehill and running back Derrick Henry are at full health, and represent the Titans' two key components for victory.
Still, Tennessee has struggled to put away inferior opponents this season, narrowly escaping the Denver Broncos by a score of 17-10 last weekend.
The current odds for NFL Playoff betting also indicate signs of trouble for Tennessee. The Titans are the 7th ranked franchise in the AFC futures odds, even though they're a near-certain top-four seed.
2022-2023 AFC Futures
Buffalo Bills +200
Kansas City Chiefs +225
Baltimore Ravens +700
Miami Dolphins +900
Cincinnati Bengals +1200
Los Angeles Chargers +1800
Tennessee Titans +1800
New York Jets +2800
New England Patriots +3300
That designates the Titans as a sure-fire first-round NFL Playoff loser, no matter who their opponent is. This is the same Titans team that barely lost to the Kansas City Chiefs by three points with rookie Malik Willis under center.
The Titans' moneyline odds to win are set at +155, and will payout at $1.55 for every dollar wagered on a Tennesse victory against the Packers.
For those that want to lay some action on a Packers win, Bovada is offering a moneyline of -175, which seems unusually favorable for a team that's been struggling as Green Bay has.
For those that aren't feeling comfortable on either side of the pregame lines, there's always in-play betting that allows for action from the opening kickoff through the fourth quarter on the point spread, moneyline odds, and the over/under.
Source – ESPN
Thursday Night Football Betting Odds – Bovada