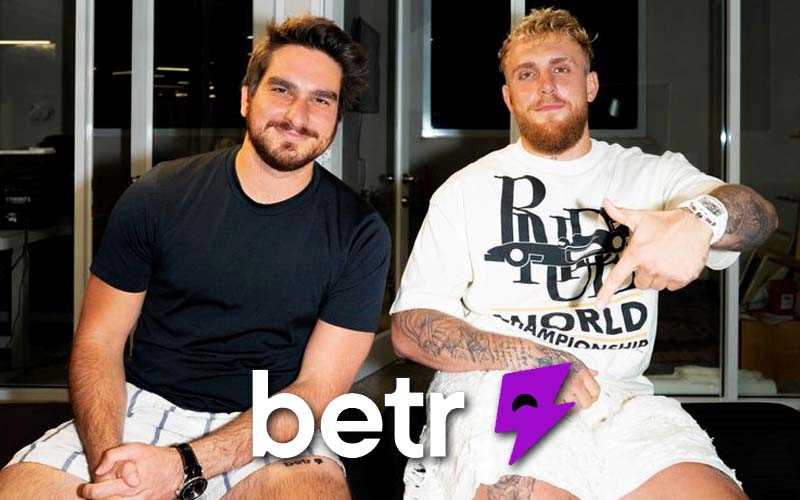 Jake Paul is making his gilded entrance into the Sports Betting Hall of Fame with a new "micro-betting" company coined Betr. With operations based out of Miami, one of the nation's most populated gambling hotspots, the project is expected to be a remarkable success.
Jake Paul Ups The Ante
Paul excitedly introduced the app earlier this week. He opens by saying,
"Micro-betting is the TikTok-ification of sports betting and I am excited to bring it to the masses through Betr…We want to be the category defining consumer company in both sports betting and sports media by the end of the decade and are confident we will achieve that goal."
Social media mogul Jake Paul is far from coy when it comes to trend hopping. The ex-Disney star's viral infamy has enabled him to pursue nearly every enterprise under the stars. From marketing to music, to YouTube belligerence—he's done it all.
However, Paul has since calmed down since the early days of his celebrity status. In recent years, he has honed in on the sports niche and developed a career for himself in professional boxing. 
Still, it is the fine line walked between Gen-Z nihilism and millennial-bro debauchery that makes this sportsbook enterprise so on-brand for Paul. And what better place to embrace those sentiments than the Sunshine State?
Betr Off With Backing
Those familiar with the complex mechanics of domestic sportsbook operations know that starting such an ambitious endeavor is no easy feat. 
But don't be misled—this quasi-sportsbook service has been a long time coming and Paul seems to be well-prepared for what lies ahead. 
In addition to the $50 million in financial backing from some of the world's most influential names in athletics, the entrepreneur hand-picked a team of seasoned industry professionals for guidance.
Paul's closest collaborator on this project is sportsbook software veteran, Joey Levy. As a  co-founder of Simplebet, Levy brings a strong sense of experience as well as the literal tools necessary to start up the betting app. 
The businessman-turned-boxer has also enlisted the aid of Mike Denevi, appointing the former Bleacher Report personality to head of media.
The group has yet to announce a launch timeline. But, seeing as Paul already has most of his pieces put together, we anticipate a speedy arrival. After all, the social media star is very familiar with the rapid and unforgiving cycle of virality.
Filling The Hole In Florida
Paul's Betr project is brilliant in that it fills a gap in the market. Florida sports betting fans have lost out on access twice over the past year when it comes to state-regulated sportsbook gambling, and likely won't see the arrival of major sportsbooks until 2024.
Locals did, however, get a brief taste of the sweet life last November using the Hard Rock Sportsbook. Unfortunately, that privilege was quickly revoked over legal troubles with the Seminole Tribe. 
Although domestic sports betting has yet to be legalized in the Sunshine State, Jake Paul's Betr app offers a limited form of bookmaking that may allow the company to bypass Florida's complicated gambling laws.
As opposed to wagering on game outcomes, "micro-betting" focuses on real-time events throughout a given game, similar to the live betting features you see at other legit online sportsbooks. One primary difference is that this will be the main focus of Betr rather than an additional feature.  
Currently, Florida sports bettors have access to legal mobile betting apps provided by international sportsbooks while previously launched state-regulated betting apps are suspended pending the outcome of an appeal made by the Seminole Tribe.
Legal Sportsbook Strategizing
The strategy seems to mirror that of sportsbooks such as DraftKings and FanDuel who focused on fantasy sports until the nation turned a corner on domestic wagering.
By the time states like Florida gain access to fully fledged sportsbooks, Betr will already have the presence and finances to get involved. Paul puts it as such:
"We are in this for the long haul and are focused on doing things the right way. We are getting licensed state-by-state, adhering to each state's regulatory framework while advocating for important consumer protections and responsible gambling."
Jake Paul isn't the first celebrity to show interest or get involved with the legal sports betting industry. Nonetheless, this project does happen to be the first of its kind. 
And I, for one, am very excited to see what comes next.
To stay up to date on current events regarding US legal sports betting states, be sure to come back and visit us!
Source: The Hollywood Reporter