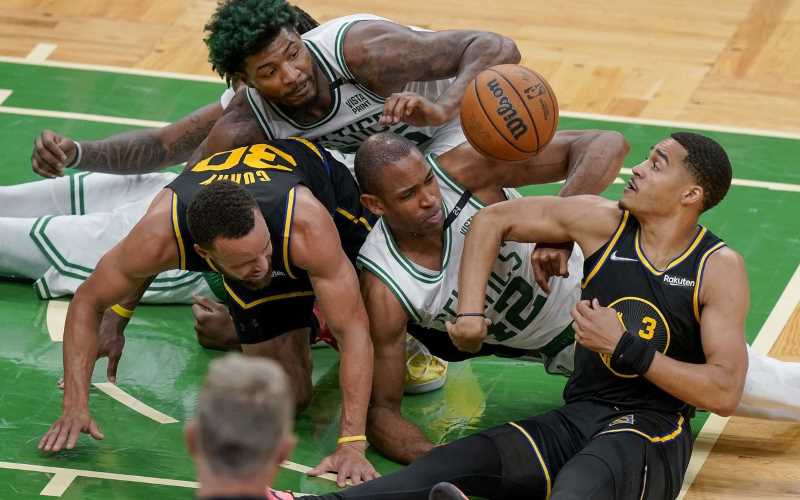 Well, how do you like that?
The heavily favored Golden State Warriors – in their ostensible post-Kevin Durant return to prominence – apparently aren't as prominent as everyone thought going into this thing.
After three games of the 2022 NBA Finals, the Warriors are down 2-1 to the Boston Celtics.
To make matters worse, the Dubs might be staring down the barrel of a Game 4 without Steph Curry, who left Game 3 with a couple of minutes left in the fourth quarter and didn't return.
Per ESPN, the NBA three-point king's official status for Game 4 is "we'll see."
Now, whether or not Curry plays will obviously have some bearing on the betting odds for the next game (and the NBA series prices in general), but his absence – if announced – may not be as impactful as you might expect.
With Curry, after all, the Warriors have been handled fairly well by Boston's crew.
The Celtics won Game 1 by a score of 120-108 on the strength of a 40-16 fourth quarter, and they won Game 3 by 16 points, 116-100. Game 2 was a 19-point win by Golden State, though, with the Warriors blitzing the Celts to the tune of 107-88.
Still, on aggregate – even with Steph on the floor – the Celtics just seem to be the better team right now. If Game 2 is the only egg they lay, this series could be over in five.
That reality is reflected on the odds boards. After the Warriors were favored for the first three games of the Finals, the Celtics now have all the momentum:
2022 NBA Finals Game 4 Odds
Golden State Warriors (+145) at Boston Celtics (-170)
Spread: Celtics -4.0
Total: 214.5
Golden State Warriors (+148) at Boston Celtics (-168)
Spread: Celtics -4.0
Total: 214.5
Golden State Warriors (+140) at Boston Celtics (-170)
Spread: Celtics -4.0
Total: 214.5
2022 NBA Finals Series Odds
Via Bovada Sportsbook
Boston Celtics -220
Golden State Warriors +180
Via BetOnline Sportsbook
Boston Celtics -220
Golden State Warriors +190
Via MyBookie Sportsbook
Boston Celtics -125
Golden State Warriors +103
As you can see, the Game 4 odds and the NBA champion odds now both strongly favor the Celts over the Warriors, and most of the books have their lines set very similarly.
We always recommend shopping lines to get the best sports betting payouts, but here, you probably don't have to. Just gamble with your favorite site or place your bets wherever you're closest to hitting your sports betting bonus rollover requirements.
Now, to be sure, the Warriors definitely have it in them to make this a real series. If the Dubs win Game 4 and tie this thing up, it won't be surprising to see bettors abandon Boston en masse to favor Golden State once again.
As usual, these aren't the only NBA betting lines you'll find for Game 4, which tips off on Friday, June 10 (9:00 PM EST, ABC).
At all the best online sportsbooks, you can expect to find hundreds of different NBA prop bets, and parlays.
And if you somehow can't find the exact lines you like, you'll also be able to use the custom prop builder tools at sites like Bovada, BetOnline, and MyBookie to create your own odds on pretty much any aspect of the next big NBA game.