Legal Betting On Elite 8 Odds
2023 March Madness Odds Are Active Now
Bet On Elite 8 Odds As Young As 18 Years Old
Elite 8 Lines Will Debut After The Round Of 16
Once the Sweet 16 games have concluded, it's on to the next round where the Elite Eight will battle to contend for the top prize in college basketball, the Men's NCAAB National Title. Our guide to legal betting on NCAA Elite 8 odds will clear up any mysteries regarding March Madness betting while also informing new patrons about the best online sportsbook sites in the USA.
We also reveal where regional gamblers can safely legally bet on college basketball with a legitimate and trustworthy online sportsbook without getting into any trouble. Don't make an Elite Eight basketball bet without reading through this handbook first.
Best Elite 8 Betting Sites For 2023
Is Elite 8 Betting Legal?
Yes, and bettors that are interested in laying some action on college basketball's March Madness Tournament can do so in the USA using domestic or international options.
Legal domestic sportsbooks exist in several US states and simply require traveling to that territory to bet on college basketball games.
Online sportsbooks that are based overseas can take in wagers on Elite 8 betting lines over the net without breaking any existing federal or state gambling laws, outside of WA where all online gaming is forbidden.
Vegas Odds On Elite 8 Games In 2023
While there are no specific Elite 8 odds, Vegas or otherwise, that suggest what the final eight teams of the NCAA Division I Men's Basketball Tournament will be outside of the point spread indicators provided by the Sweet 16 betting lines.
Until that Round of 16 happens and the odds are disclosed, the best gauge for what the Elite 8 will consist of is the NCAAB championship futures that list out all of the top teams. Below are the current top 8 teams featured in those odds.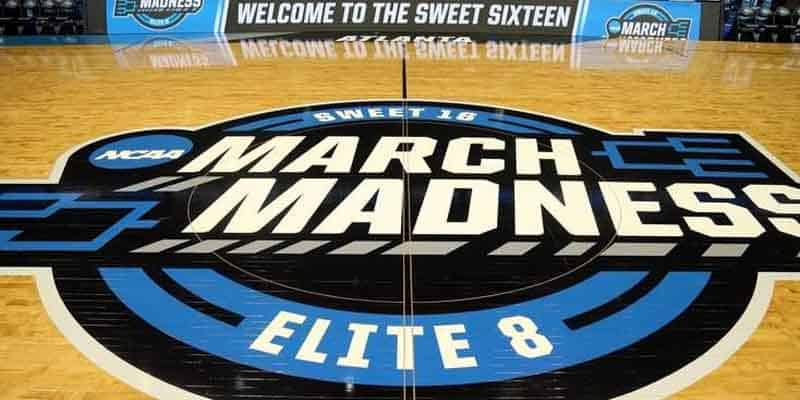 How To Bet On NCAAB Elite Eight Odds
If it is well before the tournament has begun and the Elite 8 best bets are already tempting you, then we advise betting on NCAAB futures like the betting line above. These Elite 8 betting options allow for wagers to be placed on the money line odds offered for each team.
These odds represent the team's chance of winning the NCAA Men's Basketball National Championship, and how much money can be won by betting on them to win it all. +275 moneyline odds will pay $275 per each $100 wagered, whereas -275 would require a $275 bet to earn $100.
Once the Sweet 16 matchups over, then more specific wagers on the Elite 8 can be made by betting on the point spread, money line for winners, and the over-under for each of the remaining games. Once those outcomes are determined Final Four odds will become available.
Where To Bet On The Elite 8 In 2023
Although Elite 8 odds can and will be found at just about any reputable gaming venue, our staff here at SBL prefers the offshore March Madness bracket betting sites over domestic sportsbooks for many reasons. We've included a list of our top Elite 8 betting sites above and ask that our readers click on each link and review the March Madness odds that they offer.
Here are some of the factors that make international NCAA Tournament betting sites preferable to domestic sportsbooks:
Cryptocurrency Deposits Using Bitcoin, Cardano, Ethereum, And Other Popular Altcoins
Larger Variety Of College Basketball Betting Lines And March Madness Odds
Live Betting On Elite 8 Games That Are In Play
Minimum Age Of 18 To Join And Bet On The Elite 8
Bitcoin Betting On March Madness
One of the many advantages that offshore college basketball betting sites have over domestic venues is the ability to include Bitcoin (BTC) banking among their sports betting site funding options. If it's additional encryption, expedient transactions, or same-day withdrawals that you desire, then Bitcoin and cryptocurrency is the only solution.
The NCAAB sportsbook sites we recommend on this page accept crypto and BTC and we highly recommend that new members take advantage of all the benefits that Bitcoin provides, including increased bonus cash offers.
Mobile Elite 8 Betting Apps
If you're checking out an Elite 8 game at a watch party and you want to place a bet, just grab your iPhone, iPad, or Android-powered handheld device and click on one of the sportsbook links we've listed above, and you'll receive full court access to the world's top NCAAB betting lines.
All of the odds that are available to bet on at the main website are ported to these mobile sportsbook applications, and the best part is, there's no download required because they're web-based. Click on one of the above links with your Apple or Android portable device and bet on the Elite 8 games now.
Live Elite Eight Betting Lines - In-Play Betting Options
The top college hoops betting sites that we recommend extend live betting odds that allow for wagers to be placed on the Elite 8 no matter how long the game has been going on. All that is required is time remaining on the clock for bets to be placed on live point spreads, moneylines, and the over-under.
Bonus Offers From College Basketball Betting Sites
When making a deposit at an online NCAA college basketball sportsbook, bonus offers are available that promise to match a portion between 25% and 100% of the total dollar amount. These NCAAB sportsbook bonus offers vary from site to site, and change often depending on the time of year.
These offers often feature conditions that must be met before collecting payouts based off of bonus cash bets, so be sure to read the fine print before accepting a bonus. If played correctly, these bonus offers can enhance your betting bankroll for March Madness and beyond.
2023 Elite 8 Schedule
The NCAA Men's Basketball Tournament's Round of 8 usually occurs in late March.
Most All Time Elite 8 Appearances
Kentucky Wildcats – 38
North Carolina Tarheels – 29
Kansas Jayhawks – 25
Duke Blue Devils – 23
UCLA Bruins - 22