Legally Betting On College Basketball National Championship Odds
The 2023 NCAA Championship Game Is In April!
March Madness Odds To Win Taking Action Now!
March Madness Prop Bets And Brackets Are Also On The Boards
Once the two Final Four semifinal games of the NCAA Men's Basketball Tournament wrap up, the NCAAB National Championship Game becomes the focus of the betting world. In order to capitalize on this nationwide gaming phenomenon, we suggest a read-through of our handbook for legal betting on College Basketball National Championship odds.
Whether you want to bet on NCAAB Championship futures, or game lines for the title game between the final two teams left in the March Madness Tournament, we've got all the information you need right here to find a legal venue to bet on college basketball and learn how to decipher the odds for the March Madness Tourney.
Best NCAA Championship Betting Sites
Is March Madness Betting Legal?
USA-based bettors can wager on the final game of the NCAAB March Madness Tournament at domestic or international sportsbooks.
International – Sportsbooks that are operating in a jurisdiction outside of the US are able to take bets on the Men's College Basketball National Championship Game over the web because there are no laws on the books that prevent it at a federal or state level. WA, however, has passed laws forbidding all online gaming.
Domestic – Sports betting legislation is spreading like wildfire across the country and several states have already regulated domestic sportsbooks. Visit one of these regions and place a bet on the March Madness Final.
How To Bet On The NCAA Championship Game
After the semifinals are over and the Final Four betting odds have paid out, the Men's NCAA Division I Basketball Tournament is narrowed down to its final two teams.
The NCAAB Championship Game betting line will include the point spread, money line odds, and the over-under, but because the title game will draw so much attention, we expect some fun prop bets to appear as well.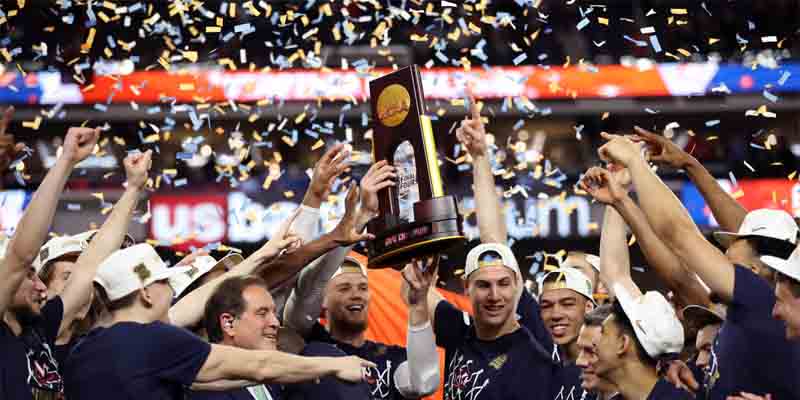 How To Bet On College Basketball National Champion Futures
Another alternative for betting on the eventual college basketball national champion that is available for most of the calendar year is wagering on NCAAB championship futures. Each team's college basketball national championship odds are featured in money line form, revealing their odds of winning it all and also detailing the payout that can be expected vs. the amount wagered.
For instance, if Kansas has +300 odds to win the NCAAB Championship, $100 wagers on them to win will pay out at $300. If a team has negative moneyline odds, that number is the amount that will have to be bet to earn $100 (ex. -300 odds requires a $300 bet to earn $100).
Where Can I Bet On The March Madness Finals?
All sportsbooks should feature some form of college basketball betting unless it is a domestic sports betting venue in a state that bans wagering on games that involve in-state NCAA teams. That's not an issue when betting on the March Madness bracket challenges and contests or the Championship Game with an offshore sportsbook site.
Benefits of doing business with one of our premiere March Madness betting sites above include:
Thousands Of NCAA Championship Betting Lines And March Madness Prop Bets
Minimum Age Of 18 To Become A Member And Bet On The NCAA Tournament
Bet On College Basketball Tournament Games Using Cryptocurrency!
Live Betting On The NCAA Championship Game!
Mobile Betting Apps For March Madness
March Madness gambling on the go is a breeze with the mobile betting apps that are offered by our preferred college basketball betting sites, and can be accessed by clicking on one of the links in the table above using an up-to-date mobile browser (Chrome, Safari, Google, Opera, Firefox).
These betting apps for NCAA hoops don't require any software to download to your iPhone, iPad, or other popular smartphone or tablet, which allows for instant access to the best betting lines on the Sweet 16, Elite 8, the Final Four, and the championship final. Check out each one above and see for yourself.
Live Betting On The NCAAB Title Game
The College Basketball National Championship Game is cause for celebration, and many flock to parties to take in libations and watch the March Madness Final. Have you ever considered placing a bet on the NCAAB Championship Game while the clock is still running?
Well now you can, and it doesn't matter if you're at a party or on your couch. The top online sports betting sites that we recommend above feature live betting odds that allow for in-game wagers on the point spread, over/under, moneyline, prop bets, and more, all while the game clock is running.
Bitcoin Betting On March Madness
Of all the sportsbook funding options that are available to make an online deposit and withdrawal, Bitcoin (BTC) receives our highest recommendation.
Benefits Of Bitcoin & Cryptocurrency At Online Sportsbooks
Deposits complete quickly and get gamblers to the betting window faster than any other currency.
Additional encryption is built-in to BTC transactions for multi-layered protection.
Promotional bonus offers increase when Bitcoin is used for sportsbook deposits.
Bitcoin and cryptocurrency are the only withdrawal method that can transact in less than 24 hours.
As you can see, there are numerous reasons to strongly consider Bitcoin and other forms of cryptocurrency (Tether, Ethereum, Ripple, Bitcoin Cash, Cardano (ADA), Litecoin) as a sportsbook banking option, but our supreme sports betting sites also accept the following:
Deposit: Credit/Debit Cards, Wire Transfer, Cashier's Check, Money Transfer Services, Zelle (Cash-To-Bitcoin Service), Cryptocurrency
Withdrawal: Wire Transfer, Cashier's Check by Courier, Money Transfer Services, Cryptocurrency
Deposit Matching Bonus Offers
If you need some extra bankroll to bet on the final game of March Madness, consider accepting a deposit matching bonus offer from one of our finest NCAAB sportsbook sites. Matching promotional offers range from 25%-100% depending on which site you visit.
These promos typically cap out at around $1,000, but seasonal bonus offers to appear all the time that can elevate these deposit matches to higher amounts. Be sure to read through the terms attached to each bonus to ensure that you can meet the requirements.
2023 NCAA Basketball March Madness Finals
The Final Four usually begins on the first few days of April, with the March Madness Final airing two days after that.
Most All-Time NCAA Championship Game Appearances
UCLA Bruins - 12
Kentucky Wildcats - 12
North Carolina Tarheels - 12
Duke Blue Devils - 11
Kansas Jayhawks – 10
Most All-Time National Championships
UCLA Bruins – 11
Kentucky Wildcats – 8
North Carolina Tarheels – 6
Indiana Hoosiers – 5
Duke Blue Devils - 5