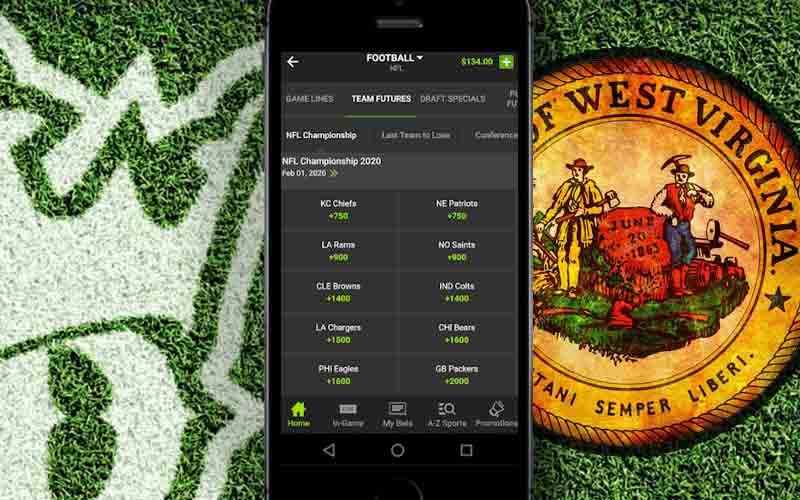 If at first you don't succeed, try, try, launching another sportsbook app.
West Virginia is ready to re-launch online and mobile sports betting after the DraftKings Sportsbook app passed all tests for its casino partner, the Hollywood Casino at Charles Town Races on Wednesday.
A soft launch for the DraftKings Sportsbook app is expected sometime next week, but a date for a full launch has not been officially announced.
WV Lottery Director John Myers said they have been testing the app with DraftKings and Hollywood Casino throughout the week to ensure that both location and age verification systems are working as intended.
"We were making sure we can get the reports out of it that we need," Myers said. "Making sure that we can verify the player that has the account is the one playing and to make sure the geolocation system works and those people are actually located inside the state of West Virginia."
West Virginia legalized sports betting in March 2018 — even prior to the May 2018 PASPA repeal — to allow land-based, online, and mobile licensed sportsbooks in the state, and became the 5th state to offer sports betting in August.
While there are currently no sports betting apps in West Virginia, the first mobile app in the state — the BetLucky app — launched in December but was forced to cease operations on March 6, 2019, and won't be coming back.
Casino operator Delaware North had partnered with British gambling provider Miomni Gaming to power the BetLucky app in addition the sportsbooks at Mardi Gras Casino and Wheeling Island Casino, but after a couple of months of operations going well, Delaware North cut ties and filed a lawsuit against Miomni and its CEO for fraud and misrepresentation.
Delaware North alleges that Miomni knowingly lied when it said they owned the source code, but was actually licensing the code from Entergaming. In fact, Miomni had never paid the license fee that was required from Entergaming.
For now, Delaware North wants to partner with another sports betting provider but has not given a timetable on when an app or its casinos will offer a sportsbook again.
When it comes to how the DraftKing Sportsbook features will be different than the ones that were found on the BetLucky platform, Myers said it will be relatively similar.
"They're all going to operate in a similar manner," he said. "They'll have different promotional activities and things they all do a little differently than the other but in a nutshell, you're using your cell phone to see the odds and then placing the wager on that phone."
Myers said he expects the DraftKings Sportsbooks to perform well it fully launches, adding that the BetLucky app was a very profitable product in the handful of months it was offered to residents and visitors of West Virginia.
"In the months that we had [BetLucky], it did outperform the retail location on several weeks," he said.
The state has brought in $1.1 million in tax revenue from sports betting since August, but with online and mobile betting finally looking viable in West Virginia, there's hope that they can have similar success to what New Jersey offers since 80% of all wagers currently placed on sports in the state are made via online and mobile platforms.
The Mountaineer Racetrack and Casino and the Greenbrier Resort are likely next to offer online and mobile sportsbook apps to consumers.
Expect to see the New Jersey mobile betting market leader, FanDuel Sportsbook — who operates a land-based sportsbook in the Greenbrier Resort — to launch their app soon after rival DraftKings fully launches in late May or early June.