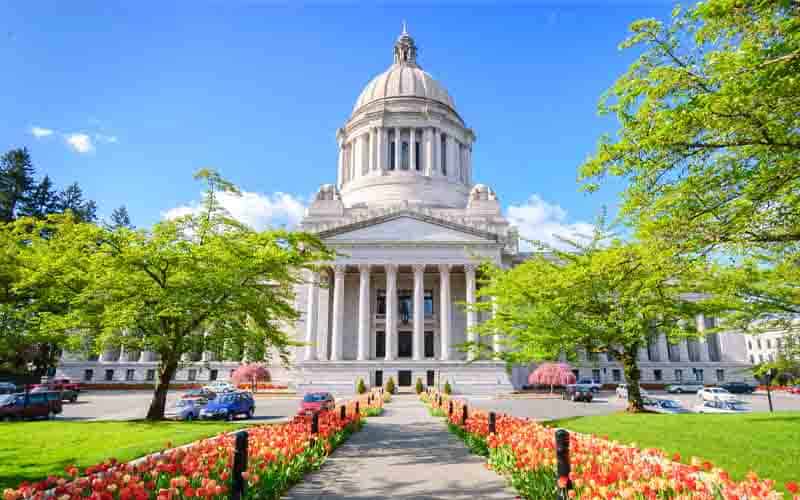 Ever since the US Supreme Court repealed PASPA nearly 22 months ago, Washington state sports betting hopefuls could be found frequently praying to the lawmakers in Olympia for the end of the sportsbook prohibition.
And it looks like those prayers may have finally been answered as sports betting in Washington state could soon become legal.
A Washington House appropriations committee advanced a bill to bring legal sports betting to the Evergreen State on Tuesday, February 11.
The committee's 25-7 vote sends the legislation to the House floor, where both chambers will eventually need 60% majority approval on the state's gambling expansion proposal before March 13—the final day of the state's shortened 2020 legislative session.
Democrat Rep. Strom Peterson, the bill sponsor for HB 2638, said he's optimistic the legislation will get paired with the Senate proposal, SB 6394, and eventually be sent to Governor Jay Inslee's desk before Spring begins.
"I'm hoping to get this moving over to the Senate on a relatively fast timeline," Peterson said after the Tuesday vote, according to the Seattle Times. "We'll see if that happens, but with a very bi-partisan vote that we just had this evening, I think that helps."
"I'm hoping that we can get it on to the floor next week," he added. "It's a lift. … I still need to talk to a lot of people about it and make everybody comfortable with it, because it is an expansion of gambling."
Republican Rep. Drew Stokesbary, the ranking party member of the appropriations committee, voted to advance the House's sports betting proposal and said he believes it's common-sense legislation that should have strong bipartisan support.
"This is a reasonable middle ground," Stokesbary said before the committee vote. "I think it threads the needle nicely. It permits adults who are responsible to engage in an activity that doesn't harm other people. But it doesn't make it so prevalent or so pervasive in our society that we as a legislature have to worry about the morality and ethics of that."
The House bill, in its current form, would allow Washington's 29 tribal casinos to accept wagers on professional, collegiate, and Olympic sporting events along with esports.
However, betting money on games involving Washington's in-state public and private college sports teams would be prohibited.
Eligible tribes would also be allowed to offer online sportsbooks and mobile betting apps through their brick-and-mortar locations under the proposed expansion.
The current legal sports betting proposal is the farthest any gambling expansion bill has advanced in the Washington State Legislature.
If passed, Washington would become the latest to join the 14 states with sports betting and the handful of others currently pending launch.