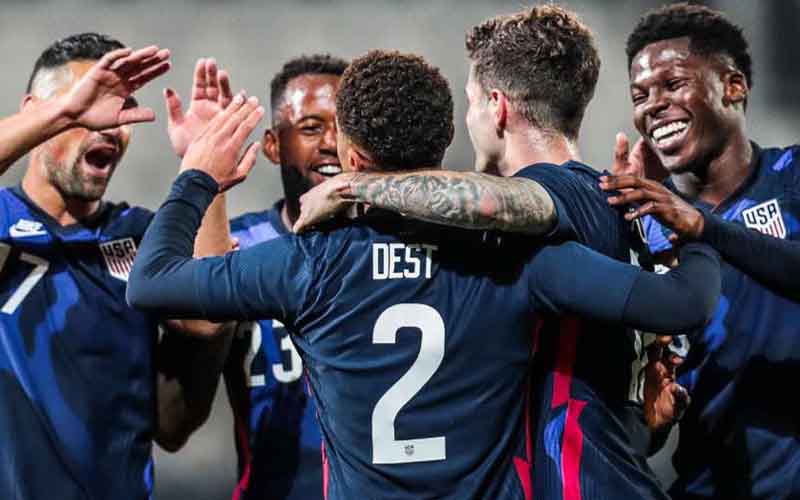 This Saturday at 10:00 AM EST, the United States will attempt to advance in the round of 16 of the 2022 FIFA World Cup when they face the Netherlands.
Now that the World Cup has narrowed down to its final 16 teams, there is no longer any margin for error for Team USA as the tournament is single-elimination, where losers are sent packing immediately.
Draws are also no longer an option, as games will go to extra minutes or penalty kicks, if necessary, to decide the winner of the contest.
Even though a tie is technically not possible, legal soccer betting sites still have an option for laying some action on a draw because all wagers are decided at the conclusion of the 90-minute duration of the game.
Netherlands vs. USA Betting Line
Spread: Netherlands -0.5, USA +0.5
Moneyline: Netherlands -110, USA +330
Draw: +240
Over/Under: 2.0, 2.5
Any bets made on the USA vs. Netherlands over/under will have their wagers split in half and risked equally on the total combined goals scored at 2.0 or 2.5 (Bovada).
Where the Netherlands exhibits their dominance the most is in the moneyline odds to win. They are currently holding -110 odds to win at FIFA World Cup betting sites, placing them 340 points ahead of the United States.
It must be noted that the USA has yet to lose a game thus far in the 2022 World Cup, compiling one win and two draws during the group stage of the tournament.
The +330 moneyline for the United States will reward soccer gamblers with $3.30 in net gains for every dollar bet on them beating the Netherlands this Saturday and continuing their hot streak.
The Netherlands haven't lost a game yet, either, coming out on top of Group A after wins over Qatar and Senegal, and a draw with Ecuador.
For gamblers that are unfamiliar with international soccer betting and are after easier USA vs. Netherlands odds to follow, this line from BetOnline may be what you're looking for.
Which World Cup Team Will Advance
Netherlands -245
USA +195
48 hours ago, before the beginning of the Iran vs. USA match, the United States held +15000 odds to win the World Cup. Today, Team USA has nearly halved those World Cup odds, resting at +8000 prior to their match with the Netherlands.
2022 World Cup Futures
Brazil +250
France +550
Spain +700
Argentina +800
England +850
Germany +1200
Portugal +1200
Netherlands +1400
Belgium +5000
Croatia +6000
Denmark +6600
USA +8000
The United States has never won the World Cup and has yet to advance to the final match. Soccer, or futbol, has never been a top sport in the USA, despite several attempts to popularize the game.
Still, that raised awareness in recent decades has elevated the play of the United States in international competition. Is Team USA a legit contender for a World Cup Championship in 2022?
The odds posted at the betting sites included in our list of online sportsbook reviews suggest that they've got a fighting chance, but that journey must begin with a victory over the Netherlands in three days.
2022 FIFA World Cup Betting Odds – Bovada, BetOnline
Source – ESPN