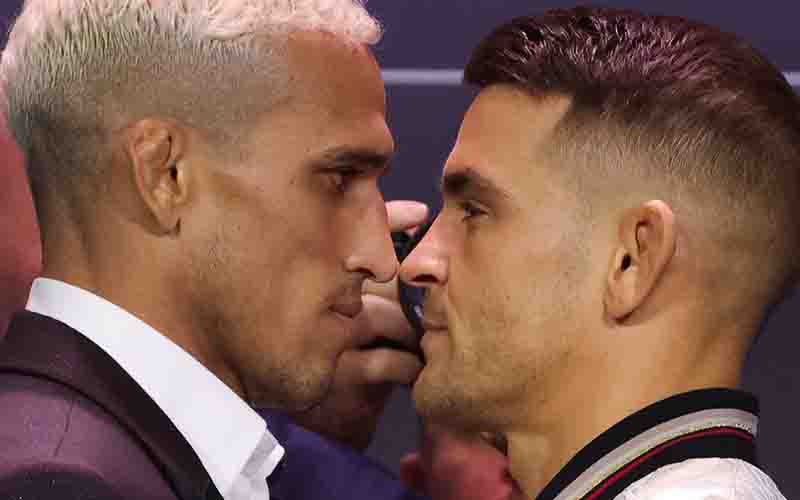 UFC 269 Begins On Saturday At 8 PM On ESPN+
Dustin Poirier Is A Slight Favorite To Win Over Charles Oliveira
The UFC 269 Pay-Per-View Can Be Purchased For $70
Challenger Dustin Poirier has his eyes set on winning the UFC Lightweight Championship this Saturday night as he is favored to defeat the current titleholder, Charles Oliveira, by a slim margin in the moneyline odds.
Poirier is looking to follow up his decisive victory in his trilogy of fights against Conor McGregor with a championship reign, and MMA betting lines are indicating that his time could begin tomorrow night in Las Vegas' T-Mobile Arena.
"If I become world champion Saturday night, I've done it all in this sport. Everything I've set out to do. I've set my family up, we're in a good position financially."

Dustin Poirier
UFC 269 Betting Odds
Charles Oliveira +133
Dustin Poirier -164
The above odds for UFC betting are near even for both fighters which suggests that the two are closely matched.
"I don't really care about the betting odds. I respect Poirier. I respect his story. But I'm the champion, and I'll show that on Saturday."

Charles Oliveira
The below tale of the tape grants Oliveira advantages in height and reach, but that hasn't improved his odds at UFC 269 betting sites.
Charles Oliveira vs. Dustin Poirier Tale Of The Tape

Charles Oliveira

Dustin Poirier

Record
31-8-0 (1 No Contest)
28-6-0 (1 No Contest)
Height
5'10"
5'9"
Weight
155 pounds
155 pounds
Reach – Arm
74"
72"
Reach – Leg
41"
40.5"
Age
32
32
Some additional predictions for Poirier vs. Oliveira can be gleaned from cruising the UFC prop bets that predict how and when the fight will conclude.
Based on the odds posted at the UFC sportsbooks that populate our list of online sports betting site reviews, the Oliveira vs. Poirier fight will end within regulation and will not go the distance.
The most likely conclusion to tomorrow night's UFC 269 main event is Dustin Poirier beating Oliveira by knockout, TKO, or disqualification, an outcome that must occur prior to the end of the fifth round.
Once the round betting lines extend to the third round, the moneylines enter the positive indicating a strong likelihood of stoppage somewhere around the mid-way point.
A UFC prop bet has been produced at Bovada Sportsbook that accepts action on the round when the fight will stop and allows for cash winnings to be earned regardless of which fighter is the victor.
Winning Round: Poirier vs. Oliveira Odds
Round 1 +200
By Decision +275
Round 2 +325
Round 3 +425
Round 4 +750
Round 5 +1000
Draw +5500
Is the above UFC betting line suggesting that Poirier will end the fight in the first round? The kicker is, even though it is the most likely outcome of the fight, two-to-one earnings can be netted by betting on the fight to end in round one.
The door is wide open for massive profits to be earned if Oliveira can defeat Poirier, regardless of how he gets it done. For MMA gamblers that are hungry for action and cannot wait until Saturday night, consider betting on UFC sims between now and then and take in a few virtual Poirier vs. Oliveira matches in preparation for UFC 269.