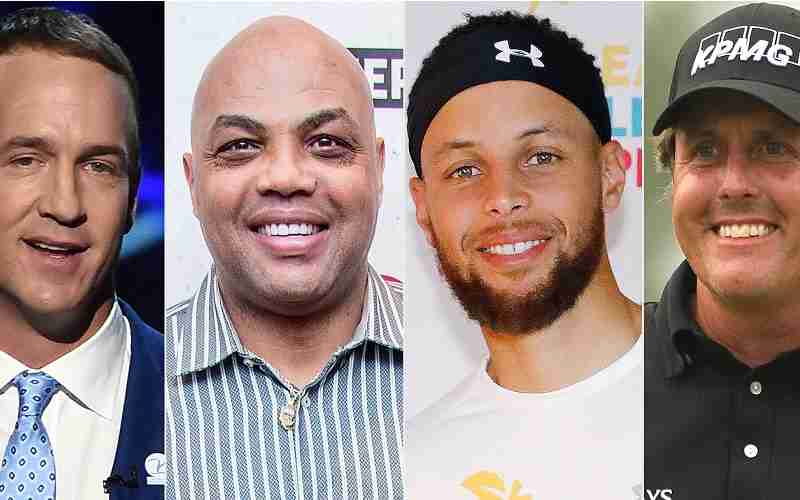 Late November brings the Thanksgiving Holiday weekend which includes several major televised sporting events. Thanksgiving football games fill the airwaves over the holiday weekend with a full plate of professional and college offerings.
There are also Thanksgiving basketball tournaments that kick off the NCAA college hoops season, as well as college football rivalry games that pit in-state or in-conference teams against each other to fight for bragging rights.
The day after Thanksgiving now offers gamblers a chance to bet on golf with odds that are placed on "The Match 3." This celebrity golf match will feature the team of former NBA great, Charles Barkley, and current PGA Tour pro, Phil Mickelson, against former NFL QB, Peyton Manning, and current Golden State Warrior, Stephen Curry.
The Match 3: Champions For Change
Friday, November 27 @ 3 pm EST
TV: TNT Network
The intent of the Match 3 tournament is to raise money for historically Black colleges and universities, but details on how to donate have yet to be revealed.
"I'm excited to return for the third edition of Capital One's The Match and get out on the course with these three legendary athletes. While we may need a handicap for Chuck, I'm looking forward to playing with Peyton and Stephen and to help raise money for another important cause."

Phil Mickelson
The Match 3 is hoping to follow up on the success of the Match 2, which was a massive television ratings and money-raising hit that aired toward the beginning of the COVID-19 lockdown back on the 24th of May.
The Match 2 was a golf matchup featuring Peyton Manning and Tiger Woods vs. Tom Brady and Phil Mickelson. The event raised over $20 million toward efforts to combat the Coronavirus.
Incidentally, the Match 2 winning team was Tiger Woods and Peyton Manning, which was predicted in the pre-tournament betting odds that had a -210 money line placed on their chances.
Just 6 months later, the odds still favor Peyton Manning's team even though he has replaced Tiger Woods with an NBA player.
The Match 3 Odds To Win
Stephen Curry And Peyton Manning -135
Phil Mickelson And Charles Barkley -105
We're beginning to wonder if these odds reflect Peyton Manning or Stephen Curry's golf skill, or Charles Barkley's lack of golfing prowess.
Turner Sports, which produces pro and collegiate sports programming for TNT, recently signed a betting partnership with domestic sportsbooks DraftKings and FanDuel, and the latter is expected to be featured prominently in their onscreen graphics.
As domestic sports betting becomes approved by more states, more networks are predicted to step up to the plate and get in on the gambling revenue and additional viewership that it will provide. Even NFL teams are partnering up with domestic sportsbooks for mobile apps and betting lounges.
Offshore sports betting sites are still prominent in the United States, but because they are not yet US-based entities, major professional sports brands and franchises are hesitant to get into bed with them.
That too could change in due time, as the sports betting landscape in the United States seems to be an ever-changing one.
Source: CNBC