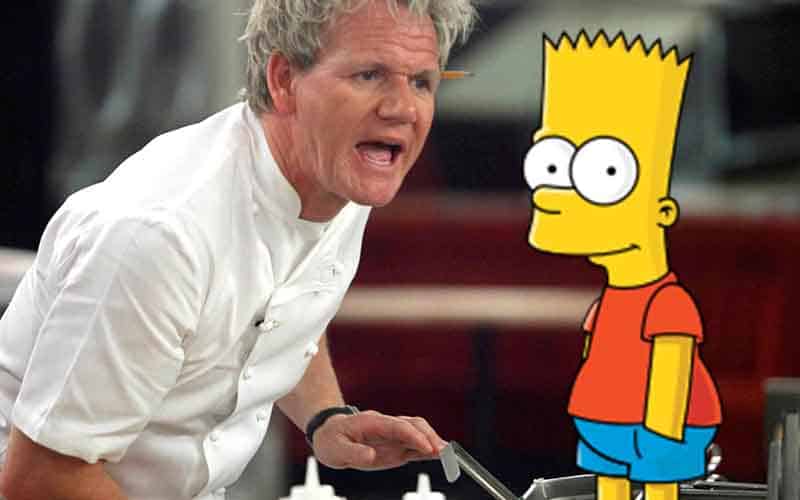 It seems that every time we visit an online sportsbook, there are more options for entertainment betting populating the boards. The entertainment category used to be confined to awards shows and reality television competition series, but now the spectrum has grown to include scripted TV programs, movies, and professional wrestling.
Bovada Sportsbook has created odds for two television productions we've yet to see lines on before: The Simpsons Season 34 and Hell's Kitchen Season 21.
Betting On The Simpsons
The following line may narrowly qualify as celebrity deathmatch betting, as correctly choosing the next Simpsons character to die will earn cash payouts of 8-to-1 at minimum.
While Grampa Simpson is the elder statesman of the family, time never seems to pass in the Simpsons' universe. The show has been around since 1989, but none of the characters have aged a day.
In 1989, Maggie Simpson was a newborn that had yet to learn to talk or walk. Flash forward to Season 34 in 2022, and Maggie is still a toddler, despite the flourishes of intelligence she's revealed over the years.
That said, old age may not be the most likely cause of death for a cast member of The Simpsons. Will the next Simpsons' character to lose their life suffer a violent death?
Next Simpsons Character To Be Killed Off
Grampa Simpson +800
Monty Burns +1000
Patty Bouvier +1000
Ned Flanders +1200
Selma Bouvier +1200
Barney Gumble +1600
Carl Carlson +1600
Comic Book Guy +1600
Lenny Leonard +1600
Reverend Lovejoy +1600
Nelson Muntz +1800
Principal Skinner +1800
Groundskeeper Willie +2000
Milhouse Van Outen +2000
Sideshow Bob +2000
Chief Wiggum +2500
Krusty The Clown +2500
Mayor Quimby +2500
Moe Szyslak +2500
Maggie Simpson +3300
Marge Simpson +3300
Homer Simpson +4000
Bart Simpson +5000
Lisa Simpson +5000
Bovada is willing to accept action on other characters upon request and will add the cast member and their odds to the above entertainment prop bet if approved.
The death must also be permanent and not a plot element of a "Treehouse of Horror" episode that airs each season near Halloween.
The Simpsons Odds For Longevity
To Reach Season 40 With No Breaks -1000
To Reach Season 50 With No Breaks -150
The above prop is also taking action at Bovada.LV and asks bettors to lay some money on the Simpsons making it to season 40 or season 50 without any pauses between years.
The longest-running television series of all time is poised to easily surpass 40 seasons and features probable odds to reach season 50. That means we can count on enjoying The Simpsons until at least the year 2028 and possibly 2038.
Betting On Hell's Kitchen Season 21
Another television show that now features betting odds for the first time is Hell's Kitchen. This series places a red and a blue team of chefs against each other in culinary battles until only one contestant remains.
Hell's Kitchen Odds For Winning Age Group
20-Something -1000
40-Something +500
Instead of providing futures that list all cast members from most to least likely to win, Bovada has split the demographics in two, asking which age range will be victorious this season.
Season 21 of Hell's Kitchen is subtitled "Battle of the Ages," placing chefs in their 20's against a group that ranges from age 40-49. The odds favor youth, but bets placed on the 40-something chefs will earn 5-to-1 net payouts if successful.
Like any other entertainment betting odds, if you are interested in placing a wager, do so now because these types of lines have a knack for disappearing quickly.
Entertainment Betting Odds – Bovada
Source – Variety