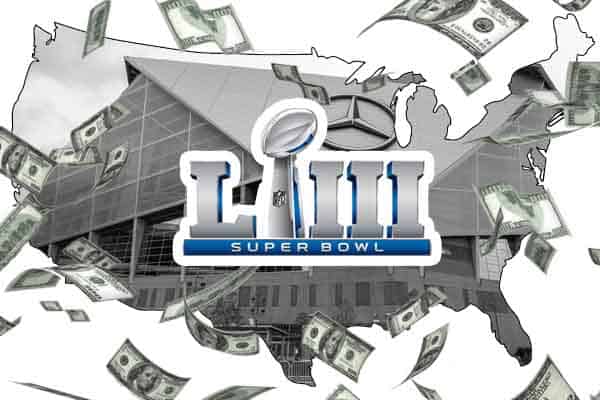 As the end of the 2018 NFL season draws near more states are starting to consider domestic sports betting after watching surrounding states rake in the additional revenue.
Georgia is a state that has not shown any interest in domestic sports betting, but the brand new Mercedes Benz Stadium is the perfect setting for football's most coveted event.
Seven states currently offer domestic sports betting: Nevada, Delaware, New Jersey, Mississippi, West Virginia, Pennsylvania, and Rhode Island. A tribal casino in New Mexico is also accepting sports bets under a gaming compact, but the state has not passed a sports betting law.
In September of 2018, Nevada earned 56.3 million in total revenue, which is particularly higher than most of the other months on record for 2018. Delaware grossed 1 million in revenue for June 2018. New Jersey netted 11.7 million for October 2018, and Mississippi brought in 5.5 million for September 2018.
Significant income has been generated for legal sports betting states that offer domestic sports betting. Only two states currently offer online betting outside of casinos: New Jersey and Nevada.
States like Georgia and many others that do not allow domestic sports betting can put their bets down online with trusted operators located offshore. One of our favorite online operators and where we get most of our odds for our sports betting pages is Bovada.
With the reigning Super Bowl Champions the Philadelphia Eagles looking like they won't make the playoffs, preseason odds have dramatically changed since they were first released. The Eagles are sitting at 5-6 with five more games to go till the end of the season.
The Saints, Rams, Chiefs, Texans, Steelers, Patriots, and Bears all look like they could make a possible Super Bowl run and are all sitting atop the odds charts with their winning records.
Super Bowl 53 will go down in history as the first Super Bowl during the post-PASPA era. States that passed legislation to allow domestic sports betting is gearing up for the busy season.
The Super Bowl has consistently been the second highest wagered on event around the world behind FIFA. Americans wagered an estimated $4.76 Billion on Super Bowl 52.
Super Bowl LIII (53)
When: Sunday, February 3rd, 2019
Where: Mercedes-Benz Stadium, Atlanta, Ga.
Time: 6:30pm
Broadcast: CBS