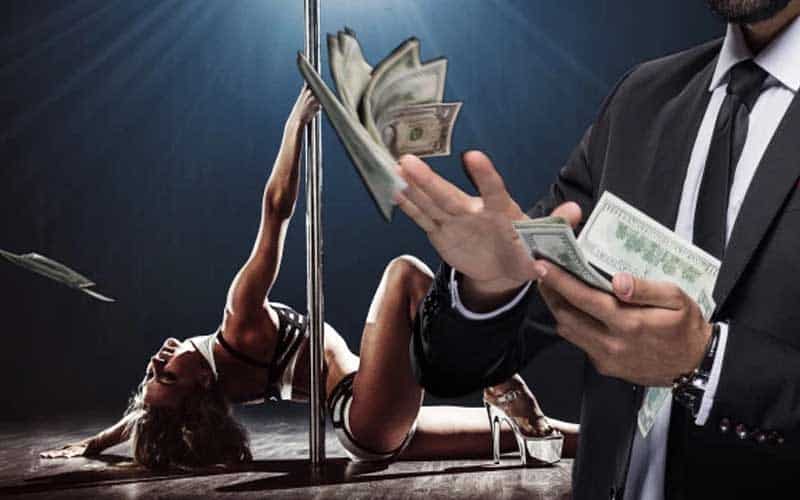 Imagine this, Rhode Islanders:
You just won a lot of money after successfully betting on some NFL and college football games, and ponder what to do with your winnings.
Do you:
Plan a trip to Disney World?
Invest in the stock market?
Increase the unit size of your account's bankroll at an online sportsbook?
Well, if you live in Rhode Island, a strip club is betting that you'd love to make it rain.
The Sports Book Rhode Island mobile app came online a week ago, and along comes Dick Shappy, owner of the Cadillac Lounge in Providence, who plans to open a sports bar in order to accommodate guests seeking the best of best worlds.
The Overtime Sports Bar will be ready for action in a couple of weeks and will take the place of the Eldorado Room, a separate area on the second floor of the building that previously housed fully nude strippers.
Once the renovations for his gentlemen's club are complete, guests will be able to relax on the new comfy chairs and couches, have some drinks, bet on sports from their smartphone, and watch all the games on the big-screen TVs.
And of course: Enjoy the entertainment and company of the Cadillac Lounge's finest dancers.
"You can have all three vices," Shappy told the Providence Journal. "You can have the gambling, the drinking, and you can have a beautiful woman at your side."
In addition, the Overtime Sports Bar area will include battery chargers for smartphones and tablets all around the joint, so bettors will never have their mobile devices run out of juice.
Also, Shappy said he plans to have a wall featuring live betting lines straight from Las Vegas, Nevada along with in-depth, easy-to-follow instructions posted throughout the club on how to download, register, and activate accounts using the Sports Book Rhode Island app.
However, the area won't feature a stage for the erotic performers, but guests can still ask for cabaret and table dancing, Shappy confirmed.
It would be illegal under the Rhode Island sports betting law for the strip club to accept wagers from patrons since the Twin Rivers casinos in Lincoln and Tiverton are the only locations currently authorized to operate a licensed sportsbook in the state
Shappy said he's fully aware of the law and has no intention of taking any bets at his establishment. He added that he's already checked and confirmed everything with his lawyer that what he's doing is 100% legal.
"It's going to be great for the state," Shappy said. "The state should have no problems with it, because we're promoting their venue."
Department of Revenue spokesperson Paul Grimaldi confirmed to the Providence Journal that bars are allowed to promote the state-run mobile app in the advertisements for their business.
"Once someone sets up a verified mobile account they can do it from anywhere in the state," Grimaldi said. "I would not at all be surprised that bars and restaurants try to piggyback off that."
Grimaldi added: "To be clear, the RI Lottery is not endorsing visits to particular establishments (apart from the two casinos, of course) that I know of.
Rhode Island has been relatively quiet since the state's first sportsbook launched on November 26th, 2018, but it's been quite the week for sports betting in the state.
First, the state lottery's Internet-based platform launched just in time for wagering on the first day of the 2019 NFL season and then a judge earlier this week threw out a lawsuit aimed to halt legal sports betting in the state.
And now, Providence's Cadillac Lounge potentially boasts the first strip club and sports bar in the United States that openly and legally promotes the state-licensed mobile sports betting app while also providing odds and betting line information, outside of maybe Nevada.
Shappy has no doubt seen some things during his over 50 years working in the adult entertainment industry and knows that all businesses need to adapt and evolve in order to do well long term.
And that holds especially true in the age of the Internet, where the younger generation prefers to stay at home watching their screens instead of having a night out on the town—a challenge the brick-and-mortar sportsbooks will continue to face as well.
As for what Shappy hopes to accomplish with his unique take on adult entertainment and sports betting, the Cadillac Lounge owner has a simple goal:
"We're going to make strip clubs great again."