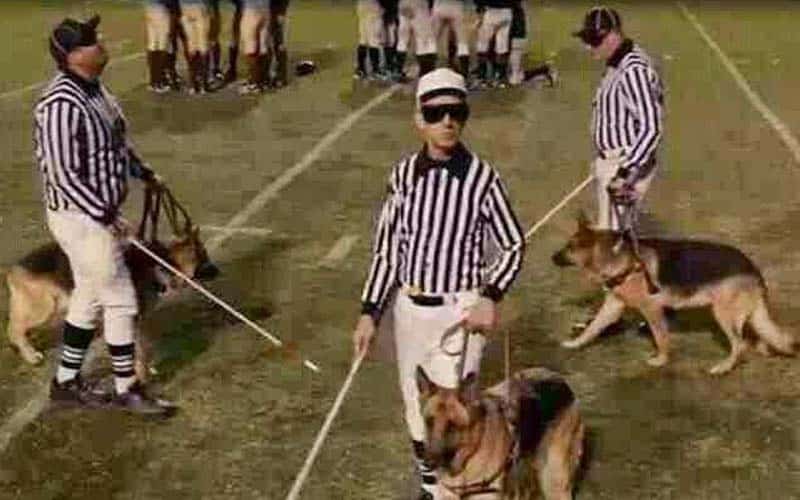 I'm blind, I'm deaf, I wanna be a ref.
This timeless fan chant has echoed through NFL stadiums for decades, and as legal sports betting continues to spread across the United States, you can bet the bad officiating anthem will continue to grow louder and louder.
Seton Hall University released a new poll today showing that both Democrats and Republicans can agree on something: NFL officiating sucks and people who bet real money on football games have a stronger reaction to bad calls.
Most Americans—48% of Democrats and 57% of Republicans—believe NFL officiating is "Good." However, when compared to the other sports, the NFL had by far the highest percentage of respondents—27% of Democrats and 19% of Republicans—say the league's officials are "Terrible." The remaining participants responded, "Don't know/No opinion."
For comparison, approximately 64% of Americans said MLB umpires did a "Good" job while roughly only 3% deemed baseball officiating to be "Terrible."
The poll then asked Americans a follow-up question about whether legally betting money on games has influenced people's reaction to calls from NFL officials, and 63% of respondents said "Yes" while roughly 20% said "No."
Here's the question and response:
"Is sports betting, which has been legalized in many states, influencing people's reaction to officiating of NFL games?"<
Dem: Yes 62%, No 20%
Rep: Yes 64%, No 19%
These numbers shouldn't be a surprise anyone. After all, if you have a vested interest in something, aren't you going to have a stronger reaction toward whatever, or whomever, causes the outcome to go or not go your way?
And to further prove that point: Loss aversion is scientifically proven—where "losses loom larger than gains"—and it's in our nature to feel and remember losses more strongly than wins.
A fan who watches his or her favorite NFL team lose on a ball call is going to remember the terrible officiating. However, for someone who placed a wager, a bad call can cause not only the team to lose but also essentially flushes money down the drain.
And when that happens, the person not only feels cheated by the NFL officials, but it can also indirectly result in chasing losses—continuing to bet with the hope of recovering what you've already lost. Constantly chasing losses is one of the most telling signs of someone who's developed problem gambling habits.
To their credit, sportsbooks will sometimes void wagers and refund all the money placed on an outcome when a referee makes an egregiously horrible call.
Remember when the referees robbed the New Orleans Saints of a trip to the Super Bowl after possibly the biggest blown call in NFL history during last season's NFC championship against the Los Angeles Rams?
You know, the one where even Rams cornerback Nickell Robey-Coleman acknowledged after the game that he should have been flagged for the blatant pass interference penalty?
Well, some sportsbooks, such as PointsBet in New Jersey, refunded all the point spread and moneyline wagers on the Saints and credited their customer's accounts with what they called the "Good Karma Payout."
Passionate sports bettors and sportsbooks are not the problem. The NFL's increasingly terrible officiating and lack of transparency on addressing the issue is the problem.
Having a referee review every play and have the authority to confirm or overrule a call on the field is a possible solution, but the poll shows mixed opinions of this implementation—likely because many believe it may bog down the pace of a game. Here are the results from the following question:
"The NFL has been criticized recently for a series of questionable calls by officials. One suggestion is to have a referee overseeing every call made or not made on video and confirming or overruling the call on the field. Do you approve or disapprove?"
Dem: Approve 41%, Disapprove 42%
Rep: Approve 51%, Disapprove 40%
However, one aspect that the poll doesn't address is the fact that modern technological advancements have made it easier for both fans and bettors to more closely scrutinize every play and every call.
Today, in the age of 4K televisions, digital video recorders (DVR), and the ability to post clear evidence of bad officiating on social media in a matter of seconds, any viewer can create a booth review from their living room and share it to anyone around the world.
And that's by no means a bad thing, but NFL owners and Commissioner Roger Goodell like to pretend they aren't aware of the egregious errors. Perhaps even worse is when one of them admits to not caring about bad calls at all.
The latest backlash came during the Packers-Lions Monday Night Football matchup a couple of weeks ago, which saw officials make numerous blown calls that had a direct effect on the Packers coming from behind to beat the Lions.
And after the game, here's what Dallas Cowboys owner Jerry Jones had to say about the horrendous officiating:
"The calls were the subject of most of the talk after the ball game," he said. "And they're the talk this morning. As long as they're talking, keep it going."
The NFL continues to live in a bubble where "bad PR is good PR." While the old saying is sometimes true, what the NFL fails to understand is that there are different levels of bad.
Bad officiating isn't bad PR—it's disastrous PR because it damages the integrity of the sport.
Speaking of integrity: If I had a dollar for every time that Goodell, an NFL owner, or a league representative said they oppose sports betting because it damages the game's "integrity," then I'd be able to buy my own football team.
And yet the NFL and other sports leagues have the audacity to appear before state lawmakers in an attempt to force sportsbook operators to pay "integrity fees" under new sports betting laws. What a joke.
How about this: The NFL first acknowledges horrible officiating when it happens and comes up with a viable solution, and then we can have a reasonable discussion about why the sports leagues aren't entitled to "integrity fees."
Goodell and the NFL will never take that bet. But you can bet America's perception of the league's officials, and the NFL, in general, will continue to tank as long as they continue to allow blown calls to truly tarnish football's "integrity."