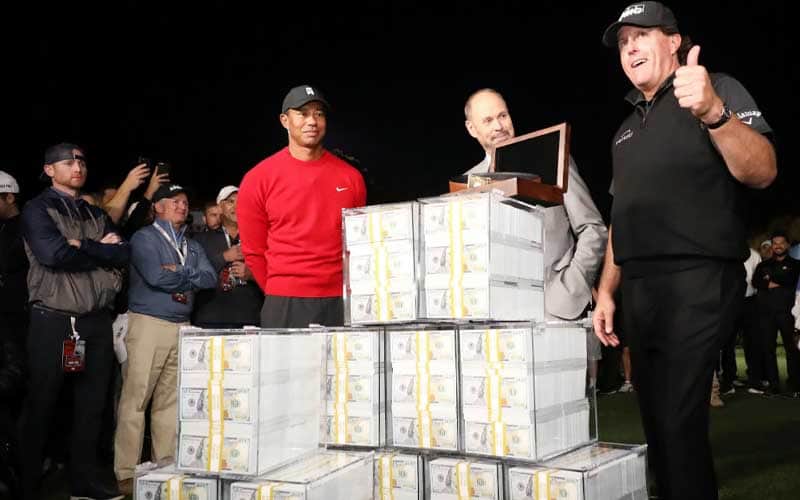 Gambling on golf: A tradition unlike any other.
Placing bets on shots, holes, and rounds has likely existed since the modern game of golf was invented in Scotland during the 15th century.
For golfers around the world—from US Presidents discussing trade with world leaders to retirees enjoying the twilight years—wagering real money on one's skill is almost expected when stepping onto the links or courses.
Even "The Match" last year between Tiger Woods and Phil Mickelson at Shadow Creek in Las Vegas featured numerous side bets placed by two of the world's best golfers to benefit charity.
And soon, you'll be able to get in on the action going to see the best golfers in the world.
US PGA Tour Commissioner Jay Monahan announced this week that odds and betting lines will be available at its golf tournaments in 2020, and attendees will be allowed to gamble on the events.
Monahan made the announcement ahead of Japan's first PGA Tour event, the Zozo Championship, which began today in Inzai, Chiba Prefecture, located in the Greater Tokyo Area.
"You'll start to see product in the market place next year," Monahan said, adding that the PGA Tour believes it can attract more fans to tournaments, which can be as long as half a day over a four-day weekend. 
"It's all about engagement," Monahan said. "When done right, it gives fans the opportunity to engage with your sport over a longer period of time and have more interest in what's happening across the entire player field."
A total of 13 states currently offer legal sports betting, whether it be in-person, online, or via mobile apps, and that number could double by the end of 2020.
While the PGA Tour will no doubt comply with a state's sports betting law, it's unclear exactly how it plans to implement a golf-focused sportsbook in the associations' tournaments or what sort of betting markets will be available once the professional golfers tee off.
"It's legalized in a lot of international markets, and we've put the right systems in place, both in terms of an integrity programme and monitoring activity," said Monahan. "As it is becoming legalized by state in the US, you can either participate or not, and we feel smarter to be participating… versus let others control it."
Monahan wouldn't comment on the betting products and services that will be made available next year, but he did say the tour has partnered with IMG Arena—a London-based sports betting data collection agency—to develop the offerings and that their top priority was keeping golf's integrity intact.
"Once you start to participate, you can eliminate negative bets. We've done a ton of work to make certain that that's the position we're in," Monahan said. "I think when we come forward, you'll see that we've taken significant steps to address that. We're going to participate in a thoughtful way, and I'm really comfortable with that."
In addition to adding sports betting services for next year's events, the PGA Tour's official data via the ShotLink system—a system of lasers and cameras that track every player's shot for each hole—will soon be sold to sportsbooks around the world in partnership with IMG Arena.
With the PGA Tour now openly embracing gambling on its sports, it's worth noting that sports betting could come to Georgia next year.
And for those unfamiliar with the professional golf scene, The Masters—arguably the game's biggest tournament—is held annually at the Augusta National Golf Club in Augusta, Georgia.
While it's highly unlikely to see legislation passed and a launch for Georgia sports betting ready in time for next year's tournament—scheduled for April 9 to April 12, 2020—it won't be long before golf bettors from all over the country will be out of the bunker.
After all, it's now clear the PGA Tour wants you to place your money on the green.