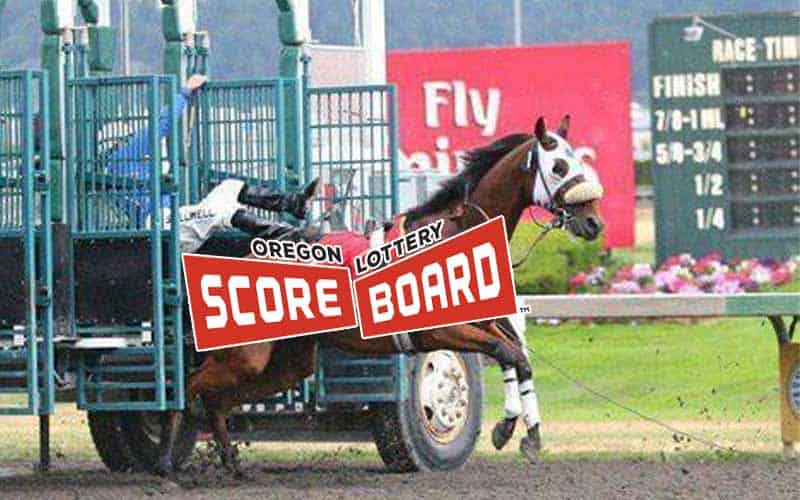 Oregon's first mobile sports betting app has finally arrived—sort of.
After multiple delays and controversies, the Oregon Lottery launched the Scoreboard app Wednesday evening, becoming the first online and mobile option for sports betting in Oregon and on the West Coast.
The Oregon Lottery made the announcement on its official Twitter account, declaring, "The waiting is over — get started now!"
The all new Oregon Lottery Scoreboard app has landed! Download now to get started betting on your favorite teams. Any time, anywhere. The waiting is over — get started now! https://t.co/MjwhiOhPls pic.twitter.com/RugJ6f9cvy

— Oregon Lottery (@oregon_lottery) October 17, 2019
However, the launch of the Scoreboard app has been far from smooth. While some users reported few to no issues, several Oregonians on Twitter have reported glitches, and others have said they couldn't access the site or find the app. Some who signed up said their deposits disappeared temporarily before showing back up.
The app sucks. No events are showing. Sometimes they show if they want to, and you're lucky to get a bet in before the events disappear. 🤦🏻‍♂️ Great planning @oregon_lottery Glad you waited to "get it right" pic.twitter.com/dtpiJoVShb

— Josh (@JoshInPDX) October 17, 2019
Deposited money and got a confirmation email from "Bank of George" (which seems sketchy in itself) but no funds available in my account… can't bet

— . (@salex1954) October 17, 2019
@BrandonSprague @TheDirtJohnson guys got deposit in and now it won't let me place bets WTF. Is this a just the tip moment by Oregon Lottery.

— MauiBear (@KoreanFit) October 17, 2019
Just gave the @oregon_lottery Scoreboard app a 1 star review on the App Store.
Now I'm going to get a #McRib since unable to gamble on preseason basketball.

— Wilson (@bwwjr) October 17, 2019
Trying to access #scoreboard #oregonlottery pic.twitter.com/hTVfvli33O

— MDG (@Michael58378714) October 17, 2019
Twitter user @MikeLynch27 was having issues making a deposit, but once he turned off WiFi on his phone and used LTE/5G, everything worked fine.
For anyone having trouble funding their account on @oregon_lottery Scoreboard, try turning off WiFi on your phone and using LTE/5G. Once I turned WiFi off it worked for me.

— Mike Lynch (@MikeLynch27) October 17, 2019
John Canzano, a sports columnist for The Oregonian, said a friend told him he tried confirming his Scoreboard account five times, and once it finally went through, he couldn't log in. After four attempts, Canzano's friend texted him and said, "It's just easier to drive to Chinook Winds."
An unexpected high amount of traffic appears to be the cause for the Scoreboard website and app stumbling out of the gate in the initial hours. A couple of people on Twitter said the Lottery customer support told them that Scoreboard experienced 5-7 times more traffic than they'd initially predicted.
Despite Oregonians still experiencing technical difficulties, the Lottery tweeted earlier this morning that the performance issues were beginning to smooth out and reported some early sign-up numbers.
As of 7 am PT today, the Lottery and Canzano have reported the following launch data, which look promising when gaging the sports betting app's future success:
2,300 registrations
500 people online at 7 am PT
$80,000 deposited into accounts
Over $15,000 worth of bets placed with most of the action on the Portland Trail Blazers and Golden State Warriors preseason games Wednesday night.
If you're still experiencing issues with the Scoreboard app or website, officials recommend contacting the Oregon Lottery support staff at either of the following:
Email: support@services.oregonlottery.org
Phone: 1-877-572-6732
After a rough couple of hours, people are now getting registered, placing bets and even reporting their first wins. Sorry if it's still not working for you. Please consider contacting support:
Email: support@services.oregonlottery.org
Phone: 1 877-572-6732

— Oregon Lottery (@oregon_lottery) October 17, 2019
Oregon Lottery Scoreboard app details
The Oregon Lottery's Scoreboard app has experienced a long treacherous expedition, to say the least. From Scoreboard's controversies to its multiple delays, it's been a rough ride for betting hopefuls in the Beaver State.
And after the Lottery's website crashed on Tuesday, it looked as though the sports betting app may never arrive.
Fortunately, the Scoreboard app is now live as of Wednesday night, so here's a rundown of everything you need to know:
Operator: Oregon Lottery
Other sportsbooks: Chinook Winds Casino (in-person only)
Launch date: Wednesday, October 16
Age requirement: 21 years old
Location: Online/Mobile app (retail TBD), must be located inside the state
Download app: Apple iOS (App Store), Android (Oregon Lottery official website)
Sports allowed: All professional sports (NFL, NBA, MLB,
Sports prohibited: All collegiate sports
Bet types: Point spread, money line, total (over/under), prop bets, parlays, live/in-game wagers, futures, etc.
Minimum bet amount: $1
Maximum bet amount: $250,000 (deposit limit, betting lines will vary)
Gaming provider: SBTech
Geolocation provider: GeoComply
Deposits/Withdrawals: Debit cards, credit cards, PayPal
Estimated handle: $332 million in 1st year, $722 million by 3rd year
Estimated hold %: Industry average of 5-10%
Estimated revenue: $16.1 million‒$32.2 million in 1st year, $36.1 million‒$72.2 million by 3rd year (based on the estimated handle)
Revenue distribution: Public Employee Retirement System (PERS), $27 billion budget deficit, SBTech