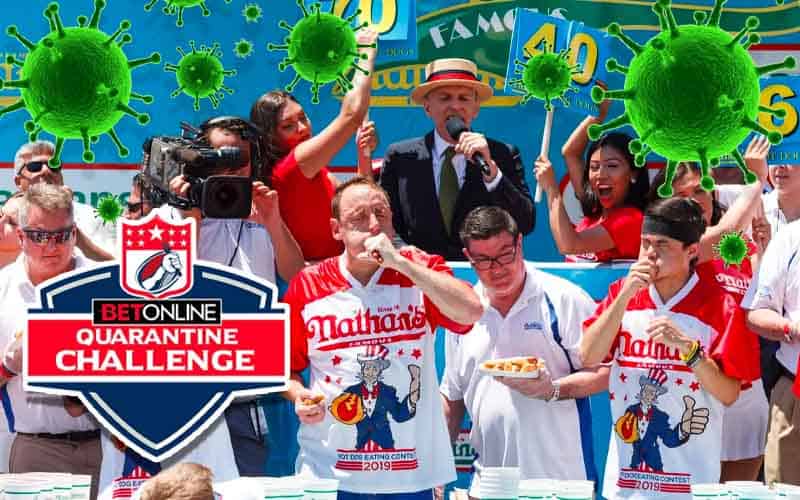 Sports and betting are like hot dogs and buns—Sure, they could be separated, but why try to break up something that's already perfect together?
But with limited legal sports betting due to COVID-19, fans and bettors alike have been starving for anything to watch or wager on during the darkest of times in the sports and gambling world.
Thankfully, Major League Eating and BetOnline have cooked up a solution and are delivering the goods with the first real pro sporting event during the coronavirus pandemic as well as some entertaining betting odds for who will win. Snacks are TBD.
MLE and BetOnline announced Wednesday the professional competitive eating league would resume competition on Friday for the launch of the "BetOnline Quarantine Challenge"—a new March Madness bracket-inspired eating elimination tournament.
SPORTS ARE BACK!

The @betonline_ag Quarantine Challenge Starts Friday 7pm EST

8 of MLE's finest inc @joeyjaws @MattStonie @OMGitsMIKI @BadlandsBooker @DarronEats @Tripppl3oji @NWehry2415

Watch https://t.co/EigggAhlCQ
Odds https://t.co/AwJ7wMveh4
Info https://t.co/sMJSSPDnWW pic.twitter.com/u8gae5aS1J

— Major League Eating (@eatingcontest) April 15, 2020
"Competitive eating is most powerful when conducted on-stage in front of a large audience, but it is also one of the few sports that professionals can perform from the confines of their own home," said MLE Chairman George Shea in the league's press release. "While there has been substantial discussion about which professional sport would be the first to return – with baseball, basketball, golf, and MMA all floating recent potential return plans – competitive eating is first to come back. It is a powerful statement of American resilience."
Dave Mason, brand manager of the highly-rated BetOnline sportsbook, said partnering with MLE for the Quarantine Challenge gives fans of sports and betting some entertainment during the global pandemic.
"We all find ourselves in an unprecedented space," Mason said. "Unfamiliar problems often require unfamiliar solutions. Hence the birth of this event. Many are familiar with the July Fourth event, but few realize that these athletes compete regularly and treat this as an actual sporting league. Our goal is to showcase the talents and skills possessed by the competitors while offering fans the chance to cheer on their favorites."
MLE BetOnline Quarantine Challenge Details
An Elite Eight of eaters will face off against each other in the comfort of their own homes. Competitors will video stream rounds, and the entire live broadcast can be watched for free on the official MLE YouTube Channel starting at 7 PM ET on Friday, April 17.
The eight competitive eaters participating in the Quarantine Challenge are as follows:
Joey Chestnut ‒ No.1 ranked eater in the world, 12-time winner of the Nathan's Hot Dog Eating Contest
Miki Sudo ‒ The No. 1-ranked female eater in the world
Matt Stonie ‒ 255 Peeps in five minutes
Darron Breeden ‒ 528 oysters in eight minutes
Badlands Booker ‒ World-renowned chugging champion
Gideon Oji ‒ 25 lbs of kale salad in eight minutes
Michelle Lesco ‒ 176 gyoza in 10 minutes
Nick Wehry ‒ 11 lbs of strawberry shortcake in eight minutes
There will be four rounds featuring four different types of food:
Qualifying Round: Sliced Bologna – two pounds
Quarterfinals: Milk and Cookies – one family pack of Oreos, a half-gallon of milk
Semifinals: Baked Beans – 1.125 gallons (or 10 pounds)
Finals: Ramen Noodles – 10 individual ramen cups
The first-ever quarantined competitive eating competition will have a prize pool of $11,500, and $5,000 will go to the winner. MLE and BetOnline will each donate $10,000 to Feeding America.
BetOnline's odds favor Joey Chestnut
And what kind of competition would this be if people couldn't chow down and bet on sports legally while watching the world's best eaters delete food with their digestive system?
The good folks at BetOnline know bettors are hungry for sports betting, which is why they put out a buffet of entertaining prop bets for the stream-only smorgasbord spectacular.
Hot dog eating legend Joey Chestnut is listed at -110 and is the odds-on favorite to win the inaugural quarantine challenge.
But without Nathan's Famous weiners on the menu, can Chestnut fend off the hungriest stars in the world of professional eating? Or will a new devourer rise above the field and scarf down both him and the competition.
Below you can feast on all the betting odds and propositions that are initially available for Major League Eating's BetOnline Quarantine Challenge. And if you give compliments to the chef oddsmaker, there's sure to be a second helping of MLE betting odds in the near future (and maybe some dessert too).
Odds to win MLE BetOnline Quarantine Challenge
Entertainment Specials from BetOnline Sportsbook
Quarantine Eating Challenge Odds
Joey Chestnut -110
Matt Stonie +350
Darron Breeden +500
Gideon Oji +900
Miki Sudo +1000
Michelle Lesco +1200
Nick Wehry +1200
Eric Booker +2000
Will any eater vomit?
Will Joey Chestnut make the finals?
Will Matt Stonie make the finals?
Round 1 Fastest Time
Joey Chestnut +120
Matt Stonie +325
Darron Breeden +400
Gideon Oji +750
Miki Sudo +1000
Nick Wehry +1200
Eric Booker +1400
Michelle Lesco +1400
Round 1 Slowest Time
Eric Booker +250
Michelle Lesco +300
Miki Sudo +375
Nick Wehry +500
Darron Breeden +600
Gideon Oji +600
Matt Stonie +1600
Joey Chestnut +2500
Fastest Time to Complete Round 1
Under 69 Seconds -120
Over 69 Seconds -110
Slowest Time to Complete Round 1
Over 95 Seconds -220
Under 95 Seconds +180
Round 1 Faster Time
Miki Sudo -175
Michelle Lesco +145
Round 1 Faster Time
Joey Chestnut -285
Matt Stonie +225
Round 1 Faster Time
Darron Breeden -135
Gideon Oji +105
Round 1 Faster Time
Nick Wehry -300
Eric Booker +240