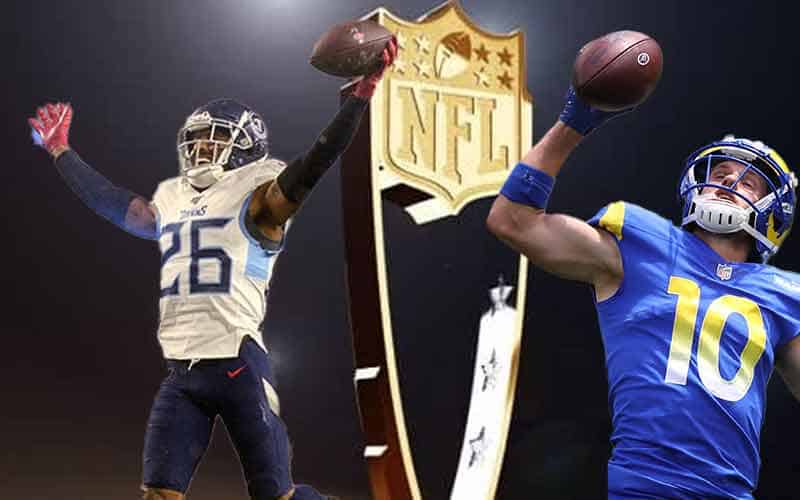 The award for Most Valuable Player each year in the National Football League is granted to a quarterback a majority of the time. On the rare occasion that a QB doesn't secure NFL MVP honors, a running back is most often the recipient of the trophy.
Legal NFL betting sites have posted odds for the player that will become the 2021-22 NFL MVP, and there are only two non-QB outliers that are among the potential winners.
NFL Most Valuable Player Odds For 2021-22
Kyler Murray, QB Arizona Cardinals +375
Dak Prescott, QB Dallas Cowboys +400
Josh Allen, QB Buffalo Bills +650
Derrick Henry, RB Tennessee Titans +800
Lamar Jackson, QB Baltimore Ravens +900
Tom Brady, QB Tampa Bay Buccaneers +900
Matthew Stafford, QB Los Angeles Rams +1000
Patrick Mahomes, QB Kansas City Chiefs +1200
Aaron Rodgers, QB Green Bay Packers +1200
Justin Herbert, QB Los Angeles Chargers +1400
Joe Burrow, QB Cincinnati Bengals +6600
Cooper Kupp, WR Los Angeles Rams +20000
The above odds have been re-posted from MyBookie Sportsbook, but we've edited all MVP betting options after Joe Borrow, save for Cooper Kupp, to illustrate the disparity between the quarterback and all other positions in pro football.
The wide receiver position, in particular, creates a difficult scenario for winning to win the MVP award because production is entirely dependant upon the quarterback who is delivering them the football.
Kupp's +20000 NFL moneyline odds offered above are twenty times worse than his QB Matthew Stafford despite him being on a scorching hot pace in 2021 that could threaten to be the top receiving yardage and touchdown producing season in the history of the league.
Cooper Kupp Stats For 2021
46 receptions, 653 yards, 7 touchdowns
Cooper Kupp 2021 Stat Projections
130 receptions, 1850 yards, 20 touchdowns
The record for receptions, yardage, and touchdowns in a single season is 149, 1,964, and 23, respectively. Cooper Kupp has been a vital cog in the Rams offense this season, and if they end up winning the AFC West and earning a top seed in the NFL Playoffs, his resume will be hard to ignore for MVP voters.
Derrick Henry is coming in a reasonably close fourth overall in the MVP odds, and deservedly so. His Tennessee Titans are almost certain to win the AFC North and will be a force in the odds posted at NFL Playoff betting sites, largely thanks to his efforts.
Feast your eyes on the following monster stat line that Derrick Henry after six games in 2021. When projecting out to a full 17-game season, Henry has the potential to break or tie three all-time NFL rushing records.
Derrick Henry Stats For 2021
162 carries, 783 yards, 4.8 yards per carry, 10 touchdowns
Derrick Henry 2021 Stat Projections
459 carries, 2,219 yards, 28 touchdowns
The current top marks in rushing for a single NFL season are set at 419 carries, 2,105 yards, and 28 touchdowns. If Henry sets an NFL record in three categories in a single season, how can he be denied the Most Valuable Player superlative for 2021-22?
His +800 moneyline will earn savvy NFL gamblers a net gain of $8 for each dollar bet, and right now that's looking like a worthy investment if not an appetizing hedge opportunity.