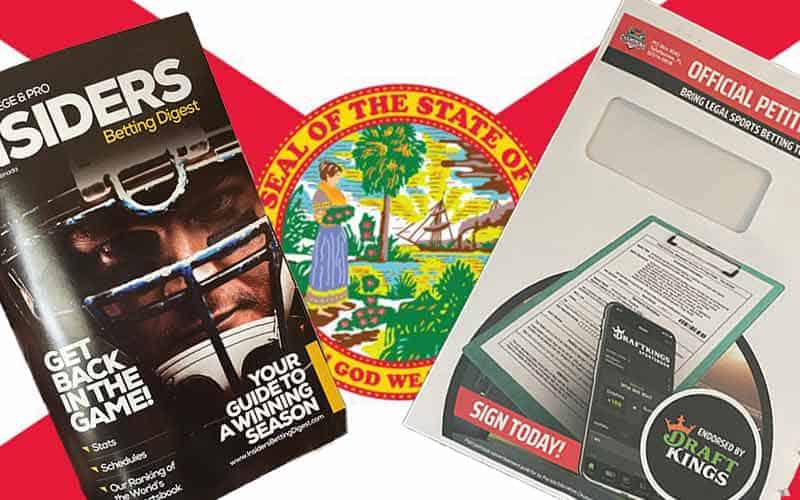 Riding on the traction gained from the recent and widespread authorization of US sports betting, state regulated commercial sportsbooks have eagerly been pushing their way into forbidden territory.
Sportsbooks Step Into Tribal Waters
While it is normal for these groups to lobby for domestic gambling expansion in sportsbook-free states, some have readjusted their targets towards states whose markets are dominated by Tribal sportsbooks.
In the Sunshine State, domestic sports betting will become available to the public on October 15th via sportsbooks operated by the Seminole Tribe.
Florida sports betting will first debut at retail locations such as the Hard Rock Casino in Tampa, with online betting to come at a later date.
Despite being good news for Florida bettors, the compact means that commercial sportsbooks lose out on nearly 12 million potential patrons. That being said, commercial giants such as DraftKings and FanDuel will not go down without a fight.
DraftKings And FanDuel Partner For Petition
DraftKings has now joined a ballot initiative led by Florida Education Champions. The US sportsbook partnered with FanDuel to pledge their support of the initiative by contributing a whopping $20 million investment to the cause.
Florida Education Champions is a Political Action Committee, or PAC, aiming to invite commercial sportsbooks to the market to promote education.
Because they will need nearly 900,000 signatures to send the initiative to the 2022 ballot, the organization employed some classic tools to garner support.
Most recently, Florida Education Champions has been sending out mail-in advertisements. A Florida man named Duke Gibbons spoke to us about these mailers, claiming that they were "succinct, yet potentially vague."
What Floridians Think of the Petition
Mr. Gibbons is a casual sports bettor who occasionally bets with offshore betting sites such as Bovada Sportsbook. Mr. Gibbons was not expecting mail from DraftKings when he received the petition from Florida Education Champions.
"I'm pretty sure that they're targeting males over 21 across the state…I get why the offshore books are trying to get my business, but I was surprised to see the petition from DraftKings."

"From what I've heard, I don't think DraftKings has much of a shot of opening up in Florida, but I would place a bet with them if they can get enough signatures to make a difference."
While Florida Education Champions was sure to include a summary of intentions and a link to their website, Duke noted that the group may have included language that he is "not privy" to.
When asked if he was planning on signing the petition, Mr.Gibbons expressed that he was leaning against it. Even so, he said that he would still consider betting with a service like DraftKings if it became available in Florida.
Implications of Misinformation
Competition is healthy to a free market, but some of these adverts make claims that aren't entirely true. Several of these pamphlets use language to indicate legal sports betting is not yet authorized in Florida when that is not the case.
PACs like Florida Education Champions should be held accountable for this sort of behavior, as it can be misleading to voters who have a critical decision laid in front of them.
Nonetheless, these groups are free to use whatever (ethical) tools they have at their disposal to promote the ballot initiative. These mailers are a good reminder that grassroots action is impactful and its influence has yet to die out.
Perhaps the Seminole Tribe may learn a thing or two from the PACs to develop a strategy for fighting back.
Source: Miami Herald