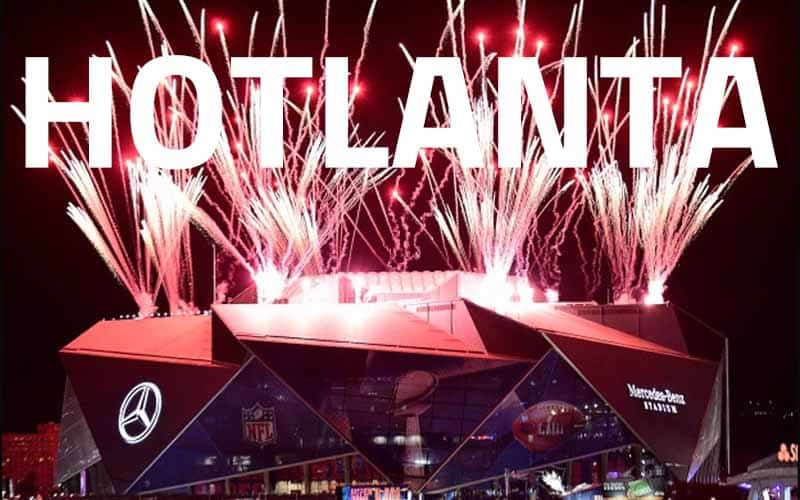 Winter may be just around the corner, but talks surrounding legal sports betting in Georgia are heating up down in "Hotlanta."
And while the outlook for legislation passing in 2020 looked good before this week, sports betting can now be considered a "safe bet" to arrive in the Peach State sometime next year.
Earlier this week, the Presidents of the Atlanta Braves (MLB), Atlanta Falcons (NFL), Atlanta Hawks (NBA) and Atlanta United (MLS)—all four of the major professional sports franchises in Georgia—created the Georgia Professional Sports Integrity Alliance, according to the Atlanta Journal-Constitution.
The coalition of Georgia's four pro teams then sent a signed letter to General Assembly lawmakers on Monday, November 11, declaring their support and asking the state legislature to bring legalized and regulated online and mobile sports betting to the state.
"Georgia is the 12th largest state for illegal wagering," the Presidents for the Atlanta-based teams wrote in the letter. "It is not going away. That is why we must ensure the industry is above-board and transparent."
They argue that regulated online and mobile sports betting "will bring needed revenue to Georgia and will offer safeguards to protect the integrity of professional sports, disinfecting a $1.5 billion illegal wagering industry in our state."
The four Presidents have clearly done their homework and understand the issue at hand, especially on the issue of whether to legalize Internet-based wagering, which they believe "will greatly enhance our engagement with fans, especially the new generation of fans. Moreover, it will include rigorous consumer protection, taxation of revenues to benefit our state, and tools to uphold the integrity of games and help law enforcement eradicate illegal sports wagering."
However, the pro leagues representatives went on to say they support legislation that bans betting on collegiate sporting events. This is counterproductive since it defeats the purpose of wanting to "eradicate illegal sports wagering."
If Georgia won't offer a specific sportsbook service, then a significant percentage of bettors will not buy-in and will continue to look for back-alley bookies to place wagers on the Bulldogs, Yellow Jackets, or any college team.
Apart from that, the Presidents also made it clear that they want to "block the placement of wagers on credit," which is a good rule to implement.
Perhaps the biggest takeaway other than publicly supporting legalization is the following statement: "[The] professional sports teams in Georgia will not receive a direct share of any tax revenues from gaming."
The pro leagues continue to tirelessly argue and beg for state lawmakers to include "integrity fees," "royalty" or whatever new buzzword for "force your sportsbooks to give us money for nothing in exchange" they come up with next week.
But it appears as though the pro teams in Georgia are taking a different and dare I say reasonable approach on legalizing sports betting—apart from supporting a college wagering prohibition.
These Presidents know they stand to make hundreds of millions in increased engagement from fans and trying to squeeze a sportsbook to pay for the "privilege" to post betting lines and odds on their games is a ludicrous premise—one that would only get pennies on the dollar.
When interviewed by the AJC, Atlanta Braves President and CEO Derek Schiller told them it was the first time Georgia's pro teams have banded together on a specific policy proposal.
"We felt it was important that we formed this alliance so that we could advise the Legislature if they're going to consider drafting legislation," Schiller said, adding that their goal is "ensuring that this activity—that is happening already—gets regulated in the right way and for us, most importantly, that we ensure that the integrity of the sport is preserved."
An amendment to the state constitution is the best bet for lawmakers since it's the only way for the legislation not to face any legal challenges down the road.
However, that path is also significantly more difficult to pull off since it requires two-thirds support in the General Assembly and majority approval from Georgia voters on a ballot measure.
Previous attempts to pass a sports betting bill in the legislature have failed, but with surrounding states coming on board and lawmakers warming up to the idea, this week's endorsement from Georgia pro teams could be what pushes the odds of passage definitely in favor of legalization.
The letter concludes with a message that should make any state lawmaker—who's on the fence or outright opposed—think twice before voting down a well put together proposal for sports betting.
"Therefore, a key question isn't whether Georgians are going to wager on sports. It's whether they will wager in an illegal market or wager in a fully regulated environment that protects consumers and the integrity of games."
The journey toward legalization starts when the legislative session begins on Jan. 13, 2020, and with the Atlanta pro teams' unexpected and unprecedented support, licensed and regulated sportsbooks may finally head down to Georgia as early as next year.