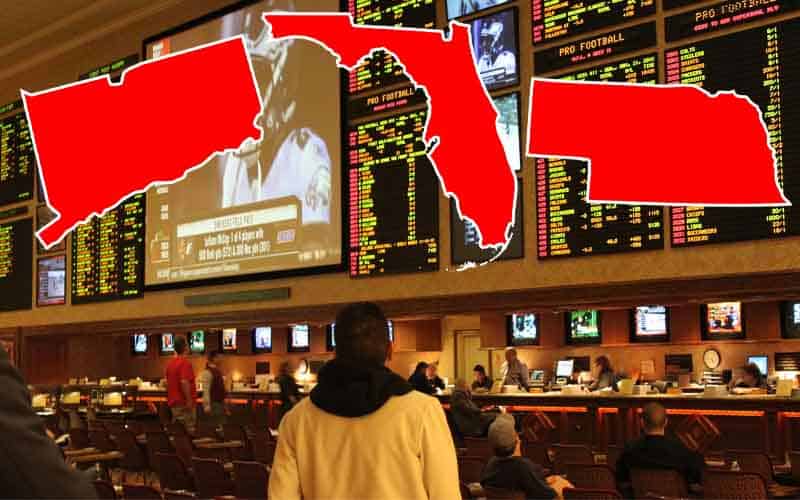 September 9th brought the return of the NFL season, as well as the kickoff of legal sports betting in several regions across the United States.
As states such as Arizona begin to roll out domestic sports betting regulations, many bettors may be wondering why their area has yet to catch up.
Because of this widespread confusion, we at SBL have decided to compile a list of states seeing sports betting delays. Furthermore, we will explain what's going on and when you can expect to start placing state-licensed bets.
Connecticut
Connecticut sports betting legislation was signed into law in May of 2021. Wagers have yet to take place, as Governor Ned Lamont was waiting on federal approval from the Department of Interior.
Just Thursday, the federal authorization came through. This means that Connecticut can start taking sports bets as early as October. The ability of the state will be able to fulfill this promise is not a guarantee. Nonetheless, CT sports betting is coming soon.
Florida
The Sunshine State made huge strides towards legal sports betting this year. A new Gaming Compact was signed between the Seminole Tribe and the Florida Government in May.
Despite legal hurdles that stood to keep the state from enacting legal sports betting, the compact held up. While it has taken ample time to prepare for Florida sports betting, retail sports betting is set to be unveiled on October 15th.
Maryland
Although Maryland signed sports betting legislation into law in November of 2020, the state has yet to make significant progress in bringing the practice to its constituents.
It is difficult to narrow down exactly why Maryland sports betting has not yet become reality. Lawmakers have assured citizens that delays are a result of diligence in writing out sports betting guidelines. However, there is surely more to the story than that.
All things considered, bettors in Maryland should avoid high hopes and stick to offshore sportsbooks until more news is released on the matter.
Nebraska
Nebraska's sports betting legislation was signed in May of 2021, authorizing in-person athletic wagers. While many were operating under the assumption that they would be able to place bets at retail locations by September 9th, the state has yet to announce a start date.
As advised to sports bettors in Maryland, Nebraska bettors should consider placing wagers with offshore sportsbooks. Without a domestic kickoff insight, Nebraskans have no obligation to withhold their sports bets.
To be clear: online sports betting is legal in nearly every region of the US via offshore platforms. What is being waited on is legislation to clear state-licensed sports betting operations.
Remember, residents are still free to use offshore sports betting sites both before and after legislation is pushed through. State-licensed sports betting doesn't legalize anything other than a choice.
If you have any questions, be sure to reach out to us on Twitter @sportsbet_legal.
Source: ESPN