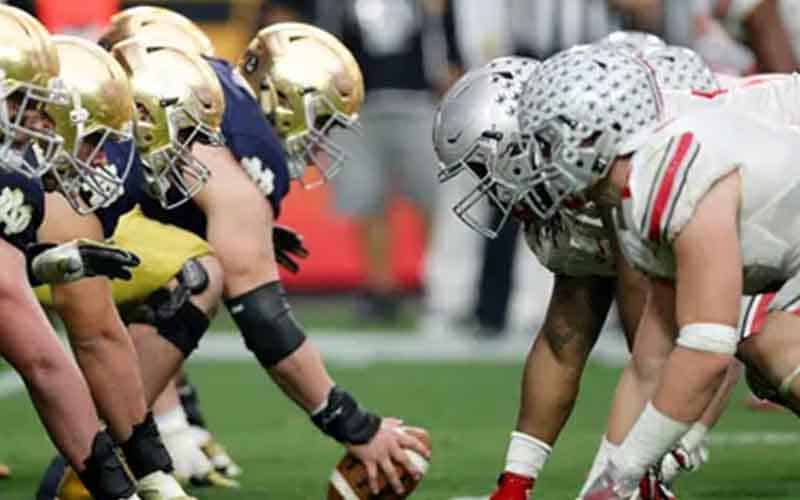 Week 1 of college football began last night and continues on through Saturday with two matchups of top-ranked teams. First up tomorrow at 3:30 PM in Atlanta, GA's Mercedes Benz Stadium is the 11th ranked Oregon Ducks vs. the #3 Georgia Bulldogs.
Oregon Ducks (#11) @ Georgia Bulldogs (#3)
Oregon Point Spread: +17.0
Oregon Moneyline: +550
Georgia Point Spread: -17.0
Georgia Moneyline: -850
Over/Under: 54.0
Yes, the Bulldogs are the reigning National Champions and are expected to go to the College Football Playoffs again this year, but why are NCAAF betting sites forecasting a blowout against Oregon?
Is the disparity between the SEC and all other college football conferences that severe? Oregon must be ranked 11th for a reason.
We expect Georgia to get the win this weekend, but there's a good chance that the Ducks are able to cover.
At 7:30 PM, The 2nd-ranked Ohio State Buckeyes play host to the Notre Dame Fighting Irish.
Notre Dame Fighting Irish (#5) @ Ohio State Buckeyes (#2)
Notre Dame Point Spread: +17.0
Notre Dame Moneyline: +525
Ohio State Point Spread: -17.0 (-110)
Ohio State Moneyline: -800
Over/Under: 59.5
Although Notre Dame is coming in ranked 5th in the AP Top 25, oddsmakers are predicting an easy win for the Buckeyes. The Fighting Irish are just one of many tough opponents that Ohio State will face in 2022.
The same cannot be said for Notre Dame. If the Irish can beat OSU, they can focus on their chances of becoming one of the final four teams that go to the CFP.
College Football Playoff sportsbooks are currently offering a moneyline on Notre Dame of +4500 to win a National Championship.
Wagers of $1 will win $46 if ND wins the title, but don't expect those odds for CFP National Championship betting to last beyond Saturday if the Irish get the win in Ohio Stadium.
Alternatively, the odds for Ohio State to win a National Championship are set at +300. If they are victorious tomorrow, OSU's moneyline may improve a bit, but not significantly.
The #1 Alabama Crimson Tide are in action tomorrow against the Utah State Aggies, where they are favored to win by 42 points. Moneyline odds are off the board for this game due to the certain nature of the outcome.
There are a few Week 1 NCAAF betting lines that indicate more competitive games. The following two college football lines feature SEC programs hosting out-of-conference teams.
Both the FSU Seminoles and the Utah Utes are expected to be much improved from last season, and these two games will give insight into how the SEC stacks up against the ACC and Pac-12.
Florida State Seminoles @ LSU Tigers
FSU Point Spread: +3.0
FSU Moneyline: +135
LSU Point Spread: -3.0
LSU Moneyline: -160
Over/Under: 50.0
Utah Utes (#7) @ Florida Gators
Utah Point Spread: -3.0
Utah Moneyline: -145
Gators Point Spread: +3.0
Gators Moneyline: +125
Over/Under: 51.5
While Florida, Florida State, and LSU are not ranked at the moment, a win tomorrow will ensure that they crack the top 25.
We're struggling to envision the Utes waltzing into Ben Hill Griffin Stadium and stealing a win from the Gators, but if you think that will happen, lay some action on their -145 moneyline right now.
Sources: Bovada Sportsbook, Sports Illustrated