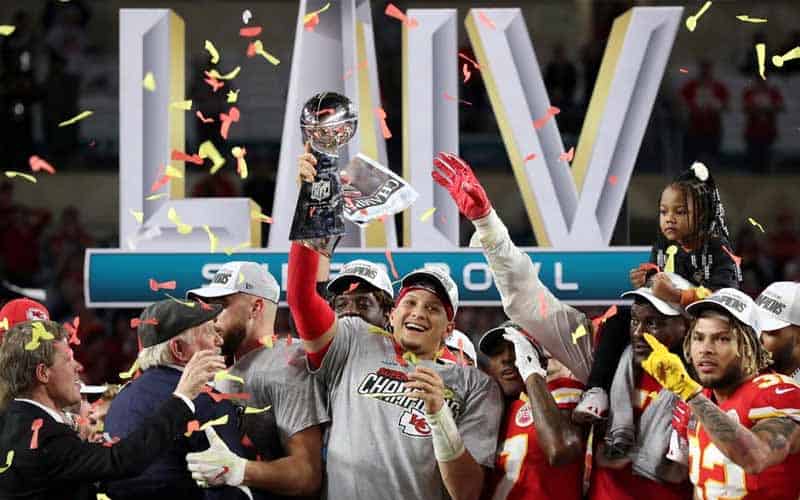 Another NFL season is officially in the books following the Kansas City Chiefs' 31-20 victory over the San Fransisco 49ers in Super Bowl 54 last night.
For those of you who missed out on the 2020 Super Bowl betting or just want to know the winning wagers from last night's game, here are the Chiefs-49ers betting results for the top bets on Super Bowl Sunday.
Super Bowl 54 – Winning Bets
Point spread: Chiefs -1.5 (Chiefs won by 11)
Money line: Chiefs -120 (5-6 odds, Chiefs won 31-20)
Total points: Under 54.5 (Chiefs, 49ers combined to score 51 points)
Coin Toss: Tails -105 (20-21 odds)
Demi Lavato National Anthem Length: 1:55, Under 2 Minutes +120 (6-5 odds)
First score by team: 49ers Field Goal +375 (15-4 odds)
First to score TD: Patrick Mahomes +2000 (20-1 odds)
Total Halftime Show songs by Shakira/Jennifer Lopez: 15 songs, Over 7.5 -145 (20-29 odds)
Last scoring play: Damien Williams rushing TD, Touchdown -200 (1-2 odds)
Gatorade color: Orange +800 (8-1 odds)
Total Commercials: 50 commercials, Under 96 -120 (5-6 odds)
Super Bowl MVP: Patrick Mahomes +100 (1-1 odds)
Super Bowl 55 – Everything you need to know
But enough about this year's Super Bowl. It's time to look ahead and see who's favored hoist the Vince Lombardi Trophy for the 2021 NFL season. Everything you need to know, so you can begin preparing to bet on Super Bowl 55.
Who will win Super Bowl 55?
Odds to win Super Bowl 55 were immediately released following the conclusion of last night's game. The Kansas City Chiefs open as the 2021 Super Bowl odds-on favorite at +600 (6-1 odds), according to the NFL betting futures at Bovada.
The San Fransisco 49ers and Baltimore Ravens tie for the second spot at +800, followed by the New Orleans Saints at +1000 (10-1 odds) and the New England Patriots at +1100 (11-1 odds) to round out the top five. To learn how to place a wager on next year's game, check out our Legal NFL Super Bowl Betting Guide.
2021 Super Bowl Odds
Kansas City Chiefs +600
Baltimore Ravens +800
San Francisco 49ers +800
New Orleans Saints +1000
New England Patriots +1100
Los Angeles Chargers +1600
Green Bay Packers +1600
Dallas Cowboys +1800
Pittsburgh Steelers +2200
Atlanta Falcons +2500
Chicago Bears +2500
Los Angeles Rams +2500
Seattle Seahawks +2500
Philadelphia Eagles +2800
Cleveland Browns +3300
Minnesota Vikings +3000
Indianapolis Colts +3300
Las Vegas Raiders +3500
Tennessee Titans +3000
Houston Texans +3500
Buffalo Bills +4000
Cincinnati Bengals +5500
Denver Broncos +5000
Jacksonville Jaguars +5000
Tampa Bay Buccaneers +5000
Carolina Panthers +6600
New York Giants +6600
Detroit Lions +7000
New York Jets +7500
Arizona Cardinals +8000
Miami Dolphins +12500
Washington Redskins +15000
When is Super Bowl LV?
Super Bowl 55 is scheduled for Sunday, February 7, 2021.
Where is the game played?
Raymond James Stadium in Tampa, Florida, will host Super Bowl 55. The 2021 game was initially awarded to Los Angeles, but in 2017, the NFL moved the LA Super Bowl to 2022.
How to watch/stream
CBS will carry the Super Bowl 55 broadcast, and the game can be streamed on the CBS All Access app. NBC was next in the rotation but agreed to swap years so the network could broadcast the Super Bowl and Winter Olympics in 2022.
Halftime Show performers
Next year's performers are going to have a tough time topping the Super Bowl 54 Halftime Show by Shakira and Jennifer Lopez. Nevertheless, the NFL has not announced the 2021 Super Bowl Halftime performance.
Future Super Bowl host sites
Super Bowl LV (2021): Raymond James Stadium – Tampa, Florida
Super Bowl LVI (2022): LA Stadium at Hollywood Park – Los Angeles, California
Super Bowl LVII (2023): State Farm Stadium – Glendale, Arizona
Super Bowl LVIII (2024): Mercedes-Benz Superdome – New Orleans, Louisiana