It looks like no one told the Oakland Raiders and Antonio Brown that summer camps were reserved for love.
Since being traded from the Pittsburgh Steelers to the Raiders for a couple of draft picks, Brown's offseason has been one to remember.
After a tumultuous few months in the Bay Area, where he most recently clashed with the team's coaching and management staff, the seven-time Pro Bowl wide receiver has officially signed with the New England Patriots.
Brown might be happier now, especially since his new team—the New England Patriots—has the best chance to win Super Bowl LIV at +425 odds.
A timeline is below, paired with Brown's corresponding social media posts, to keep the entire debacle in order.
March 2019
Pittsburgh trades Brown to Oakland for third- and fifth-round draft picks at the start of the 2019 NFL offseason.
May 2019
Brown takes issue with the NFL's new required helmets. The receiver even threatened to retire if he couldn't use his old helmet and accused quarterbacks Tom Brady and Aaron Rodgers of breaking of the rule. Brown even tried to sneak his old helmet into practice, painting it to match the mandated lids. It didn't work.
August 2019
The Raiders place Brown on the non-football injury list for, in what may be a first for the NFL, frostbitten feet. Brown took to his Instagram story to share the blistered aftermath.
September 2019
The Raiders fine Brown $53,950 for missing mandatory team practices and threaten to levy more "should [Brown] continue to miss mandatory team activities." After receiving the letter, Brown returned to Instagram to share the letter with his followers.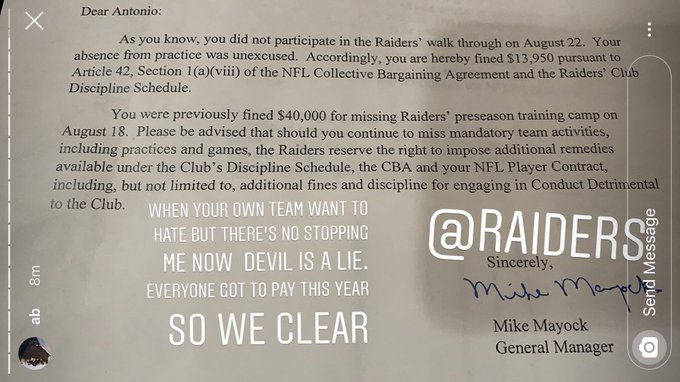 Following his Instagram post, Brown confronts Raiders GM Mike Mayock during practice. According to a Raiders source, Brown called Mayock a "cracker" and threatened to punch him.
After the exchange, the Raiders were expected to suspend Brown for their Monday Night Football home opener against the Denver Broncos.
The next day
Head coach Jon Gruden tells reporters that Brown will be playing for the team in Week 1 after he apologized to the team for his antics.
Later that night
After not getting suspended, Brown posts a video to his YouTube featuring a phone call between him and Gruden.
"Please stop this shit and just play football. How hard is that? You're a great football player. Just play football," Gruden says towards the end of the black-and-white video.
Saturday, September 7
Saturday morning, Brown made his last Instagram post as a Raider: "You are gonna piss a lot of people off when you start doing what's best for you."
Subsequently, the Raiders release Brown, fined him another $200,000, and voided $29.125 million of his guaranteed money.
How the Pats became the Super Bowl favorite
Later that evening, Brown announces on Instagram and Twitter that he was signing with the New England Patriots.
LFG #GodsPlan pic.twitter.com/MflFD1MqoT

— AB (@AB84) September 7, 2019
As a result of the signing, the Patriots odds to win Super Bowl LIV jumped to the top spot at +425—a 19.05% chance of repeating as champions. For more information for how to bet on pro football, check out our NFL betting guide.
Prior to the Brown acquisition, the Patriots were second at +650, giving Brady's bunch a 13.33% chance to win, and were behind only the Kansas City Chiefs, who were +550, or a 15.38% chance, according to the Super Bowl odds before Week 1.
For a full comparison of this season's Super Bowl odds, a list is provided below. Sadly for the Raiders, their odds remain low at +10000.
But, hey—at least they're not the Dolphins at +40000 odds.
Super Bowl LIV odds
New England Patriots +425
Kansas City Chiefs +525
Philadelphia Eagles +900
New Orleans Saints +1000
Chicago Bears +1300
Los Angeles Rams +1400
Los Angeles Chargers +1500
Cleveland Browns +1500
Pittsburgh Steelers +1700
Green Bay Packers +1800
Dallas Cowboys +2100
Minnesota Vikings +2300
Seattle Seahawks +2500
Carolina Panthers +2800
Atlanta Falcons +3000
Baltimore Ravens +3000
Houston Texans +3300
Jacksonville Jaguars +3500
Indianapolis Colts +4000
San Francisco 49ers +4500
Tennessee Titans +7000
New York Jets +7000
Buffalo Bills +8500
Oakland Raiders +10000
Denver Broncos +10000
Detroit Lions +12000
Tampa Bay Buccaneers +13000
New York Giants +14000
Washington Redskins +23000
Arizona Cardinals +25000
Cincinnati Bengals +27500
Miami Dolphins +40000