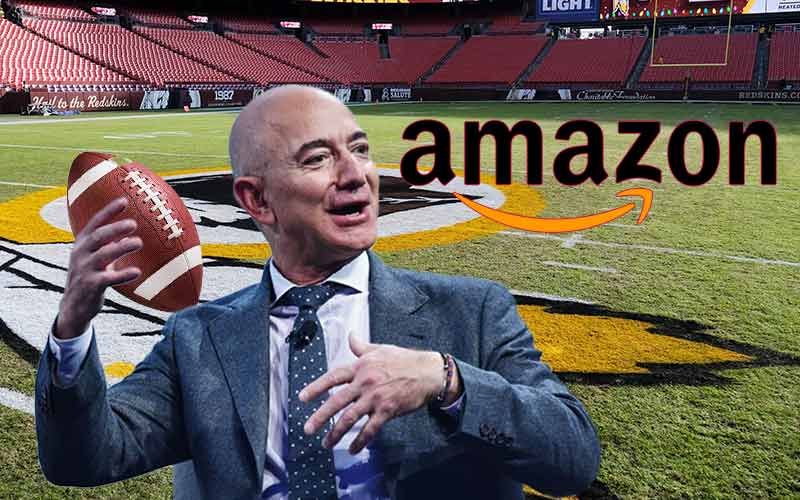 It seems that NFL betting odds do not have an offseason as new lines have appeared asking which team Amazon owner Jeff Bezos will purchase in 2021 or 2022.
Court documents were recently obtained that indicated Bezos was intent on securing a majority ownership of the D.C.-based NFL franchise, and as one of the wealthiest men on the planet, he's got the resources to make it happen.
The speculation is fueled by unrest in the Washington Football Team front office, as rumors are circulating that owner Dan Snyder is being forced out by other top executives.
This revelation comes on the heels of Bezos' February 2nd announcement that he will be stepping down as CEO of Amazon by the end of 2021. Bezos has the bankroll to fund a pro football team, and now it appears that he'll have the extra time to run the day-to-day operations as well.
Legal online sportsbooks have created the following betting line that implies that Bezos will indeed purchase an NFL Franchise prior to midnight on December 31 of 2022.
Will Jeff Bezos Own An NFL Team In 2021 Or 2022?
The odds are not overwhelming, and that's likely due to the lack of a definitive statement being issued by Bezos or his team regarding the matter. Neither outcome will provide a payout that surpasses the amount wagered.
There is also an NFL prop bet offered on which NFL Team that Jeff Bezos will purchase. This futures betting line favors an outcome where Bezos does not acquire ownership of a team during this calendar year or next, which is in direct opposition to the odds posted above.
What NFL Team Will Jeff Bezos Buy In 2021 Or 2022?
Does Not Buy A Team In 2021 Or 2022 -115
Washington Football Team +115
Denver Broncos +500
Seattle Seahawks +750
New Orleans Saints +750
There is sound rationale behind a single sportsbook offering odds that imply different outcomes regarding the same incident. The variety serves to capture action from bettors on all sides of the issue.
Even betting on Bezos to buy the Washington Football Team is not a favored outcome, as each $1 bet on that occurrence will earn $1.15.
If Bezos enters the realm of NFL proprietorship he will become the wealthiest owner in the league. If a team becomes available for him to purchase, the price tag is expected to be north of $4 billion.
A recent estimate placed Bezos' net worth at around $185 billion, so he's good for the cash. He still maintains holdings of 11.1% of Amazon stock, but it is unclear what his financial plans will be if he secures an NFL franchise.
If you are a bettor that is intent on cashing in big and pulling alongside the Bezos's of the world, you should consider laying some action on these NFL odds before they disappear. There's no indication of a timeline regarding the purchase of a team. There's not even been mention of a team being for sale.
When the pending sale is announced, the betting lines will be removed, so investigate these NFL ownership betting lines while they are still posted.
Betting Odds: Bovada
Source: Fox Business