Legally Betting On The USFL
Bet On USFL Game Lines Online
USFL Betting Futures Are Live Now!
Watch The USFL On FOX, NBC
The United States Football League returned in 2022, 37 years after the original USFL folded. Once again, the league has intentions of establishing a spring alternative to the NFL, and legally betting on the USFL is sure to fill the void left once fall football wraps up each February.
There are many avenues for legally betting on sports in the USA, and this guide discloses the top USFL betting sites on the web today offering odds for games, props, and the eventual USFL Champions. Learn all about how and where to legally bet on the USFL like a pro from your own living room.
Is USFL Betting Legal?
Yes. Betting on USFL games is legal as long as the patron is of the appropriate minimum age and is using either an offshore sportsbook site or a domestic vendor.
While not all states allow for regulated sportsbooks, USFL betting can occur at international gambling sites like the ones listed in the table below because there are no gambling laws in place that say you cannot.
Read our page dedicated to US gambling laws to learn more, but as long as you're 18 or older and inside the USA, one of the offshore sportsbooks below can handle your USFL bet.
What Is The USFL?
The original incarnation of the United States Football League lasted from 1983 until 1985 and was intended to be a spring professional football league that served as an alternative to the NFL. Things went south when the USFL shifted to a fall schedule and attempted to compete against the National Football League head-to-head.
In 2022, the USFL began anew with professional football in the spring, but this time without the high salaries and attempts to lure talent away from the NFL. The USFL's most immediate competition appears to be the XFL.
The 2023 USFL regular season will begin in April.
USFL Teams & Divisions
South Division
Birmingham Stallions – Head Coach: Skip Holtz
Houston Gamblers – Head Coach: Kevin Sumlin
New Orleans Breakers – Head Coach: John DeFilippo
Memphis Showboats - Head Coach: Todd Haley
North Division
Michigan Panthers – Head Coach: Jeff Fisher
New Jersey Generals – Head Coach: Mike Riley
Philadelphia Stars – Head Coach: Bart Andrus
Pittsburgh Maulers – Head Coach: Kirby Wilson
*Former Teams: Tampa Bay Bandits (2022 only)
USFL Schedule
USFL Draft/Player Selection Meeting – February
Training Camp – March
Regular Season – April through June
USFL Playoffs/Divisional Semifinals – June
USFL Championship Game - July
USFL Bet Types  - Betting On USFL Games
Wagering on USFL odds is just like betting on the NFL or any other type of American football, and largely involves football game lines with the point spread, moneyline odds for winners, and the over/under. Here is an example of a USFL betting line for reference.
New Jersey Generals @ Houston Gamblers Betting Line
Point Spread: Generals -4.0, Gamblers +4.0
Moneyline Odds: Generals -200, Gamblers +170
Over/Under: 44.5
In the above USFL odds, the Generals are favored to win by 4 points (-4.0), and bets on their point spread will "cover" if New Jersey is the victor by 5 or more. A win by 4 points would be a push and cause all bets to be cancelled and likely refunded.
The Gamblers are predicted to lose by 4, and must keep the margin at 3 or closer in order to cover the spread.
Simple football bets on which team will win the game can be done using USFL moneyline odds. Just bet on the team you think will win, and if they do, collect your payout.
The numeric odds represent the chance that the USFL team has of winning and also discloses the nature of the bet amount versus the payout total. A $2 bet is required to earn a dollar on a Generals win, whereas a $1 wager on the Gamblers to win will net $1.70 because they're the underdog.
The final odds offered in a standard USFL betting line is the over/under. This number is the amount of combined points that is projected to be scored in the game, and USFL bettors must select whether the total will be over or under the line.
These are merely a list of USFL teams that are still in contention for a championship and include moneyline odds for each of them to win it all that given year. As teams are eliminated from playoff contention, they'll be removed from the USFL futures odds.
Futures betting odds remain on the boards for most of the year, but can take months to payout depending on when they are acted upon.
Pretty much any aspect of a USFL game can be covered with USFL propositions. This usually involves betting on stat over/unders, but can place odds on literally anything that happens on TV while the game is in-play.
For example, football prop bets can take action on occurrences in the crowd, sidelines, broadcast booth, and more.
Betting On The USFL Playoffs
The USFL Playoffs consist of the top two teams in the North and the South Divisions facing off against each other for a chance to make it to the championship game.
Betting on the USFL semifinals will include standard game lines, prop bets, as well as championship futures with all four remaining teams listed. Remember, there'll be no home-field advantage in the 2023 USFL Playoffs as both games take place in Canton, Ohio.
USFL Championship Game Betting
The USFL Championship odds available for the big game in July will be like any other football contests, but will likely include additional prop bets because of the additional attention the finals will draw.
As soon as the USFL Championship Game is over, if not before, futures odds for the following year's ultimate winner will already be on the boards at offshore sportsbooks taking action.
Live Betting On USFL Games
After USFL games kickoff, football betting is just getting started with live odds at online sportsbook sites. Live USFL betting odds lets gamblers wager on the point spread, over/under, moneyline odds, and more, all while the game is in-play.
Each USFL betting site will differ in what they offer and how they approach in-play football odds, and gamblers should also be mindful that live lines can and will be removed without notice.
USFL Betting Apps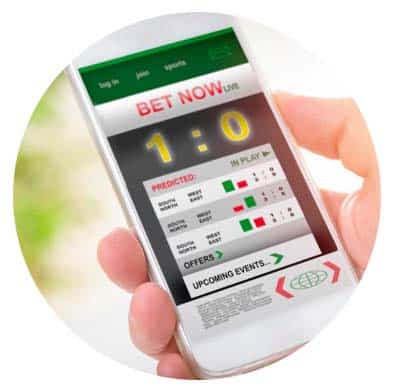 The top online USFL betting sites listed above port their services to Apple and Android devices, and all that is required to access them is to click on any of the links provided within this page. No download is needed to access USFL betting lines for regular season and postseason games.
Mobile sports betting with one of our recommended offshore books above is a breeze because these touch-button-controlled web apps can be accessed from anywhere in the USA with an Internet connection via Wi-Fi or cell for on-the-go wagering on USFL odds.
Is There A USFL, Trump Connection?
During the USFL's original run, former President Donald Trump was the owner of the New Jersey Generals. Trump had his eyes set on an eventual NFL merger, and led a push for the USFL to play football in the fall to compete directly against the National Football League.
This move led to the league's collapse, and is the reason that Donald Trump has been dubbed "the man who killed the USFL." While Trump is no longer involved in professional football, he still features odds on the boards for political betting as he may seek another Presidential term in 2024.
How To Fund A USFL Bet
The sportsbook banking options are aplenty when utilizing the services of our top USFL betting sites above as they accept multiple USD and cryptocurrency types. Most major credit and debit cards are accepted, but we suggest the use of Bitcoin and other altcoins for expedient and secure transaction times.
Cryptocurrency deposits also feature higher sportsbook bonus dollar amounts than USD and represent the only option for a same-day payout. Withdrawals made using USD take a minimum of 48 hours to process.
Sportsbook Promo Codes For Online USFL Betting
Each of the online sportsbooks that we recommend for USFL betting offer promo codes that place extra cash in accounts when they're funded with USD or cryptocurrency deposits. First time and reload deposits are eligible, just select the sportsbook bonus that intrigues you the most and use it to bet on USFL games.
Make sure to become familiar with the USFL betting site bonus terms because there are often rollover requirements attached that involve extended play. These promos are covered in more detail at our sportsbook bonus offers page.