Legal League of Legends Betting Options
League of Legends eSports Betting Active Now
Live Betting On League of Legends Odds At Online Sportsbooks!
The industry of eSports betting is the fastest growing gambling market in the world, and it has proven its staying power to be even more fundamentally stable than sports betting.
To that end, one of the most stable eSports in the world is Riot Games' League of Legends (LOL). The game has been out for over a decade, and in that time, its player numbers and fan base have only increased. Naturally, so has the eSports LOL betting market.
If you want to learn how to safely and legally wager on this cultural eSports phenomenon, our legal League of Legends betting guide is what you need to become the next League of Legends Champion. Once you've given our primer the once over, you'll know where to bet on LOL, how to bet on LOL, and you'll be laughing all the way to the bank!
Is It Legal To Bet On League of Legends?
Yes! Even though most states with legalized sports betting specifically outlaw wagering on eSports, this applies to domestic sportsbooks only. If you live in the US, you can legally bet on eSports at any reputable overseas betting site like those listed here.
These sites all operate outside of US jurisdiction, which makes them legal to use. And since no national sports betting laws apply to international operators, it is safe to sign up and bet real money on League of Legends and other popular eSports gaming tournaments.
Residents of Washington are technically barred by state laws from betting over the Internet, though we've never seen these laws actually enforced. Nevertheless, while all the top legal betting sites will accept WA members, we recommend abiding by all local gambling restrictions if you live there.
Best Online Sportsbooks For League of Legends Betting
What Is League of Legends?
League of Legends – aka LOL – is a multiplayer online battle arena (MOBA) video game developed by Riot Games and published by Riot, Tencent, and Garena. The title was first released in 2009, and it was an immediate hit. By 2012, it was the most popular video game in North America, and it's one of the most played games worldwide.
With over eight million casual and professional gamers logging in to play League of Legends every day, the game has been a massive commercial and competitive success. As such, it has become a mainstay on the eSports circuit, along with titles like Dota 2, CS:GO, Fortnite, PUBG, Overwatch, Hearthstone, and others.
Overall, LOL is the fourth most popular eSports game in the world in terms of prize money paid out, and that's no joke. In 2019, the game was the sixth highest-earning eSport, and its yearly "Super Bowl" – the League of Legends World Championships (or LOL Worlds) – is viewed by hundreds of millions of spectators online via the LOL eSports YouTube channel and the LOL eSports Twitch channel.
Note: League of Legends betting is restricted to eSports. While many online sportsbooks also offer options for sports sims betting and have virtual sports odds based on random number generation technology, neither of these markets involve LOL in any way and are dedicated solely to sports-themed video game franchises and simulations.
2023 League Of Legends Betting Odds
You can find LOL betting action whenever any major league or international tournament is being held. The best legal sportsbooks operating overseas offer all the wagers you expect, from championship futures to granular match odds, game lines, and live betting options.
How To Bet On League of Legends
If you're looking for eSports betting, League of Legends is one of the biggest markets, and the game is popular enough that it's supported by all the best eSports betting sites.
Of course, in order to be an informed bettor, you'll want to be familiar with the game, and you'll definitely need to follow all the pertinent League of Legends news. Additionally, you should stay up to date on any relevant LOL eSports stats you can find.
As a bettor, it's less important to do a deep dive into the League of Legends lore and the League of Legends characters (and their strengths and weaknesses), but learning the game to the fullest will certainly give you a small edge at the betting boards. Otherwise, when it comes to how to bet on LOL, the process is simple:
Sign up at any League of Legends sportsbook listed here.
Enter your personal information (name, date of birth, phone number, email address, etc.), taking care to use verifiable info since you'll need to prove your identity when you withdraw your League of Legends winnings.
Choose a deposit method and an optional online sportsbook bonus. We recommend Bitcoin deposits or any other supported cryptocurrency, along with accepting the enhanced crypto betting bonuses that come with them.
Browse the eSports section for all the latest LOL odds and lines.
Place your bets, tune in, and win big!
Where To Bet On League of Legends
If you live in America, it's easy to find a great online sportsbook with League of Legends odds on offer. Every one of the operators we recommend here hosts LOL betting odds regularly, and while each one has a credible claim to be the best League of Legends betting site, they each will have slightly different lines.
As such, we strongly suggest signing up at multiple online sportsbooks and shopping lines to get the best bang for your buck. For example, our favorite operator for ease of use is Bovada, but we often find bigger League of Legends payouts for various contests at BetOnline or MyBookie. No single site always has the best odds, which is why variety is the spice of LOL life.
As for Philippines sports betting, eSports are a mainstay, and League of Legends is extremely popular in the country. While Filipino gamblers cannot use Bovada, they do have access to LOL betting lines via BetOnline sportsbook. Additionally, with the Philippines' new "The Nationals" eSports league, the country is looking to become more prominent in the LOL eSports scene.
Types Of League of Legends Bets
Now that you know where to bet on LOL, you need to understand the types of League of Legends bets you'll be able to place with your chosen sportsbook.
Fortunately, if you've ever participated in traditional online sports betting (NFL, NBA, etc.), you'll feel right at home in the virtual eSports space. Most sites will offer the following bet types on their League of Legends odds boards:
LOL Straight Bet
Here, you simply pick the LOL team you believe will win the match. The favorite will have a negative moneyline, while the underdog will have a positive moneyline (or a smaller negative moneyline, depending on how evenly matched the teams are according to bettors). Favorites pay out less than underdogs due to their increased odds of winning.
LOL Spread Bet
The League of Legends spread bet involves a number set by your sportsbook that indicates how many games the favored team must win a match by in order for the wager to pay out. Conversely, the underdog can lose by up to that many games (or win outright) to win the bet. This is also called handicapping in betting circles.
LOL Totals Bet
League of Legends totals bets – or over/under bets – typically ask you to pick whether or not the total number of games played in an LOL match will be over or under the number posted by your bookie. Totals bets can also be posted for how many League of Legends maps will be played before a winner emerges.
LOL Team Props
Team proposition bets are lines on things like which team will draw first blood, which team will get the most kills on a given map, which team will destroy the first Inhibitor on a given map, which team will kill the first dragon in each round, and so on. Most legal online sportsbooks will have dozens of unique League of Legend prop bets to choose from for every contest.
LOL Player Props
Player props are less commonly offered than team props for League of Legends matches, but for the biggest tournaments, you may come across various lines on how well a given professional gamer will perform. It is crucially important that LOL bettors understand the strengths and talents of each actual player when betting on League of Legends results, and player props – when available – can let them capitalize on that knowledge to an even greater degree.  
LOL Game Props
Game props in League of Legends can encompass just about anything your sportsbook wishes to take action on. You can predict the exact final score of a match, you can place wagers on map winners and durations of play for each map, and more. The more important the match, the more game props will be available at your legal sportsbook site of choice.
League of Legends eSports Leagues
There are several major LOL leagues, each put on by different companies and promotions. The most significant League of Legends leagues for top-level professional play include the following:
League of Legends Championship Series (LCS) – USA, Canada
League of Legends European Championship (LEC) – Europe
League of Legends Champions Korea (LCK) – South Korea
League of Legends Pro League (LPL) – China
Historically, the LCK has been considered the best of the above leagues, with South Korea being a dominant player in eSports in general. For bettors, understanding this geographic dominance is key when it comes to betting on the League of Legends World Championship, where the top LOL eSports teams from each of the above regional leagues meet to play for the annual global title.
While there are other tier-one LOL leagues, the above are the "Big Four" and dominate the professional circuit. Additional top-level teams include the following:
League of Legends Pacific Championship Series (PCS) – Taiwan, Hong Kong, Macau, Southeast Asia
League of Legends Vietnam Championship Series (VCS) - Vietnam
League of Legends Continental League (LCL) – Commonwealth of Independent States (Eurasia)
League of Legends Turkish Championship League (TCL) - Turkey
Campeonato Brasileiro de League of Legends (CBLOL) - Brazil
Liga Latinoamerica (LLA) – Latin America
League of Legends Japan League (LJL) - Japan
League of Legends Oceanic Pro League (OPL) – Australia, New Zealand
League of Legends eSports Teams 2023
Counter Logic Gaming
Team SoloMid
Cloud9
Team Liquid
FlyQuest
100 Thieves
Golden Guardians
Dignitas
Evil Geniuses
Immortals
Fnatic
SK Gaming
Astralis
G2 Esports
Team Vitality
Schalke 04
Misfits Gaming
Excel Esports
Rogue
MAD Lions
Afreeca Freecs
DAMWON Gaming
DRX
G
Hanwha Life Esports
KT Rolster
SANDBOX Gaming
SeolHaeOne Prince
T1
Team Dynamics
Bilibili Gaming
Dominus Esports
Edward Gaming
eStar
FunPlus Phoenix
Invictus Gaming
JD Gaming
LGD Gaming
LNG Esports
OMG
Rogue Warriors
Royal Never Give Up
Suning
Team WE
Top Esports
Vici Gaming
Victory Five
2023 League of Legends eSports Schedule
The LOL eSports schedule is jam-packed with events year-round, and tournaments are held worldwide on a near-weekly basis. However, you won't be able to find LOL betting odds on all these, as the smaller local and regional tournaments are often skipped over by sportsbooks for the bigger events.
While the results of these smaller tourneys impact the larger LOL eSport standings and help determine the LOL teams that make it to the bigger money events, there are simply too many of them for the top legal online sportsbooks to keep track of. Of course, these books are all over the marquee LOL tournaments, which include the following:
League of Legends World Championship (LOL Worlds) – October-November
League of Legends Mid-Season Invitational (MSI) – March/April/May (varies)
League of Legends All-Star Event (ASE) - December
Each of the above leagues also host their major LOL tournaments with playoffs and LOL championships, and you will often find plenty of League of Legends odds on these season-ending events.
Because placement in these events are used to seed teams for the bigger international events listed above, fans and bettors alike take extreme interest in their outcomes.
2023 League of Legends Worlds Schedule
For serious League of Legends betting, the Worlds are where the action is. This event is watched by over 100 million people, and millions of them are wagering on the outcomes of every stage. The LOL eSports Worlds are a major cultural phenomenon, and the event is contested in different countries and regions each year.
For 2020, despite the coronavirus outbreak, the 22-team LOL World Championship is being held in China, with a pair of Shanghai venues hosting the five-week tournament. The dates for the 2020 LOL eSports Worlds schedule are listed below:
September 25-28: Play-in Groups (single round robin, best-of-one)
September 29-30: Play-in Knockouts (two rounds, king of the hill, single-elimination, best-of-five matches)
October 3-11: Group Stage (double round robin, best-of-one)
October 15-18: Playoff Stage (single-elimination, best-of-five matches)
October 24-25: Semifinal Stage (best-of-five matches)
October 31: Final (best-of-five matches)
League of Legends Live Betting
Most LOL gambling action allows for live betting while the games are being played in real-time. However, in order to take advantage of LOL live betting, you'll have to have your sportsbook open (so it can auto-refresh with new odds) and you'll need to watch the events themselves.
To watch LOL eSports, you can follow the teams' and tournaments' official channels on YouTube, Twitch, and other eSports League of Legends live stream outlets.
Just remember not to get too absorbed in the frenetic action, as live LOL betting requires you to be on the ball whenever your sportsbook changes its odds. These lines are only up for a few moments, so if you snooze, you lose. And you definitely won't LOL about that.
League of Legends Mobile Betting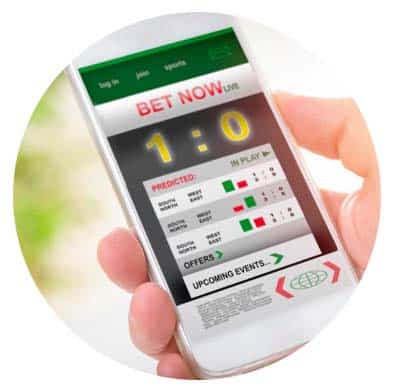 While LOL is only available on Windows and MacOS (you can play the LOL mobile beta for "Wild Rift" on iPhone and Android), you aren't tethered to desktop or laptop computers when it comes to getting in on League of Legends betting lines.
All the top USA sportsbooks offer full mobile support, with no iPhone or Android downloads necessary. All you need is a smartphone or tablet, a membership at one or more of the League of Legends betting sites listed here, and an Internet connection.
Modern mobile sportsbooks use browser-based solutions compatible with Safari, Chrome, Firefox, etc., and their dynamic, responsive designs guarantee that your experience on the LOL betting boards will be identical across the board. With online, mobile LOL betting, you can be the League of Legends new champion, and you can bet on any League of Legends map wherever you are on the map!
League Of Legends Betting FAQs
No. You only need an LOL account if you're going to play League of Legends. If you're just a fan and spectator looking to make some cash, you can bet money on League of Legends without being a registered player. All you need is a membership at any legal sports betting site listed here, and you're good to go.
LOL fantasy betting is akin to NFL fantasy football, in that players assemble their favorite professional LOL players to create a fantasy team, where points are awarded for those players' performances.
This is not technically considered betting, and you cannot participate in LOL fantasy leagues at legal online betting sites.
When it comes to eSports earnings, League of Legends is one of the most lucrative games for both players and teams. Salaries vary by league and player skill level (as each player can negotiate an individual contract).
For the LCS, one of the top performing leagues in the world, the average LOL salary is reported to be about $410,000 as of 2020.
League of Legends is a popular MOBA videogame with an enormous competitive following. With millions of players around the world, the title is great for casual fans.
Naturally, the best players have emerged, forming teams and playing League of Legends professionally on the eSports circuit. LOL eSports tournaments can pay out millions of dollars in prize money and attract hundreds of millions of viewers.
League of Legends was first released on October 27, 2009, and it has received constant patches and upgrades ever since.
Most eSports games are older titles that have established their fan bases over years. Very few of the most popular eSports games at any given time are new or recent releases.
Absolutely. All of the top-rated legal online sportsbooks offer League of Legends eSports betting lines, and you can even wager on the events live as they take place throughout the year.
As long as you use a reputable sportsbook operator, you'll always be able to bet real money on LOL.
You can bet on League of Legends eSports tournaments at any of the most trusted legal online sportsbooks listed here. Top operators like Bovada, BetOnline, SportsBetting AG, and MyBookie have LOL betting odds posted virtually year-round, so you never have to miss out on the action.
Remember, due to most legal sports betting states barring eSports categorically, eSports cannot currently be offered by domestic books. The only way to bet on League of Legends safely, reliably, and legally is to use a betting site that is based outside of the US and operates under a legitimate international gambling license.
If you want to learn how to play LOL, there are countless tutorials on YouTube and even dedicated blogs and wikis about the ins and outs of the popular game.
If you want to bet on League of Legends, we advise learning the basics of how to play the game before risking any real money on LOL tournament outcomes.
Not at this time. League of Legends: Wild Rift is reportedly coming to iPhone and Android, though console support is TBA. However, there is speculation that LOL:WR is coming to Xbox Series X, PlayStation 5, and possibly even Nintendo Switch.  
Yes! The eSports betting market is enormous, and there are several other popular MOBA games that are regularly covered by sportsbooks and get plenty of action from bettors.
Some of the most well-known eSports MOBAs are:
Dota 2
Heroes of the Storm
Arena of Valor
Smite
+ More!
The overall LOL eSport champion in 2019 was China's FunPlus Phoenix, which won their first title that year. However, this was China's second Worlds win in as many years, dethroning South Korea (which won five straight titles from 2014-2017).
Thus, China is the current league leader in the League of Legends universe.
Due to the popularity of League of Legends, you can typically find live tournament broadcasts all over the Internet. Whether you want to watch via YouTube or Twitch, League of Legends livestreams are available whenever tournaments are in play.
Many betting sites, like Bovada Sportsbook, will also embed live streams on the odds boards themselves.
To catch up on any previous matches you might have missed – especially as research for your bets in between tournament rounds – LOL eSports VODs (video on demand replays) are available online as well.