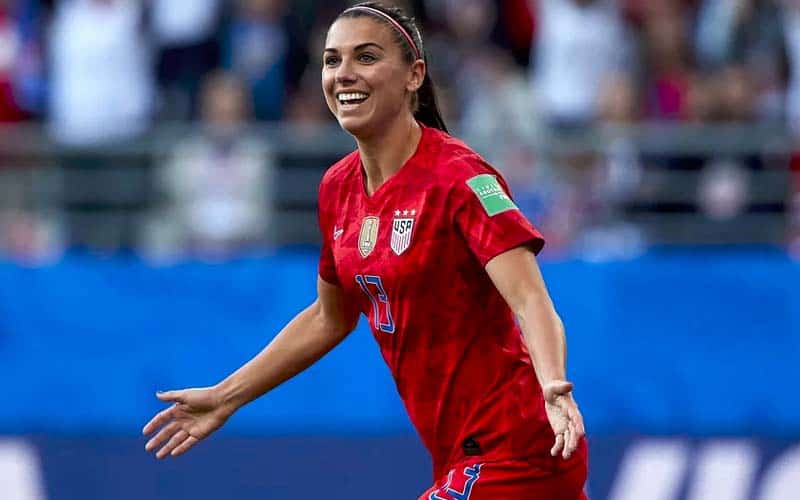 For most, the number 13 is often seen as "unlucky."
But now, the number 13 will forever be associated with the most dominant performance — by a men's or women's soccer team — in World Cup history.
The defending champion US Women's National soccer team entered the 2019 FIFA Women's World Cup as the betting favorite to win the tournament and proved why with a record-breaking 13-0 victory over Thailand in their opening group stage match on Tuesday.
Even the oddsmakers at the online sportsbooks did not see the 13-goal barrage coming Thailand's way. The USWNT was a consensus 5-goal favorite before the game began.
Fun Fact: The US women's national team scored more goals (13) against Thailand than the US men's national team has scored (12) in their past three World Cup appearances (2006, 2010, 2014) combined.
Did you miss the historic match on Tuesday? Check out the FOX Soccer 90 in 90: United States vs. Thailand recap to see highlights for all 13 goals.
And just how historic was the USWNT's "we're sending a message to every team" rout over Thailand? Let's take a look at the records set yesterday.
USWNT vs. Thailand World Cup Records
The following FIFA World Cup records were set during the USWNT vs. Thailand match on Tuesday, June 11, 2019.
Every game played in both the men's (first played in 1930) and women's (first played in 1991) FIFA World Cup tournaments were included.
Most goals scored by a team in any World Cup match
New: 2019 USWNT, 13 goals
Old: 2007 Germany women's team, 11 goals
Largest margin of victory in any World Cup match
New: 2019 – USWNT 13-0 Thailand
Old: 2007 – Germany 11-0 Argentina
Most goals scored by a player in any World Cup match (Tied)
Shared: 5 goals – 2019 USWNT Alex Morgan, 1991 USWNT Michelle Akers
Most individual goal scorers in a Women's World Cup match
New: 2019 USWNT, 7 players

Alex Morgan (12′, 53′, 74′, 81′, 87′), Rose Lavelle (20′, 56′), Sam Mewis (50′, 54′), Lindsey Horan (32′), Megan Rapinoe (79′), Mallory Pugh (84′), Carli Lloyd (90'+2′)

Old: 2007 Germany women's team, 5 players
Who's up next for the USWNT?
The USWNT will take on Chile for their group stage next match. The game is currently scheduled for Sunday, June 16 at Noon ET on FOX Sports.
Below you'll find the USWNT vs. Chile betting line from Bovada Sportsbook, and it appears as though the oddsmakers aren't expecting quite the same performance this go around.
Keep in mind: Thailand was the 34th ranked women's soccer team in the world, while Chile is actually ranked worse at 39th overall.
However, it does look like they put the chances of USWNT losing to Chile at roughly slim to none.
When converting the money line (-4000) to an implied probability, we see that oddsmakers are giving the US women's team 97.56% chance to win their second World Cup match of 2019.
But what will the US women's team do for an encore after shattering several World Cup records?
We'll just have to wait until Sunday to find out.
USWNT vs Chile Betting Line
Point Spread: USA W -4.5 goals
Money Line: USA W -4000
Total: O/U 5.0 goals scored