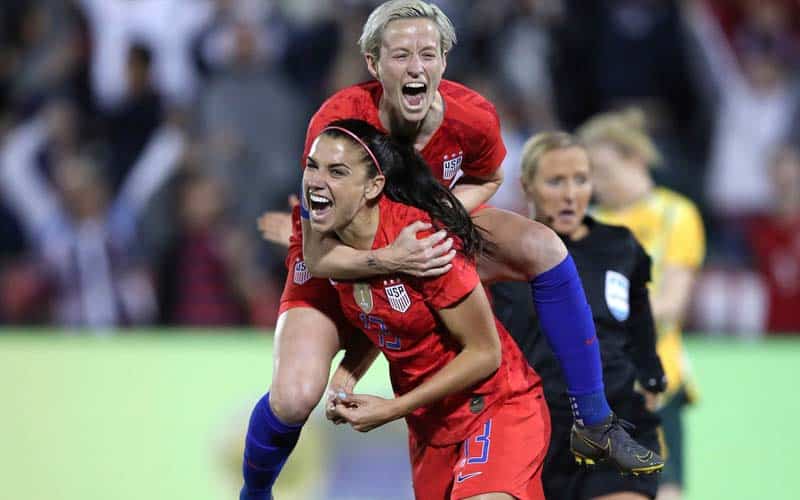 If the oddsmakers are right, then it looks like Team USA is going to win back-to-back World Cups.
The top online sportsbooks have unanimously made the United States women's national soccer team (USWNT) the favorites before the start of the FIFA Women's World Cup 2019.
Team USA Odds – Women's World Cup 2019
| | | | | |
| --- | --- | --- | --- | --- |
| Team | % Chance | Bovada | BetOnline | MyBookie |
| USA | ~ 26% | +300 | +300 | +275 |
The USWNT has historically been the most dominant women's soccer team in the world, winning three titles — more than any other country — since the FIFA Women's World Cup began in 1991.
The team won the 2015 Women's World Cup four years ago and were also the favorites going into that tournament as well. In 2011, the USWNT fell just short, losing to Japan in the final and ultimately, finishing in 2nd place.
Prop bets are also available on the biggest superstars in the national women's scene.
Alex Morgan — who is often considered to be the best female soccer player in the world — is the favorite to score the most goal out of any player in the tournament.
Megan Rapinoe, Carli Lloyd, and Tobin Heath on Team USA are also contenders to take home the honor as the top goal scorer for the 2019 Women's World Cup.
The USWNT also had a favorable group draw and will need to win against Sweden, Chile, and Thailand to advance to the knockout stage.
But even though the USWNT is the unanimous favorite coming into the tournament, they aren't heavy favorites to bring the cup back stateside.
The women's national teams for France, Germany, and England are expected to give Team USA a run for their money — which shows in the odds we've included below.
The 2019 FIFA Women's World Cup will be held in France and begins today, June 7, at 3:00 p.m. ET and will conclude with the finals on Sunday, July 7.
Below you can find the odds from each of the online sportsbooks we recommend for each of the countries that have qualified for this year's World Cup.
Odds To Win FIFA Women's World Cup 2019
Via Bovada
USA +300
France +350
Germany +550
England +750
Netherlands +1200
Australia +1400
Japan +1400
Canada +2000
Spain +2200
Brazil +2500
Norway +2500
Sweden +2500
Italy +5000
New Zealand +5000
China +6600
Scotland +6600
South Korea +6600
Chile +8000
Argentina +12500
Nigeria +25000
South Africa +50000
Cameroon +75000
Jamaica +100000
Thailand +100000
Via BetOnline
USA +300
France +350
Germany +550
England +700
Netherlands +1200
Australia +1400
Japan +1400
Brazil +2000
Canada +2000
Spain +2000
Sweden +2500
Norway +3300
China +4000
Italy +5000
New Zealand +5000
South Korea +6600
Chile +10000
Scotland +10000
Argentina +12500
Nigeria +25000
Cameroon +50000
South Africa +50000
Jamaica +100000
Thailand +100000
Via MyBookie
USA +275
France +360
Germany +575
England +625
Netherlands +1400
Japan +1400
Australia +1400
Spain +2500
Canada +2000
Sweden +2500
Brazil+2500
Norway +3300
Italy +5000
China +6600
New Zealand +12500
Scotland +15000
South Korea +10000
South Africa +50000
Chile +50000
Nigeria +50000
Argentina +40000
Cameroon +75000
Jamaica +100000
Thailand +150000