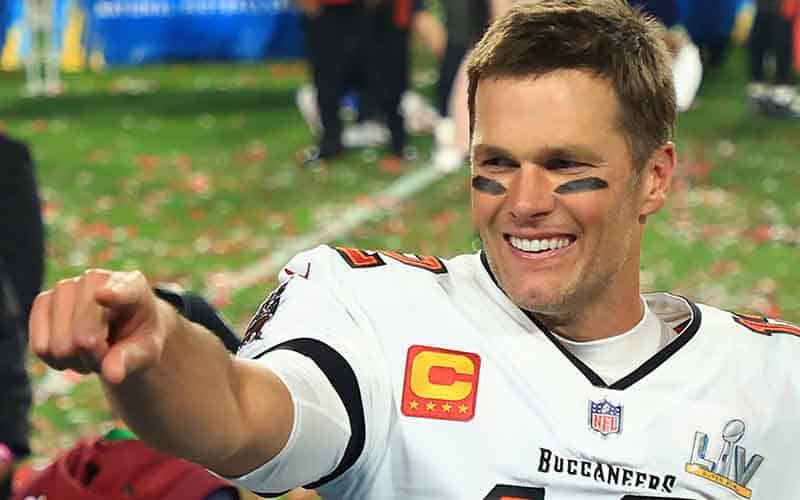 Just when you thought it was safe to be an NFL fan in a Tom Brady-free era, he announces his return to the league after retiring just a few weeks ago.
The odds for betting on the Tampa Bay Buccaneers to win Super Bowl LVII have increased significantly since the return of Tom Brady, which is apropos of a player of his caliber being inserted back into the lineup.
A side effect of Tom Brady's return is that NFL free agents and their potential destinations have been impacted for a number of reasons. Tampa Bay is no longer a destination for any free agent quarterbacks that were looking for a new home.
Tom Brady's contract value also dampens Tampa Bay's ability to land other high-priced players, sending them looking for other NFL franchises to sign with for the 2022-23 season.
The following NFL prop bet asks gamblers to correctly choose the next team that Jordan Love will be a member of for game 1 next year.
NFL Odds For Jordan Love's 2022-23 Team
Green Bay Packers-375
Seattle Seahawks+700
Pittsburgh Steelers+1500
New Orleans Saints+1000
Indianapolis Colts+400
New York Giants+1500
Carolina Panthers+1200
The odds for betting on the Green Bay Packers to remain the home of QB Jordan Love are currently favored over all remaining options with the Indianapolis Colts coming in second overall.
These odds are a direct result of Aaron Rodgers re-signing with the Packers for 4-years and $200 million, so what would be the purpose of keeping Love around?
The Colts have been rumored to be in the market for San Francisco 49ers quarterback Jimmy Garoppolo, but now it seems that the franchise may not be so keen on turning him loose for the 2022-23 season.
We're surprised that Jimmy G has not prompted any current NFL free agent prop bets on his next destination as the league's trade deadline is tomorrow at 4 PM.
The following NFL free agent odds are offered up at Bovada Sportsbook and MyBookie and will receive action until either the player is signed or the prop bet is removed from the board at the bookmaker's discretion.
Tyrann Mathieu Free Agent Odds For The 2022-23 NFL Season
New Orleans Saints-105
Baltimore Ravens+225
Kansas City Chiefs+375
Philadelphia Eagles+600
Indianapolis Colts+600
Where Will Von Miller Play Game 1 Of The 2022-23 NFL Season?
Los Angeles Rams -170
Denver Broncos +125
Los Angeles Chargers +700
Green Bay Packers +1500
Seattle Seahawks +2000
Allen Robinson's Next Team (If Not The Chicago Bears)
Indianapolis Colts +250
New England Patriots +600
Detroit Lions +800
Miami Dolphins +800
Cleveland Browns +900
Philadelphia Eagles +900
Washington Commanders +1000
Los Angeles Chargers +1200
Jacksonville Jaguars +1400
Las Vegas Raiders +1400
Cordarrelle Patterson's Next Team (If Not The Atlanta Falcons)
Seattle Seahawks +400
Kansas City Chiefs +450
Las Vegas Raiders +600
New York Giants +700
Arizona Cardinals +700
Miami Dolphins +900
Los Angeles Chargers +900
Jacksonville Jaguars +1000
New England Patriots +1000
Jadeveon Clowney's Next Team (If Not The Cleveland Browns)
New England Patriots +150
Denver Broncos +250
Minnesota Vikings +300
Seattle Seahawks +600
New York Giants +1200
JuJu Smith-Schuster's Next Team (If Not The Pittsburgh Steelers)
Tennessee Titans +350
Atlanta Falcons +550
Baltimore Ravens +600
Jacksonville Jaguars +600
Philadelphia Eagles +800
Kansas City Chiefs +800
Chicago Bears +800
Los Angeles Chargers +900
Washington Commanders +1600
Odell Beckham Jr's Next Team (If Not The Los Angeles Rams)
Las Vegas Raiders +300
Kansas City Chiefs +350
Los Angeles Chargers +375
Denver Broncos +600
Green Bay Packers +600
Jacksonville Jaguars +1000
New York Giants +1000