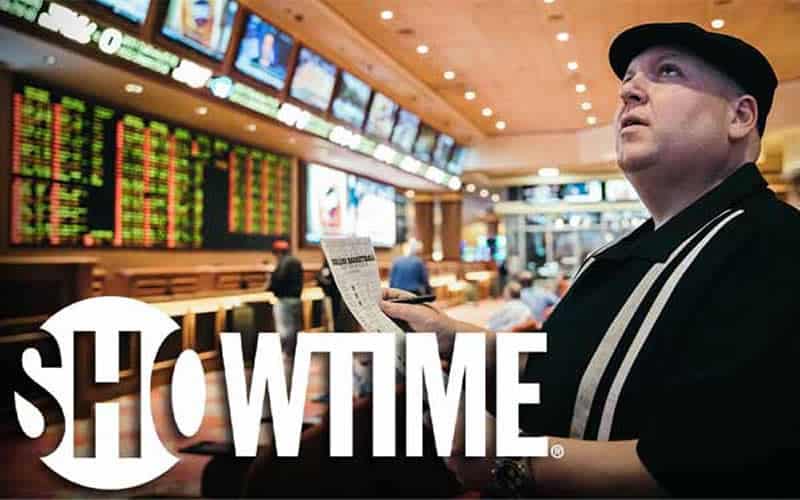 At a fine dining Italian restaurant, Bill "Krack" Krackomberger, a now-successful Las Vegas handicapper, and a close group of friends recounted their first sports betting experiences and laughed at their naivety.
Former NFL player Ron Merkerson shared the ups and downs of his venture into sports betting and how eventually he would have to "have some type of action" every day, struggling with what is known as "chasing a bet" — where money is lost on a wager and in an attempt to win it back and get even, another wager is placed and a vicious cycle is given a chance to fester.
"How many times was this said in a casino," Krackomberger jokingly asked his friends. "'God, just let me get even. Let me just go home for the day, even.'"
Adding: "'And thank God for that' the casino said."
After last week's series premiere provided a brief overview of what makes sports betting work, how some Las Vegas handicappers rose to prominence, and where legal sports betting could be headed in the United States following the events of the past year, episode 2 of the Showtime four-part docuseries Action paints a potentially gloomy picture of what could happen if states don't take the necessary precautions to curb problem gambling.
And while the "chasing a bet" portion of the episode was done in good fun — and is something everyone gambling should know about — the spotlight for this week's episode was on the characters and the positive and negative effects that sports betting had on them.
The anonymous illegal bookie from New Jersey is granted several scenes this time around, where he says he's a normal guy out in the public but no one knows that he simultaneously runs an underground illegal sportsbook operation that takes in millions and runs things like an unknown Al Capone.
He reiterated this week that legal sports betting will not impact his business since sportsbooks won't let you bet with credit, while he does. And if you can't pay, then you better be prepared to lose something of equal value.
This is the darkest side of the gambling world and one that surprisingly still exists in the United States considering that most assume the glory days of mobsters have long past.
Maybe America wouldn't have people like the illegal bookie today if the public had embraced sports betting and gambling decades ago — but there are no wagers taken in hindsight.
Episode 2 of Action also details how "Vegas Dave" Oancea, who is known for his "tout" service and "whale bets," became who he is today. If the first episode showed his triumphs, then the second episode highlights his failures.
He's confident, sure, but after his current image of success slowly got chipped away, revealing that he's lost numerous bets over the years — even asking his parents for a $700,000 loan at one point — it remains hard to find him relatable, since not everyone's parents would give them, or much even have, hundreds of thousands of dollars so they could bet on sports.
Amateur sports bettor and casino regular Todd Wishnev grabs more of Action's attention this week, admitting that gambling can destroy your life if you aren't careful, which was a lesson he had to learn along the way toward self-control and just having fun with betting and sports.
Professional sports handicapper Kelly Stewart returns and recalling when her father told her "men age like wine, women age like milk" when she was a child.
She went on to detail the pressure she's under, not only since another woman could swoop in and take her spot as the face of female sports betting, but also because she must maintain her image, stating, "Let's face it, if I was ugly, I wouldn't be here."
Perhaps the most notable new face from this week was high-stakes sports bettor David Halpern, who provided a wealth of insight on his path to success, including some of the wagers he made during the 2018 NFL season and how making a profit off sports betting is based on finding a mathematical advantage in the probabilities presented in the odds given by the bookmaker.
He does give a great bit of advice to the new sports bettors who are playing for the first time thanks to legalization in several states, advising them that they should definitely not model themselves after his success.
"If you don't know with an absolute certainty that you're in the 1% of people that can make money in the long-run in sports gambling, then you're not in the 1%," Halpern said. "If you do it for entertainment, that's fine, but I hope anyone who watches this understands that they are not going to be like me."
And that, ultimately, is what Action tries to explain this week. Everyone in the United States needs to keep what Halpern said in mind as sports betting becomes more mainstream and more prevalent in sports broadcasts.
Betting on sports is fun and a new way to engage with something most of us grew up playing and watching, and if you're coming into it just to have fun, then that's completely fine.
Just don't come into it thinking that you're going to make easy money and an entire career out of sports betting because that will likely lead to you not only chasing bets but chasing a dream that'll never come true as you slip into the vicious cycle that most of the successful handicappers on Action had to learn to overcome the hard way.