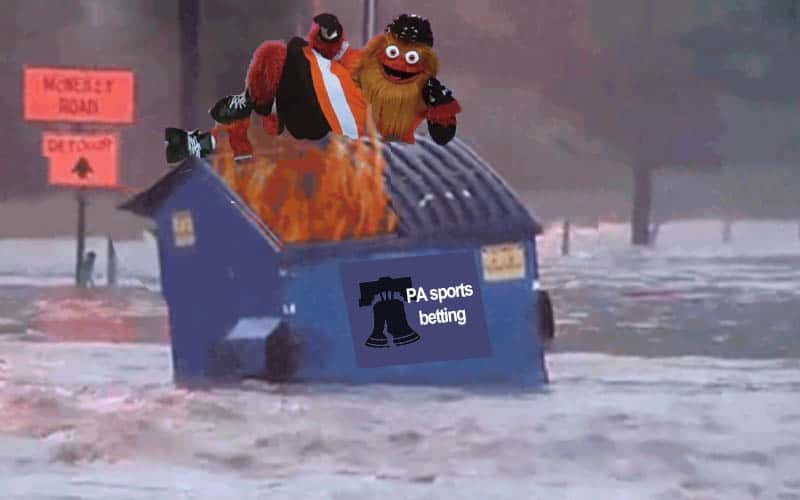 Someone better call the fire department because Pennsylvania sports betting just got burned.
Former New Jersey Gov. Chris Christie trashed PA's sports betting law on Tuesday, going as far as to call it "a rolling dumpster fire" during his one-hour keynote speech at the Global Gaming Expo (G2E), an annual gambling entertainment trade show in Las Vegas, Nevada.
"Let's take a state that has really screwed it up—Pennsylvania," Christie said in front of a standing-room-only crowd. "And I mean, a rolling dumpster fire is sports gaming in Pennsylvania. They did all the wrong things—a ridiculously high tax rate, a ridiculously high barrier of entry."
Christie also claimed that "every Saturday and Sunday this fall, people are driving from Pennsylvania into New Jersey and sitting at our rest stops on their mobile phones and making bets, then heading back home."
The former NJ governor—and Sports Betting Hall of Fame inductee for his efforts in the fight to end the federal sports betting prohibition—certainly isn't wrong about the tax rate or the licensing fees required of the PA sportsbooks.
Pennsylvania takes a huge cut of the profits with a 34% tax rate on all gross revenue from sports betting (the handle is also subjected to a 2% local share tax and 0.25% federal excise tax) while also requiring sportsbook operators to pay an outrageous $10 million licensing fee just to enter the Keystone State market.
Both PA's tax rate and licensing fees are by far the highest out of any state that offers legal sports betting today.
For comparison, the sports betting law in New Jersey taxes brick-and-mortar sportsbooks at an 8.5% rate and 13% for online and mobile apps (plus an additional 1.25% local share tax). Additionally, NJ operators only have to pay $100K for a license.
"It's the opposite of 'Field of Dreams,'" Christie said of the high barrier of entry in Pennsylvania. "If you do that, they won't come."
Christie also went on call it "extortion," and when asked whether he thought Pennsylvania would change the law in the near future, he responded, "I'm not seeing it. There was no reason they shouldn't have been way out in front on this. But Pennsylvania will come around eventually."
So far, New Jersey has been the undisputed king of sports betting and just posted a $445 million handle for September 2019. Pennsylvania sportsbooks posted $195 million in wagers placed for the same month, but it's important to remember that NJ sportsbooks got a six-month head start last year.
On a lighter note, Christie was asked about Delaware beating New Jersey and becoming the first state to offer legal sports betting outside Nevada following the US Supreme Court decision to repeal PASPA on May 14, 2018.
"I'm really disappointed — and if I were Governor, it never would have happened, I guarantee it," joked Christie. "We could have brought in our National Guard. Delaware is smaller than us, so we could have taken them for sure."
Despite the Republicans' brief presidential run in 2016 and eight years of never shying away from any topic while governor of the Garden State, Christie will undoubtedly go down as the person who led the fight for all states to be granted the right to offer legal sports betting.
After New Jersey voters overwhelmingly approved of a state constitutional amendment to allow sports betting in 2011, the NCAA, NFL, NBA, MLB, NHL, and the US Department of Justice sued the state in August 2012 under the Professional and Amateur Sports Protection Act of 1992 in a case titled Christie v. National Collegiate Athletic Association.
After losing Cristie I, the leagues filed Christie II after the "tell-it-like-it-is" governor signed a law in October 2014 that allowed NJ casinos and racetracks to accept wagers on sports without any regulations and licensing requirements in place.
After being shot down by the lower courts on technicalities, New Jersey petitioned the US Supreme Court and specifically asked the following question:
"Does a federal statute that prohibits modification or repeal of state-law prohibitions on private conduct impermissibly commandeer the regulatory power of states?"
The US Supreme Court accepted the case and ruled 7-2 that PASPA to be unconstitutional since it did commandeer power from the states to regulate their own sports betting industries.
Today, a total of 13 states offer legal sports betting because of the decision, and that number could potentially double in 2020.
But before the ruling, the case was renamed Murphy v. National Collegiate Athletic Association since Phil Murphy took over as NJ governor before the decision. Christie was asked at G2E on whether that bothers him.
"It's not like people have forgotten who brought the fight," shrugged Christie before responding in the most Chris Christie-way possible.
"What matters to me is who gets the result, and it's not like I'm lacking in name recognition."