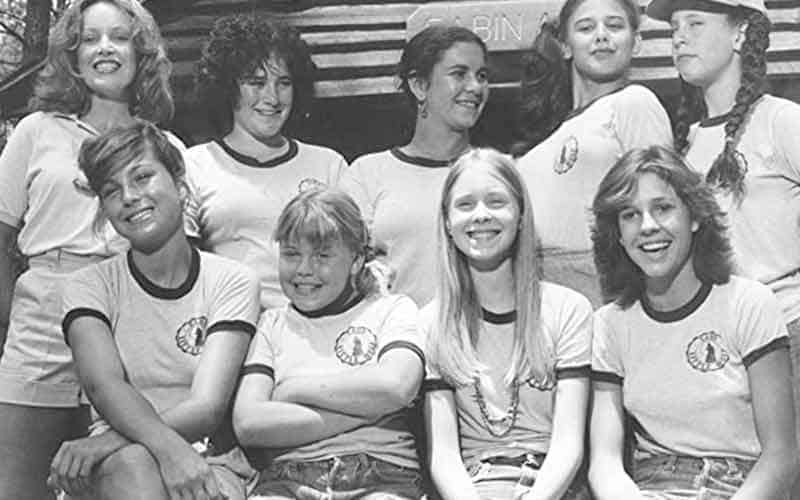 In 1980, Mount St. Helens erupted, John Lennon was shot and killed by a "fan" near his New York City apartment, and Little Darlings was unleashed onto unsuspecting movie audiences around the globe.
Little Darlings is the story of two young women, Ferris (Tatum O'Neal) and Angel (Kristy McNichol), who are from the opposite end of society, but now find themselves as cabinmates for the duration of summer camp.
This group of mid-teen girls is on the cusp of adulthood, and naturally, boys are the topic du jour.
Cinder (Krista Errickson) is one of the older girls in Cabin A and often professes her sexual exploits with her boyfriend back home.
This causes the other campers in her cabin to be placed on the defensive, triggering them to act as if they have had prior sexual experiences just to save face.
Eventually, this manic boy obsession inspires Cinder to propose an entertainment prop bet asking which camper will lose their virginity first, Ferris or Angel.
Cinder is a teen model and offers up her $100 residual check as a wager for Ferris to be the first to ascend to womanhood before the end of summer.
The mechanics of the betting operation are a bit off as it seems that not only is Cinder laying $100 in a straight wager on Ferris to win, but she is also taking in all the action and acting as a bookie.
Legal entertainment betting sites would simply act as the middleman and merely handle the action, whereas Cinder has some skin in the game.
Despite these inconsistent sportsbook practices, the entire camp is soon in on the action, even going so far as to create custom t-shirts declaring their support for "Team Angel" or "Team Ferris."
To add to the scrutiny, Cinder is also interfering with the proceedings and attempting to stack the deck in her favor by ensuring that Ferris can capture the attention of her target, Gary (Armand Assante), a thirty-something counselor who is unwittingly tangled up in this madness.
Meanwhile, Angel is also on the prowl, setting her sights set on Randy (Matt Dillon) who is attending a nearby boys' camp.
What follows is Angel's touching journey where her tough, urban exterior slowly melts away and an insecure 15-year-old girl is revealed.
Ferris's tale is a little less charming and doesn't align with current norms. Nothing bad happens, as Gary turns out to be a responsible adult, but some of the plot details would be handled differently in 2021.
Little Darlings can be seen on the streaming platforms but has yet to be released on digital home video with the original soundtrack intact.
Most online versions contain all of the original tracks, and that's important because it includes songs from major recording artists of the day such as the aforementioned John Lennon, Supertramp, the Bellamy Brothers, Blondie, and more.
Little Darlings may seem like an odd film to choose to include in our series of articles dedicated to sports betting movies, but the entire plot is based on a wager, despite it not being a traditional one with odds or spreads.
Be sure to take in a viewing of Little Darlings before cancel-culture places it in their crosshairs. Ultimately, the film is charming and mostly harmless, but they sure don't make films like this anymore.