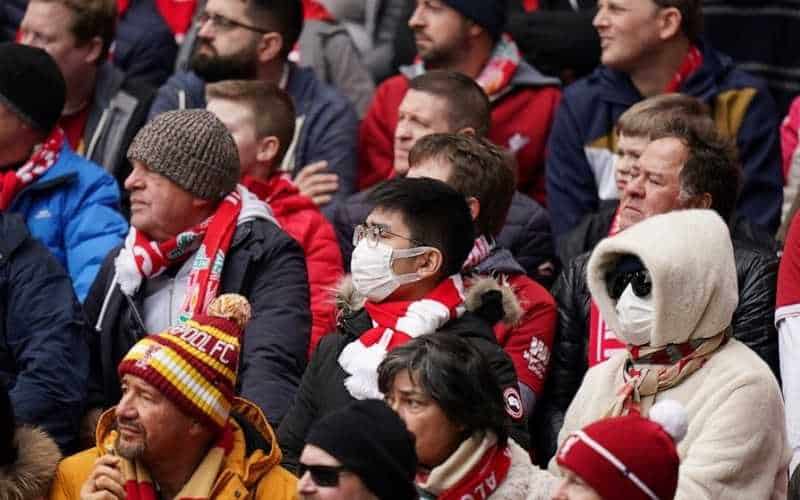 Well, it's official.
Whether the Wuhan coronavirus is a legitimate existential threat to humanity or a product of an overhyped media-driven paranoia, its effects are very real.
From massive selloffs on the New York Stock Exchange to border closures and travel bans, the economic impact of the NuFlu™ is being felt far and wide.
One affected market – which, in the last 24 hours, has absolutely imploded – is professional and amateur athletics and the sportsbooks that go with them.
2020 Betting Odds For All Sports Everywhere
Via Bovada
We're only kidding, of course, as Bovada and other legal online betting sites still have plenty of wagering action available. Still, the books have had to take down hundreds of lines over the last day, and that trend could continue for the foreseeable future.
On Wednesday, the NBA suspended its season indefinitely. Today, the MLS followed the NBA's lead, suspending its season, as has the NHL. International basketball leagues in Europe are also on hiatus.
The MLB is expected to announce a delay to the start of its 2020 season (giving Astros batters a short reprieve before commencing their six-month diet of three-bean salad), and international soccer leagues like La Liga have shuttered activities indefinitely.
While the NCAA announced that it would not be allowing fans inside arenas during March Madness, there are calls for the entire tournament to be shut down. Meanwhile, all the Power Five conference tournaments on both the men's and women's sides have already been canceled, though how that affects the main tourney's seeding has yet to be announced.
Given that March Madness rates second only to the Super Bowl in US betting handle, canceling the event outright would be a major blow to bettors and bookies nationwide.
Also of import to gamblers, the ATP and ITF – the world's premier tennis leagues – have suspended operations for at least six weeks. Tennis is one of the most bet-on sports globally, and it's many a sports bettor's bread and butter. Professional golf's PGA Tour events will tentatively proceed, albeit sans fans in the stands (though there's still sand in the traps for the struggling Brooks Koepka).
The good news for sports bettors, if there is any, is that the NFL has announced that coronavirus should not affect the start of its 2020-2021 season, though the status of the 2020 NFL Draft is very much up in the air. Perhaps the NFL could hold a private draft via conference call like the XFL.
And speaking of the XFL, the nascent spring football league has yet to announce the status of its remaining schedule. Because the XFL season is only 10 weeks long, a month-long suspension of action would effectively put the kibosh on the inaugural campaign. Hopefully, the coronavirus won't kill off the XFL 2.0 altogether.
What Leagues Can Do Going Forward
Viral scares are not unusual, even if the current outbreak's effects have been significantly amplified. There's an argument to be made that various powers that be have an interest in hyping COVID-19 for a host of compelling reasons (protests, elections, etc.), but conspiracies aside, the sports and sports betting markets certainly don't want a repeat of this fiasco.
At estimated losses tracking into the hundreds of billions of dollars, the industry needs a few safeguards, so future crises of this sort don't bring things to a grinding halt all over again. It simply costs everyone involved too much, and it probably doesn't have to.
Here are a few ways that leagues and bettors can better prepare for COVID-20 or the next pathogen du jour:
Go Green
This should be the standard regardless, but the coronavirus certainly underscores the notion that teams and leagues might consider building out a platform where audiences can be digitally "enhanced."
There are already numerous memes about the absurdity of a fan-less March Madness, but the fact is that any small market club that doesn't sell out its seats could benefit from adding some flavor via a CGI crowd.
Advertisers would certainly love having their mascots in the stands, and with the recent push to resurrect dead celebrities for cameos in movies and TV shows, they might as well take in a few ballgames while they're back in the land of the living. A giant green screen around the field of play could be seriously compelling.
Don't Catch The Fever
While many teams go on hot streaks with their fans implored to "catch the fever," literal fevers are a bad thing to tote around in public. One of the most basic ways to safeguard large crowds from fans with the flu (or coronavirus, or SARS, or Zika, or whatever) is to simply add a digital thermometer scan to the entry point protocol.
Security's already there with metal detectors, so the logistics of entry wouldn't even be slowed down. Perhaps teams can give sick folks a complimentary packet of club-branded ibuprofen and send them on their way.
Masks, Masks, Masks
Fans of the erstwhile Oakland Raiders were all too familiar with the sight of fans in masks and other regalia, as are Bengals fans (if paper bags count as masks, which they do). At times of viral outbreaks, perhaps teams could do medical mask giveaways.
Heck, who wouldn't want to wear the weekly star's visage on their face? Jags fans would pay good money for a mask with Gardiner Minshew's epic mustache printed right on the front. Forget bobblehead night!
Clean Those Stadium Bathrooms
For crying out loud, virus or no virus, can't someone clean these disgusting bathrooms? From 20-foot urinal troughs to floor surfaces that warrant duck boots over flip flops, tons of fans endure significant bowel and bladder damage by foregoing these nasty facilities in favor of sitting uncomfortably for three and half hours.
If the Busy Bee can employ some hero to attend those toilets 24/7 with mop and bucket, billion-dollar sports teams can, too. Seriously. Yuck. Sanitary bathrooms are always good for your bottom (line).
Be Like Mike
The XFL has an entertaining system of microphones in place that allows viewers to hear pretty much every conversation that happens on the sidelines. FCC considerations aside, whenever crowds dwindle or are banned outright, the games themselves will need some spicing up for the viewers at home.
There's no better way to do that than by putting them right there on the floor with the players and coaches. With no crowd, immersion is difficult. It doesn't have to be.
Embrace Online Sports Betting
Before PASPA was overturned, most sports leagues in the US were vehemently opposed to betting on their products. However, when the fandom suffers, and the viewer at home needs something to make up for the lack of big crowds on the telecast, betting is absolutely the ticket.
In-game mobile wagering is especially conducive to fan engagement, and there's plenty of opportunities to take advantage of this avenue in a way that preserves the integrity of the game.
And for bettors in general, when your state pulls a stunt like this, wise up and visit an offshore sportsbook until those overpaid representatives get their acts together.
Virtual Reality
Rule number one for coronavirus: Stay home. In fact, that's rule number one for pretty much any seasonal virus. Many fans already stay home just because of the sheer inconvenience and outsize cost of going to local sporting events. At home, you've got air conditioning, your own bathroom, and a concession stand about 10 feet away with all kinds of goodies you can't find at the arena or stadium. And the beer is way cheaper.
But how can teams upsell you if you're just watching a television broadcast? Well, with the evolution of things like SkyCam to the proliferation of safe, stable camera drones, leagues have the opportunity to bring viewers closer than ever to the action. Add VR to the mix, and a whole new generation of fans would much rather make like EA and be in the game than simply attend the game. And they'd pay a premium for that VR package.
Want to see what Patrick Mahomes sees on that deep route before chucking a perfect 60-yard TD? Want to witness LeBron flying towards the rim for a brutal slam in 3D? Yeah, you do! And while it might make some folks motion sick, they don't shut down airports over that.
Be Realistic
Ultimately, there are lots of ways that sports leagues will keep their products afloat through future viral scares using what they've learned during this one. And while a few of the points above are admittedly tongue-in-cheek, each one of them is pretty appealing even without the medical backdrop.
Standard safety measures will always come down to the individual at the end of the day (wash your hands, people!), but if these leagues, broadcasters, and sportsbooks can work in unison and employ tech to make the at-home viewing and betting experience compelling, they should do it regardless of other considerations.
About Wuhan Coronavirus
Wuhan coronavirus, officially called COVID-19, is described as a flu-like illness that causes respiratory infection and fever, leading to pneumonia in more at-risk or elderly patients.
While COVID-19's transmissibility and mortality rates are thought to be artificially high as currently reported, there is not enough data to draw any concrete conclusions.
However, most medical professionals advise limiting one's travel and public exposure to the essentials, and precautions like hand-washing and general sanitation are the order of the day.