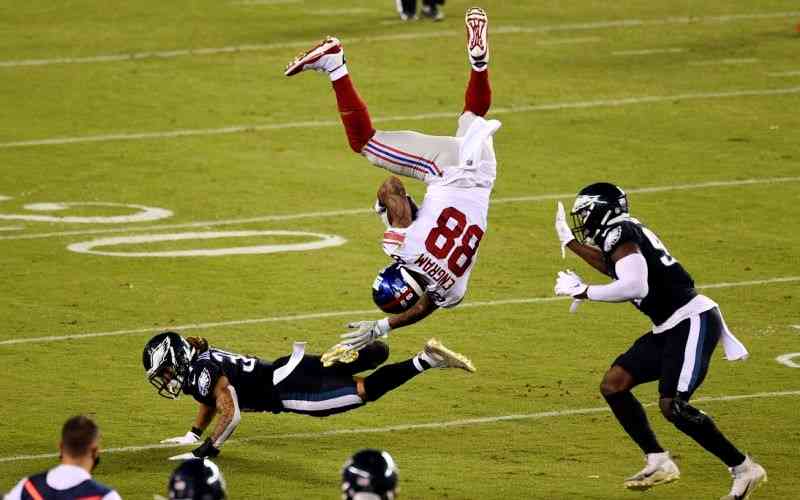 Week 7's NFL betting began with a Thursday night battle between the New York Giants and the Philadelphia Eagles for supremacy in the NFC East Division.
The division has been redubbed the "NFC Least" due to each team possessing a losing record. Here are the current NFC East standings after the Eagles secured a no-cover 22-21 victory over the Giants last night.
NFC East Standings
Philadelphia Eagles
2-4-1
Dallas Cowboys
2-4
New York Giants
1-6
Washington Football Team
1-5
If any of these four NFL franchises were competing in another division, they'd be planning for next year and testing out their younger players to evaluate what they've got on board for future seasons.
Instead, they're all competing for the NFC Least title which will secure one of these less-than-average franchises no worse than the #4 seed in the NFC playoffs, a game that they will host at their home stadium.
The definitive inclusion of an NFC East team in the postseason throws a monkey wrench into the NFL playoff odds, and will force a superior team to travel to play them in the first round.
Washington Football Team's loss to the Giants last week has more playoff implications than head coach "Riverboat" Ron Rivera may have assumed when he decided to go for a two-point conversion and win instead of simply kicking an extra point and sending the game to overtime.
Still, Rivera and Washington aren't out of it, and they can climb back into the hunt with a win this weekend against the Cowboys.
Dallas Cowboys @ Washington Football Team
Point Spread: Cowboys -1.0
Money Line: Cowboys -115, Washington -105
Over/Under: 46.0
*NFL odds posted at Bovada NFL Sportsbook
Judging by the above NFL money line odds, sportsbooks aren't too sure which team will win this game as both teams are listed in the negative. That means bettors will have to risk more than the amount they can earn regardless of which team they bet on.
Home teams are typically granted a 2.5-point edge when point spreads are determined, and the Cowboys are currently favored by one point. We expect Dallas to cover, but the only thing for sure in the NFC East is that nothing is for sure, so we're laying off this line entirely.
Below are the remaining lines for week 7 which features four intriguing matchups that we've moved to the top of the list for emphasis. The result of each of these four key games will reveal what their current standing is in their pursuit of a Super Bowl 55 title.
NFL's Week 7 Key Games
Pittsburgh Steelers @ Tennessee Titans
Point Spread: Titans -1.0
Money Line: Steelers EVEN, Titans -120
Over/Under: 50.5
San Francisco 49ers @ New England Patriots
Point Spread: Patriots -2.0
Money Line: 49ers +110, Patriots -130
Over/Under: 43.5
Seattle Seahawks @ Arizona Cardinals
Point Spread: Seahawks -3.5
Money Line: Seahawks -180, Cardinals +160
Over/Under: 56.0
Chicago Bears @ Los Angeles Rams
Point Spread: Rams -6.0
Money Line: Bears +215, Rams -260
Over/Under: 45.0
NFL Week 7 Odds
Buffalo Bills @ New York Jets
Point Spread: Bills -13.0
Money Line: Bills -700, Jets +450
Over/Under: 45.0
Carolina Panthers @ New Orleans Saints
Point Spread: Saints -7.0
Money Line: Panthers +275, Saints -350
Over/Under: 51.0
Cleveland Browns @ Cincinnati Bengals
Point Spread: Browns -3.0
Money Line: Browns -160, Bengals +140
Over/Under: 50.5
Detroit Lions @ Atlanta Falcons
Point Spread: Falcons -2.0
Money Line: Lions +115, Falcons -135
Over/Under: 55.0
Green Bay Packers @ Houston Texans
Point Spread: Packers -3.5
Money Line: Packers -200, Texans +170
Over/Under: 57.0
Jacksonville Jaguars @ Los Angeles Chargers
Point Spread: Chargers -7.5
Money Line: Jaguars +290, Chargers -380
Over/Under: 49.0
Kansas City Chiefs @ Denver Broncos
Point Spread: Chiefs -9.5
Money Line: Chiefs -500, Broncos +350
Over/Under: 45.5