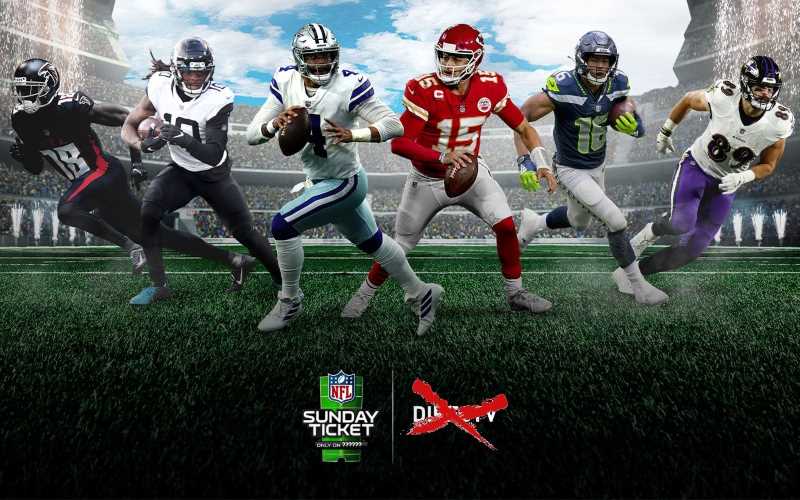 As the 2021 NFL regular season draws to a close, interesting things are afoot(ball).
For one, the Tom Brady MVP odds are slipping after a few weeks of the GOAT having absolutely nobody to throw the ball to, giving Aaron Rodgers a big lead on the betting boards at BetOnline Sportsbook (-185 to +550).
The caveat here is that Brady has more TDs and has faced more injury depletion, while Rodgers is loathed by the media for "lying" about his vaccination status.
We actually think the award is still Brady's to lose, but we're hedging with an in-kind bet on Matthew Stafford at +4000.
Of course, Brady's not the only one slipping.
DirecTV is taking it on the chin in a big way.
After years of having NFL Sunday Ticket exclusivity despite being one of the least popular television providers, the league's deal with the carrier is finally set to expire after the 2022 NFL season.
For millions of football fans, this is great news.
According to owner AT&T in its Q2 2021 earnings report, the total number of combined DirecTV customers, AT&T TV customers, and AT&T U-verse customers is just 15.412 million.
This represents a massive drop of 2.3 million aggregate subscribers from the same time period in 2020.
While AT&T doesn't break down subs by specific service, DirecTV is clearly on its last legs. At the very least, it no longer has the clout to pay what the NFL is likely to ask for its Sunday Ticket product.
And that's a good thing.
Sunday Ticket is the most popular sports package in US television broadcasting, just as the NFL is the most popular league for US sports bettors.
And thanks to the popularity of live in-game sports betting, more online gamblers than ever are likely to pay for a way to watch all their favorite games every Sunday of the season.
This, naturally, has led to plenty of intrigue about just where Sunday Ticket will land in time for the 2023 NFL season.
Some analysts believe that Disney-owned ESPN+ is the obvious answer, while others think Amazon makes the most sense. But there are other big brands being mentioned as potential suitors, too.
To settle the question – or, at least, to address the question and produce some useful insight as to the future result – MyBookie Sportsbook has posted the following NFL-themed current events odds:
Odds To Win Rights To NFL Sunday Ticket (2023)
Disney/ESPN +150
Amazon +200
Comcast +300
Google/YouTube +450
WarnerMedia/HBO Max +500
PornHub +500
DIRECTV +600
Apple TV +1000
Netflix +1500
DAZN +2000
Here, the betters tend to agree that Disney's deep pockets and prominence in the streaming market – along with their ownership of The Worldwide Leader in Sports™ – makes The Mouse an obvious fit.
Certainly, Disney will be finalists in the forthcoming bidding war, though they're not a foregone conclusion.
Still, with 175 million subscribers across all Disney platforms, there's definitely a reason why they're in first place at +150 right now.
Amazon – with 200 million Prime members – is just 50 points back of Disney at +200, and the brand has a significant interest in keeping those Prime members coming back.
These days, Prime streaming is the only reason to shell out for an annual Prime membership, especially since the "free 2-day shipping" of old is probably never coming back.
After the bottlenecks of COVID gimped its raison dêtre, Amazon needs all the pull it can muster to keep its growth on track.
Comcast, at +300, is solidly in third, though it probably shouldn't be.
Like DirecTV, Comcast (aka Xfinity) is a legacy TV provider, and the company only has about 18.5 million pay TV customers and 26.5 million cable Internet customers.
The overlap between the two bases is likely significant, so – generously – Comcast probably has about 35 million people signed up for its services nationwide.
Google/YouTube (or Alphabet, if you like) is in fourth at +450, though this partnership actually seems somewhat unlikely.
While Google is one of the world's richest companies, it's unclear how much crossover there is between the YouTube audience and the NFL audience.
Plus, YouTube TV – the natural vessel for such a play – only has around 4 million subscribers as of September 2021.
In fifth place, Warner/HBO (+500) seems like a stretch, too.
However, with upwards of 70 million subscribers (October 2021), the HBO Max platform's audience is far from trivial. It probably isn't good enough for the NFL, but it's definitely no slouch in the streaming game.
PornHub (+500) is in sixth place.
LOL.
Look, there are three huge problems with this.
First, PornHub is PornHub.
There's no way the NFL is going to associate its brand with the adult-content streamer. It took a million years for the NFL to warm up to sports betting, for crying out loud. Society's in the toilet, but it's not all the way down the drain and into the gutter just yet.
Second, PornHub – which has a net worth of about $1.5 billion –  doesn't have remotely enough capital to make this happen.
Thirdly, even if it did have the scratch, PornHub's services aren't available in app form on iPhone, iPad, Android, or any smart TV or streaming stick platform.
Why the site's even on the list is a mystery, and it certainly shouldn't be in the middle of the pack.
DirecTV – in sixth place at +600 – might as well be off the list altogether. The NFL has wanted out of this contract for ages, and DirecTV can't hang with the other players.
Even if they could muster the same bid – or a slightly bigger one – the NFL wants to grow its audience and its reach. That simply can't happen with a traditional satellite TV provider in 2023.
In seventh at +1000, Apple seems like a decent bet considering the company's status as the most profitable business in the world.
However, Apple TV+ – the brand's video streaming service – is only on pace to see 36 million customers by 2026. Its reach is likely far too small for the NFL.
Netflix, we think, should be higher on the list than ninth place (+1500).
With 214 million subscribers and growth of 4.4 million new subs over the last quarter (along with pockets deep enough to make Squid Game a billion-dollar property), the brand's first big leap into live sports should make a splash.
And it goes without saying that exclusive NFL Sunday Ticket rights would be the biggest splash it could make.
However, it's hard to imagine the streaming giant going all-in on the NFL when it's so famous for 86-ing any hit show that doesn't attract and retain new subs right out of the gate.
DAZN is in last place at +2000. DAZN stands for "da zone." DAZN is worth around $4.8 billion. DAZN shouldn't be on the list.
One company that's not on the list but – given many of the obvious nonstarters included above – probably should be, is Tesla/SpaceX.
Tesla is currently worth over a trillion dollars despite representing just 2% of the automotive market, and SpaceX has the stated goal of installing a low-orbit, low-latency global Internet satellite network.
This system – called Starlink – could theoretically beam Sunday Ticket into millions of households in the US and worldwide, and it's not inconceivable for Tesla to get into the media market on its own.
After all, you've got to have something to do while those cars drive themselves!
Of course, the other side of the coin is that none of these pie-in-the-sky initiatives is rooted in actual reality, and the NFL may not want to tether itself to a boat anchor that's about to get tossed over the starboard side.
The other company that's not on the list is – to us – a much bigger surprise: Meta (aka Facebook).
Meta is worth nearly a trillion dollars, and the entire point of the recent Facebook-Meta rebranding was to signify Facebook's expansion into the entertainment "metaverse."
Having a major sports property's flagship service under its roof would be a huge coup, and the potential for NFL VR broadcasts powered by the Oculus brand is exciting to say the least.
So, with all that out of the way, here are our top picks in order of their likelihood to land the NFL Sunday Ticket contract:
Amazon
Disney/ESPN
Meta (Facebook)
Netflix
Google/YouTube
Nobody else stands a chance.
But if they do, you might stand a chance of winning a huge payout.