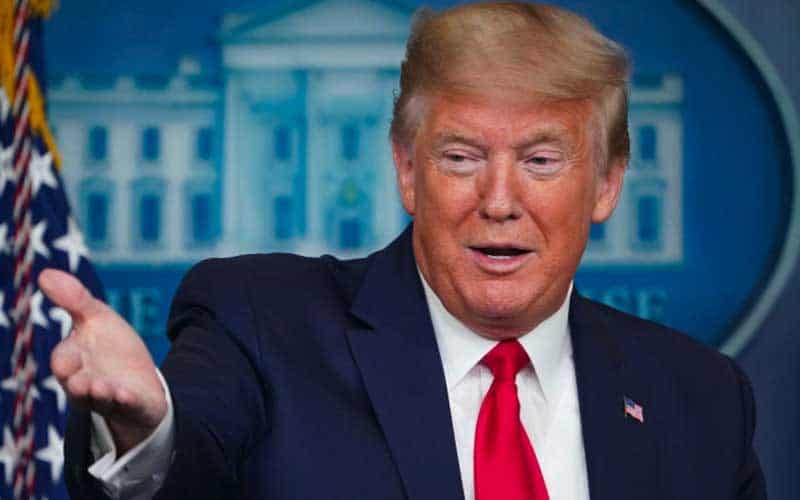 It's unofficially "Donald Trump vs. Joe Biden" for the head-to-head, winner-take-all White House bout on November 3, 2020, but who's the best bet to win the presidency?
Trump has held the top spot at sportsbooks for almost the entire election cycle and reopens today as the clear favorite over Biden, according to the 2020 political betting odds from Bovada.
Odds to win the 2020 US presidential election
Political Futures at Bovada Sportsbook
Donald Trump -120
Joe Biden +120
Andrew Cuomo +3300
Mike Pence +3300
Hillary Clinton +6600
Nikki Haley +10000
Michelle Obama +20000
Sanders drops out, Trump favored over Biden
Bernie Sanders suspended his 2020 presidential campaign on Wednesday, April 8, which clears the path for Joe Biden to receive the Democratic nomination.
Today I am suspending my campaign. But while the campaign ends, the struggle for justice continues on. https://t.co/MYc7kt2b16

— Bernie Sanders (@BernieSanders) April 8, 2020
"Over the past few weeks, Jane and I, in consultation with top staff, and many of our prominent supporters, have made an honest assessment of the prospects for victory," said the Vermont senator during his live stream. "If I believed we had a feasible path to the nomination, I would certainly continue the campaign. But it's just not there."
Sanders started strong in the early primary states and won the most votes in the first three contests. However, Biden's blowout victory in South Carolina convinced other Democrats to drop out and endorse him—catapulting the former VP to several upsets three days later, based on sportsbooks' Super Tuesday odds. Sanders would never recover and was down by more than 300 pledged delegates when he suspended his campaign.
With Sanders gone, the 2020 election betting odds essentially now comes down to Trump (-120, $120 wins $100) or Biden (+120, $100 wins $120) for the White House.
Election Day 2020 is less than seven months away, but whether the congoing coronavirus pandemic is over by November 3 will likely determine which candidate wins the presidency.
Legal US sports betting markets have taken a massive pounding ever since Trump declared a national emergency, and leagues postponed or canceled all upcoming games and events in an effort to limit the spread of the viral disease.
Online sportsbooks and mobile apps have gotten creative by offering unique odds. Still, oddsmakers at the top legal betting sites now offer even more ways to safely and responsibly gamble money on politics.
Unfortunately, the state-licensed operators continue to be shackled by the chains of pointless archaic bureaucracy. The latest proof comes from West Virginia, where FanDuel offered 2020 election odds for a whopping 15 minutes before the WV Lottery cracked the state's constitutional whip.
For now, the one-vs-one general election matchup between Biden and Trump is expected to see the most significant wagering handle of any political event in history.
With little to no sports available, you can bet sportsbooks are already treating the GOP vs. Democrat matchup like it's the Super Bowl. Look no further than the new presidential prop bets featured below, which details both candidate's odds of winning the crucial swing states in the 2020 election.
Odds to win swing states 2020
Political Props at Bovada Sportsbook
Arizona General Election Odds
Donald Trump -135
Joe Biden +105
Colorado General Election Odds
Joe Biden -500
Donald Trump +330
Florida General Election Odds
Donald Trump -170
Joe Biden +130
Georgia General Election Odds
Donald Trump -300
Joe Biden +220
Iowa General Election Odds
Donald Trump -370
Joe Biden +260
Michigan General Election Odds
Joe Biden -210
Donald Trump +155
Minnesota General Election Odds
Joe Biden -380
Donald Trump +265
Nevada General Election Odds
Joe Biden -500
Donald Trump +330
New Hampshire General Election Odds
Joe Biden -200
Donald Trump +150
North Carolina General Election Odds
Donald Trump -165
Joe Biden +125
Ohio General Election Odds
Donald Trump -200
Joe Biden +150
Pennsylvania General Election Odds
Joe Biden -185
Donald Trump +140
Texas General Election Odds
Donald Trump -400
Joe Biden +275
Virginia General Election Odds
Joe Biden -750
Donald Trump +440
Wisconsin General Election Odds
Joe Biden -130
Donald Trump EVEN